With a Little Help from My Friends and Family
THE TRUE-LIFE ADVENTURES OF A SENIOR NEWSPAPER PUBLISHER
August 1, 2023 at 5:08 p.m.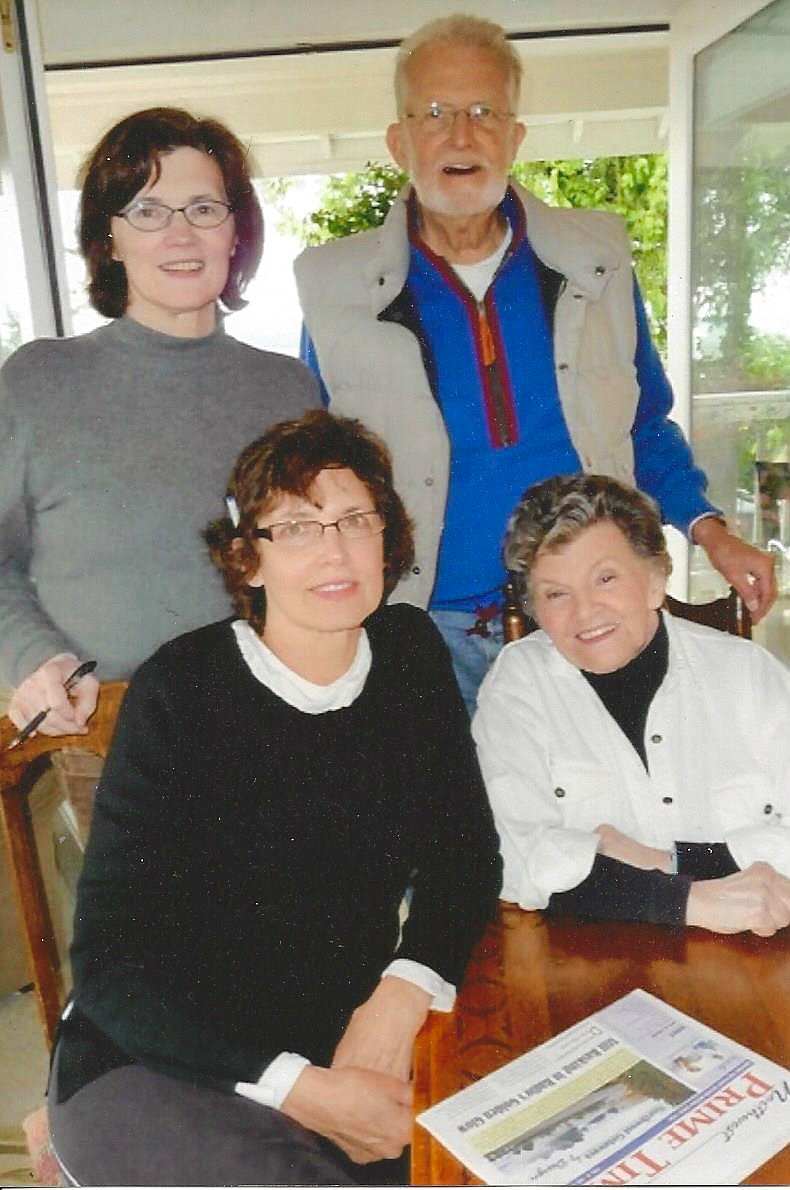 ---
...by Michelle Roedell, Editor, Northwest Prime Time
---
Northwest Prime Time
is a small, Mom & Pop type business. Chris Mitchell and I started it together, we co-own the business, and we've run it together all these years. We are the only employees.
However, that does not mean we've done it all by ourselves. Past blog posts showcased essential people that we relied on over the years, like our wonderful columnists, contributing writers, longtime Production Manager/
Designer, Jason 
Reynolds, and many others. (Although Jason is an independent contractor rather than an employee, he has worked with us for going on 19 years. Learn about our crazy all-nighters to make the press deadline, including my trick of submersing feet in ice-cold water in the middle of the night for an extra jolt of energy:
Jason Reynolds to the Rescue.)
On an off over the years, I've also enjoyed the help of friends and family.
When we published our monthly newspaper, mailing copies to our subscribers, writers, and advertisers was a time-consuming chore. Add to that sending out invoices, paying writers, staying on top of bills, keeping up with correspondence—including the mountain of unsolicited submissions that came in every month. This was back in the olden days when submissions and responses were mailed via the U.S. Postal Service instead of email. There was a lot of check-writing, letter-writing, plus the delicate task of scanning photographic images to preserve for later use, marrying up those photos with the right envelope to ensure that precious pictures made it back to their rightful owners. (I pleaded with people: PLEASE do not send irreplaceable photos. I dreaded the thought of losing a treasured piece of family history.)
All this plus trying to stay organized. I'm the first to admit it, I am NOT a naturally organized person. (I love hearing about those research studies that say disarray is associated with creativity and intelligence. But we can all guess how disorganized those particular researchers must have been.)
Anyway, I could use some help but couldn't afford a full-time assistant. Besides that, I only needed help a few days out of the month – those rare few free days sandwiched between preparing for the next edition, the crazy production schedule, and delivering the papers. (Read my reflections on delivering Northwest Prime Time here:
You Fool Me Every Time, Old Man
.)
Enter friends and family
First let me talk about sweet Sasha, who helped me out for a while. I am fond of saying that I've known Sasha since before she was born. Her mom, Lisa, is a close friend from high school days. Sasha was a former Girl Scout and came prepared for any contingency. I'm not kidding you. The endless supply of archaic, helpful stuff she pulled out of that backpack of hers is one of the true wonders of the world. Alas, the college graduate had to move on to bigger and better things, including graduate school, teaching at the University of Washington, earning a real living, buying a house. She is now a bilingual schoolteacher.
Readers of this blog will have heard about my parents before, the incomparable Clarence and Doris Roedell. Once a month, they stepped into the fray, along with my sisters, Barbara Davidson and Gail Roedell.
To prepare for the big day, I'd have our supplies ready to go so we could attack the tasks with all the efficiency of a Ford Motor Company assembly line. My parents immediately got to work:  focused, diligent, no-nonsense. Their specialty was mailing the subscriptions. Barbara and Gail tackled the checks, bills, correspondence. This section of the room was not quite as single-minded. There were plenty of jokes, laughs, sibling rivalry, old family stories… The day was as fun as we could make it. We'd break for lunch while trying out the wide variety of local restaurants in Des Moines. And boy, did we get a lot done.
Eventually, this, too, came to an end.
Northwest Prime Time
switched to an every-other-month printing schedule, new technology saved time on tasks, and, over the years, I worked VERY hard at dwindling down the number of subscriptions. I can't tell you how many times I talked potential subscribers out of it signing up. "Tell me your zip code and I can tell you where to pick up the paper
FOR FREE
rather than paying for a subscription!" With over a thousand locations to choose from, this tactic usually worked.
I think back very fondly on those days spent with my parents and sisters. The fourth sister, Susan—who worked at Boeing and couldn't attend our work parties—was jealous she had to miss out. We'd rub it in as much as possible, of course, calling her at least once during the day to laugh uproariously. When she finally retired, Susan actually came to a mailing party or two. By that time my great-niece and great-nephew were doing the honors.
But that is a story for another day.
In case you missed them, you can catch up on past blog posts with the links below:
---