Apples Pack Powerful Nutritional Punch
September 2, 2023 at 4:35 p.m.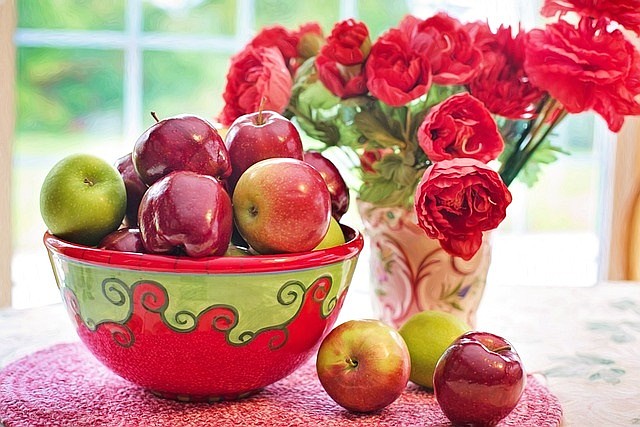 ---
---
An apple a day may do much more than just keep the doctor away. Apples pack a big nutritional punch and may help lower your risk for cancer. Additionally, apples may help a person feel more full and eat less throughout the day.
Apples are believed to be highly beneficial in terms of nutrients due to their composition (fruit, flesh, peel, leaf, seed, or root). The availability of these nutrients and bioactives in apples have made them one of the most sought‐after fruits globally. Further they have useful applications in the production of juices, beverages, wines, ciders, vinegar, and other food products with huge commercial value,
Apples are easy to store and transport. They are typically available year-round. Apples contain fiber that is both insoluble and soluble and they contain phytochemicals (quercetin, catechin, chlorogenic acid, anthocyanin).
Julia Zumpano, RD, a registered dietitian from Cleveland Clinic's Center for Human Nutrition, Cleveland, Ohio, said a medium apple provides 4.5 grams of fiber and is a good source of vitamin C and antioxidants. Despite the higher carb content, the glycemic index of an apple is low, which is a measure of how the food affects the rise in blood sugar. "This means it leads to improved blood sugar control. If you pair an apple with a source of protein such as a handful of walnuts or 1-2 spoons of natural peanut or almond butter it will further put the brakes on the rise of your blood sugar after consumption," said Zumpano.
Apples contain key antioxidants, including quercetin, which has been shown to help combat certain cancers, inflammation, and boost immunity. "Apples can have antiviral and antidepressant benefits," said Zumpano. " An apple a day is not too much, especially since most Americans don't meet the required 7-9 servings of daily fruits and vegetables. There are so many different types of apples, everyone can find a variety that fits their palate."
She said a medium apple is only 95 calories and they usually taste great. Further, they are very portable and are not very perishable compared to other fruits. Zumpano said they may be very beneficial for someone trying to lose weight. "The fiber helps you feel full. Apples are crunchy, juicy, sweet, and sour and they can be very satisfying leading to better satiety. Some studies have indicated weight loss benefits," said Zumpano.
Eating low glycemic load foods, such as apples, tend to produce fewer and smaller spikes in blood sugar. This may help decrease hunger later in the day and help prevent overeating. However, discarding the skin removes much of the fiber and the majority of flavonoids.
Nutritionists note that dehydrating or drying the apples removes vitamin C, which is predominantly in the flesh. In addition, sugar is often added to dried apples. Clear apple juice undergoes filtering and pasteurization, which removes most of the flavonoids and fibers, according to experts.
"Apples should be a staple in your diet and the diet of your family. You can eat them raw, bake them, sautée them, and add them to savory dishes or baked goods to boost the fiber. If adding to baked goods, reduce the sugar in the recipe by at least 1/3rd," said Zumpano. "Some studies have shown that apples can help reduce cholesterol, blood pressure and blood sugars."
Currently it is estimated that up to one-third of all cancer deaths could be prevented by improved diet. Increasing fruits, vegetables and whole grains is recommended. Several studies have suggested that a diet high in fruits and vegetables may be associated with a reduced risk for lung, oral cavity, esophagus, stomach and colon cancer.
There is no shortage of apples this year. The U.S. apple industry continues to perform well, according to a report released in August by the U.S. Apple Association (USApple). Total U.S. apple production for the 2023/24 crop year will be 250 million bushels. This represents a 1.5% increase compared to last year's production figure.
Chris Gerlach is the Director of Industry Analytics at the US Apple and he tracks what trends are occurring in the U.S. apple industry. He and his team conduct an in-depth analysis looking at trends and forces affecting apple production. They consider everything from political headwinds to weather events. "With considerable increases and decreases from top apple producing states, we're pleased to net out with national apple production that will not only meet last year's figure but exceed it slightly. There will certainly be plenty of high-quality U.S. apples available to consumers," said Gerlach.
At the varietal level, Gala is expected to retain the top spot with more than 45 million bushels produced, accounting for around 18% of the U.S. apple market. After Gala, rounding out the top five varieties are Red Delicious (31 million bushels), Honeycrisp (28 million bushels), Other Varieties (25 million bushels), and Fuji (25 million bushels). Granny Smith just missed number five with 24.6 million bushels.
Though Red Delicious remains the second most-produced apple, its production has declined steeply over the past five years. Red Delicious decreased by 42% or 23 million bushels compared to 2018/19 production volumes. Conversely, Honeycrisp production has increased by 46% or almost 9 million bushels during the same period.
John Schieszer is an award-winning national journalist and radio and podcast broadcaster of The Medical Minute. He can be reached at medicalminutes@gmail.com.
---