The Forever Home: Designing Homes that Last a Lifetime
April 9, 2023 at 3:10 p.m.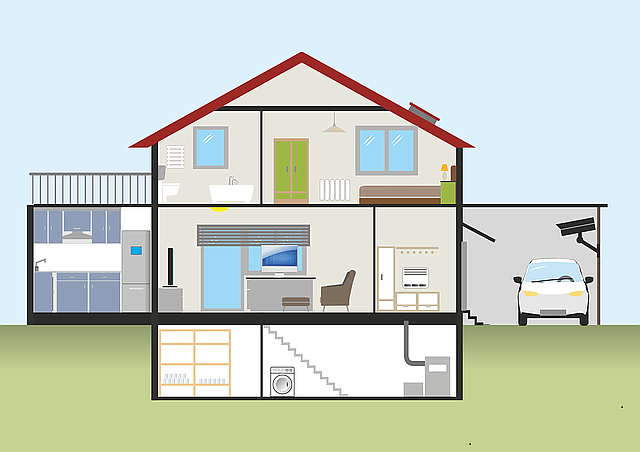 ---
For most Americans, their homes are the largest investment and source of wealth for their families – and more of them want to continue to live in their homes as they grow older – to "age in place." Boyce Thompson, author of the new book
THE FOREVER HOME: Designing Houses to Last a Lifetime
– offers tips and examples about how potential homebuyers should think through building, purchasing or renovating a home they can stay in for as long as possible.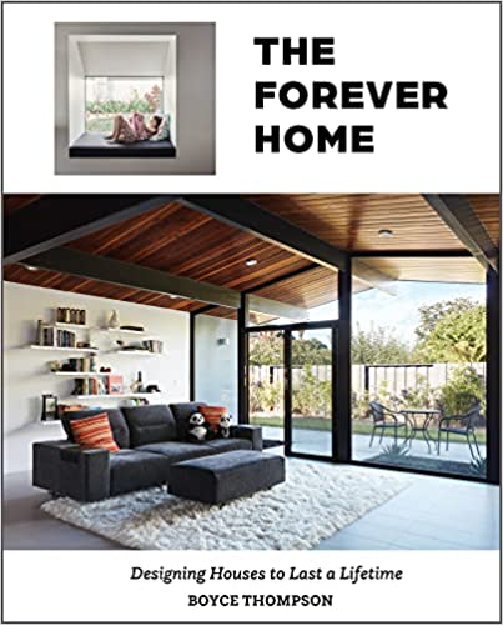 Boyce advises homeowners to consider how they would use all the space in the house and the yard if they had to use a wheelchair, scooter, or walker. Additional tips are below:
On the outside of your home, design a step-free, relatively flat route to the curb to take out the garbage and recyclables. Make sure your lot is relatively flat. In addition to a step-free entry install a low-threshold entry to the backyard deck or patio.
Leave even more open space to turn around in key rooms – a minimum 67-inch diameter turning circle in the kitchen, bathroom, bedroom, and living/dining areas.
Using storage spaces can be problematic from a seated position (in a wheelchair). Consider adjustable shelving and hanging rods that can be lowered to the universal reach range (a minimum 15 inches to a maximum 48 inches above the floor.)
Since most home accidents occur in the bathroom, that room is a source of heightened concern. Slip-resistant flooring and shower pans make sense to install no matter how agile you may currently be.
Provide at least one no-threshold shower or accessible tub. An accessible tub requires a 15-inch transfer surface at its foot, opposite the showerhead, for seated entry. Install a seat in the shower (or blocking in the walls for a future seat) adjacent to the shower controls. You would want an adjustable height, hand-held shower on a 60-inch-long hose.
Do not compartmentalize the toilet if you want to make sure you can always use it. One interim solution: build a storage unit or half wall that could be easily removed later on. Make sure the toilet is not too high off the ground. The maximum comfortable height of wall-hung toilets, according to universal design specialists, is 17-to-19 inches above the finished floor.
Bring at least one countertop below the standard 36-inch height so that it could be reached from a seated position. Accessible countertops are 34 inches from the floor. At 28 inches high, countertops are easier to use from a wheelchair.
The location and ease of appliance use become very important. You would want controls on the front or side of ranges and cooktops – washers and dryers too. A refrigerator with doors rather than a drawer-style freezer will be easier to use in the long-term. Raise the dishwasher so its contents are easier to reach. Lower the microwave so that it can be reached from a seated position.
Boyce Thompson's THE FOREVER HOME: Designing Houses to Last a Lifetime offers a study of how American's rediscovered their homes, to their delight and bewilderment, during a time when fear of disease kept them inside. Thompson, an award-winning expert on residential building and design, features more than three dozen revealing interviews with homeowners living in new or recently remodeled homes during the pandemic.
"The COVID-19 pandemic – and its associated lockdowns - produced an acute awareness of home limitations," says Thompson. "Houses centered on large great rooms, with nowhere to escape the cacophony of twenty-four-hour television news, failed to deliver on their most basic promise—comfort. Many people used pandemic downtime to dig deeper into individual pursuits—making art, writing memoirs, or practicing musical instruments. Their homes did not always play along."
Americans are living much longer in their homes – 13 years or more. The book takes aim at production builders who market homes for buyers at critical life stages – when they first marry or earn enough to buy a luxury home – rather than design to accommodate a lifetime of evolving needs. Thompson lays out a plan for designing, building, and remodeling homes to last a lifetime. Certain basic elements cannot be ignored in the beginning. But homeowners may be able to upgrade to more luxuriant features and fixtures – a designer kitchen or a finished basement – later on. When the homeowner can afford it, it can be worth upgrading to longer-lasting roofing, siding, and windows.
"I heard heart-rending stories from owners who never thought they would need the inclusive or universal-design aspects of their home," said Thompson. "Then they wound up injured or critically ill and marveled at how improved access to bathrooms, bedrooms, and closets allowed them to use their home comfortably and with dignity. Floor plans need to be flexible enough to accommodate people of all physical abilities." The book lays out a three-tiered plan for designing accessible homes, starting with designing an accessible home for visitors. Virtually all the homes profiled in the book have ample circulation space in kitchens and baths for people using walkers or wheelchairs or who just need more space for maneuverability.
With photographs and floor plans, The Forever Home offers case studies representing different perspectives, from young families to divorcees, single-parent households, and retirees. Tips at the end of each chapter address issues such as key lifestyle questions to ask before designing a forever house, where not to skimp, and how to plan spaces for double and triple duty.
"Designing an adaptable home has economic, environmental, and emotional rewards. With smart planning, it's possible to build a house that can be passed on to the next generation," says Thompson. "At the most basic level, our homes need to provide a spiritual refuge from the stress of work, safety from the threat of crime, and room to spend high-quality time with your family. And at the highest level, a forever home may produce memories that become part of your spiritual identity."
---