National Steinbeck Center celebrates a famous American icon
Travels with Deb
July 7, 2022 at 6:00 a.m.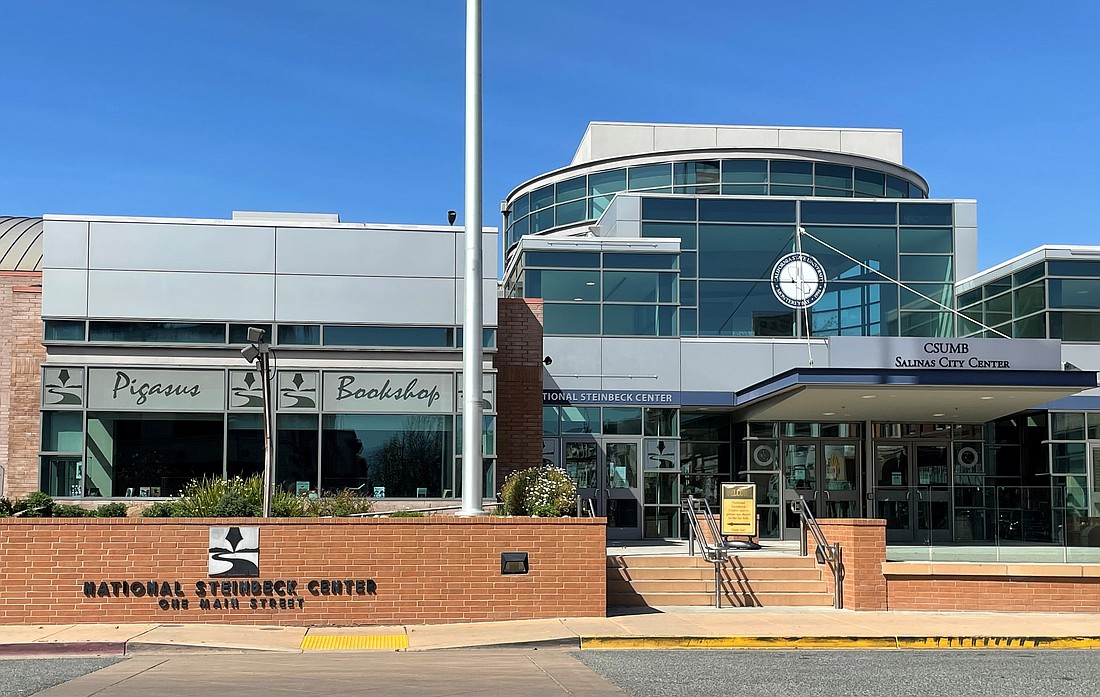 ---
---
I am a shameless bibliophile and John Steinbeck is one of my favorite American authors. His books, specifically Of Mice and Men and The Grapes of Wrath, were required reading when I was in school. They served as my introduction to the famed writer's oeuvre and I went on to devour everything I could find by him in my local library.
---
---
Steinbeck drew me into the worlds he created and the vivid characters who inhabited them via his powerful descriptions and keen observations. His writing incorporates the real and imaginative, while combining humor and acute perception about society. Many of his stories feature the working class and the struggles of the "common man/woman" to survive, and are filled with the often-harsh truths of the human condition. And their themes are just as relevant today as they were years ago.
---
---
On a recent trip to California to hike in Pinnacles National Park, I stopped in Salinas to visit the National Steinbeck Center. Salinas is regarded as Steinbeck country, as the author was born and raised in this central California town. The Center pays tribute to Steinbeck's life and his lasting impact on American literature and American identity. And it is regarded as one of the most significant literary museums devoted to a single author in the country.
The place has the feel of a Steinbeck scrapbook on steroids, as it's packed with interactive exhibits and includes numerous artifacts and personal items, photos, letters, handwritten manuscripts, quotes from the author's books, movie posters and clips from the film adaptations of his novels. Material is presented in an appealing and accessible format and there are numerous opportunities to engage with the content.
---
---
Make sure to watch the short films prior to entering the galleries, as they help set the scene. One centers on Steinbeck; the other focuses on the history of Salinas and its noted agricultural industry. Many of the author's stories take place in Salinas and Monterey, as this was an area he knew intimately, and one that was near and dear to his heart.
---
---
In the museum, you'll learn about Steinbeck's childhood and youth, his family and friends, three marriages, his love of literature and writing, and the road to his success as a distinguished author. The galleries are chronologically organized to guide you through his life, while intertwining the personal with the professional. Each of his books is presented in the context of the overarching events of the times for a historic perspective. Displays offer insight into Steinbeck's process and how he often drew upon his own experiences and those of others to create his memorable stories and characters.
---
---
"Tortilla Flat" was the book that launched Steinbeck's career, and he followed it with some of his best-known work, including Of Mice and Men, In Dubious Battle, and his crowning achievement, The Grapes of Wrath, the latter which won the Pulitzer Prize in 1939. This epic of the Great Depression chronicles the Dust Bowl migration of the 1930s and the desperate conditions migrant farm workers (most of them Dust Bowl refugees) experienced in California.
---
---
The Grapes of Wrath was inspired by Steinbeck's journalism work for The San Francisco News, which had commissioned him to cover migrant labor camps in California's Salinas Valley. The book, which in essence advocated social change, actually spurred First Lady Eleanor Roosevelt to see the living conditions at labor camps for herself. After her visit, she defended the accuracy of Steinbeck's descriptions. Her support and the powerful emotional response the novel elicited helped lead to Congressional hearings about labor law reforms and wage regulation.
---
---
In the 1940s, the author turned his attention to the growing war effort and produced propaganda pieces supporting America's entrance into the conflict. During this period, he penned The Moon is Down, a story of a small town in Europe being invaded by an unnamed army. He went on to work as a war correspondent for The New York Herald Tribune.
---
---
When he returned from Europe, Steinbeck was in a dark place, having seen so much violence and death, and it took him months to emerge. When he eventually did, he wrote Cannery Row, based on the colorful tales of cannery workers he knew in Monterey.
In 1952, Steinbeck's magnum opus, East of Eden, was published. This sprawling, masterpiece is full of mesmerizing characters and enduring themes. In a nutshell, it's basically a story about good and evil portrayed within a symbolic re-creation of the Cain and Abel tale. The author is said to have used his own family history, interweaving it with the fictional Trask family featured in the book.
---
---
Later in Steinbeck's life, he took a road trip in his pick-up truck/camper through the U.S., with his dog Charley accompanying him. He set out in search of America and wrote about his often-disheartening experiences in Travels with Charley, while expressing his worries over the country's moral decay in The Winter of Our Discontent. Steinbeck named his vehicle Rocinante after Don Quixote's horse. You can see it on display in the Center.
---
---
Although an American writer, Steinbeck's work has proven to be equally popular around the world. His books have been published in more than 45 languages and his stories continue to resonate today. As testament to his global appeal, and in recognition of his magnificent body of work, Steinbeck was awarded the Nobel Prize for Literature in 1962. Two years later, he also received the Presidential Medal of Freedom by President Lyndon B. Johnson.
John Steinbeck passed away in 1968, and he's buried in the Garden of Memories Cemetery in Salinas. The town's native son is home to stay.
One last note: Before leaving the museum, make sure to stop in at the gift shop. It has all of Steinbeck's books in case you're motivated to read or, in my case, reread them!
---
---
Raft Horseshoe Bend for an up close and personal experience with this iconic landmark
Draw a circle around Page, AZ and you'll find numerous natural wonders. Among them is Horseshoe Bend, undoubtedly one of the most spectacular landscapes in the state. This near-perfect circular canyon, which is located in Glen Canyon National Recreation Area, was carved into the earth by the Colorado River and is a result of erosion. It was formed by water following its natural path of least resistance, however, in this case, the route was not a straight line, but rather a substantial 270 degree curve.
---
Remembering Bob Harmon
There are some people you first meet for an interview you just know you're in for a memorable treat. Bob Harmon was one of those people.
---
STAND UP FOR YOU
Medical Elder Abuse
"His curt response was, 'Well, that's how it's going to be.'"
---
KILLER BEES?
TERROR AT THE LAKE
"They'd still be swarming around us."
---
Boomerish!
"Writing Boomerish has been great fun"
---