American Civil War history comes alive in Gettysburg, PA
Travels with Deb
October 30, 2023 at 6:00 a.m.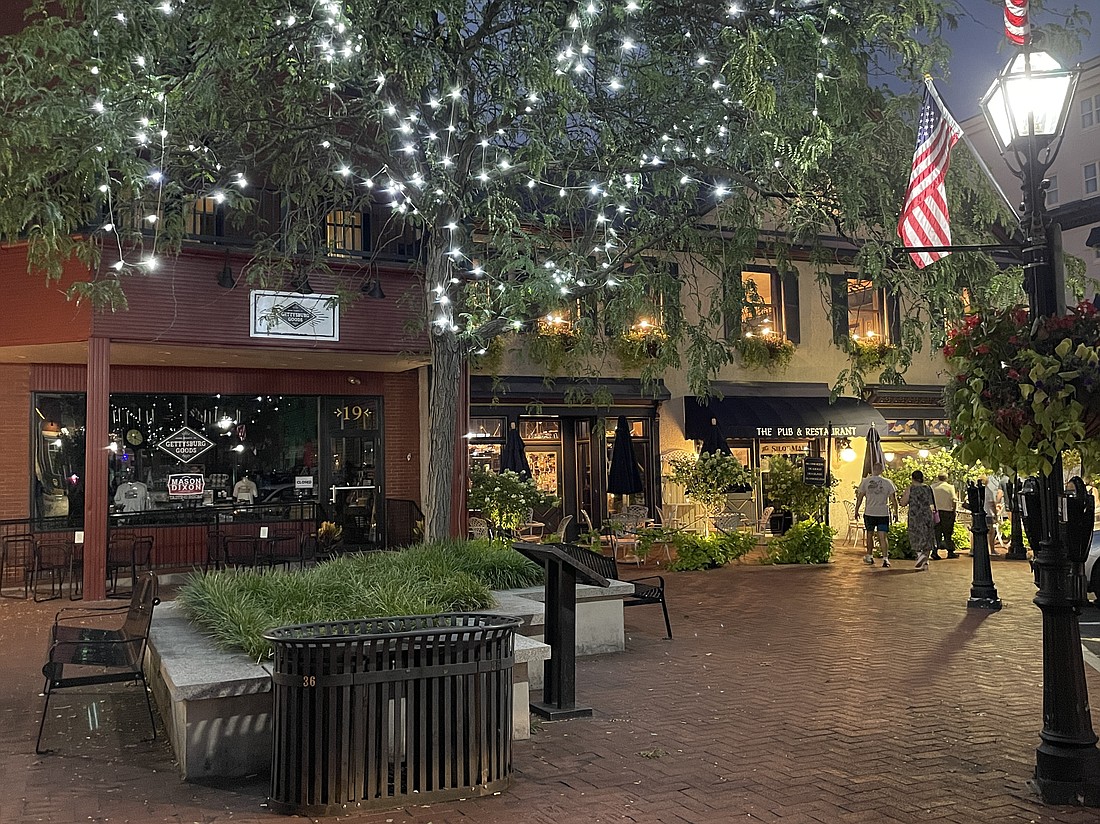 ---
---
History is everywhere in Gettysburg. You can't avoid it, but that's the point. The cannons, monuments, statues, cemeteries…they're all here as lasting reminders of courage and sorrow. And most importantly, they show us where we've come from and just how far we've yet to go.
---
---
In this quaint south-central Pennsylvania town, eighty miles from our nation's capital, two armies clashed on three unforgettable, hot days in July 1863. Confederate and Union soldiers fought one another, at what became known as the Battle of Gettysburg. It was General Robert E. Lee's most ambitious invasion of the North, which ultimately failed, marking a defining moment in the Civil War. And though the Union prevailed, more than 50,000 troops from the two sides were either killed, wounded or missing. This remains as the largest, bloodiest battle ever fought on U.S. soil.
---
---
First timers to Gettysburg might find it overwhelming, as there are so many attractions and sites to explore. Best place to start is at the Gettysburg National Military Park Museum and Visitor Center. The film, "A New Birth of Freedom," narrated by Morgan Freeman, sets the stage and puts the Battle of Gettysburg in its place in history.
---
---
Up next is the iconic Gettysburg Cyclorama, a phenomenal light and sound show where you can experience Pickett's Charge on a 360-degree scale. Originally displayed in 1884, this massive painting puts you right in the midst of all the intense action on the pivotal third day of the battle.Painted with oils on canvas by French artist Paul Philippoteaux, a professional cyclorama painter, the Gettysburg Cyclorama is 377 feet long, 42 feet high and weighs 12.5 tons. It took Philippoteaux and his team a mere year and a half to complete. This masterpiece is magnificent in its detail and the action is so vividly captured.
---
---
From there, make your way through the Gettysburg Museum of the American Civil War, where you'll engage with rare artifacts and interactive stories. Be prepared to spend time as you absorb the multitude of events and issues surrounding the battle and take note of all the items on display, from weapons and shackles to bullet-pierced furniture, clothing, photos, letters, and more.
---
---
Next on your agenda should be Gettysburg National Military Park. This is the 6,000-acre battlefield that has been preserved as a tribute to those who fought here. Guided and self-guided tours of the site are available and you can walk, go by bus, car, bike, Segway, horseback or horse-drawn carriage. All guided ventures are led by licensed Gettysburg Battle Guides.
---
---
I opted to take a horse-drawn carriage ride with Victorian Carriage Company to enhance the historical aura and witness the battlefield at the "speed of history." Although this means you see a smaller portion of the area than you would via bus or car, the information covered by your guide regarding the battle, tactical maneuvers and errors, locations, key players, etc. is comprehensive. And with only ten passengers in the carriage, you're assured of a high level of guest-guide dialogue and interaction. You can also drive your own car around later to visit more locations.
---
---
With the pleasant clip clop sounds from Duke and Concord, a pair of handsome Percherons, as backdrop, we journeyed through a landscape of woods, rolling hills and expansive verdant fields littered with monuments, markers and memorials – more than 1,300 in all. It was easy to imagine the action that occurred with the help of our expert guide Jim's narration and the photos, maps, even examples of real ammo he showed us to enhance the visuals.
---
---
Our group learned countless fascinating details such as the following: Seven million bullets were fired among the 168,000 soldiers, who represented eighteen states. It took nine separate steps to load a rifle. Some shreds of humanity prevailed amid the ugliness, as soldiers on both sides would take the wounded from either side to their field hospitals and treat them before transferring them to prisons. After three days of fighting a staggering 21,000 wounded men were left behind to be taken care of by 2,400 locals.We stopped in a few places on the tour to walk the same ground where so many brave men made sacrifices in the name of freedom. The area, as Jim reminded us, remains a "living monument to the struggles and strife of our American Civil War."
---
---
Follow your tour with a stroll through Gettysburg National Cemetery. This is the final resting place for more than 3,500 Union soldiers killed in the Battle of Gettysburg. 
The experience of seeing the graves, especially all the markers for the unknown soldiers, is humbling and sobering. It's a sacred site of contemplation with monuments and tributes interspersed throughout the grounds. Here's where President Lincoln delivered the immortal "Gettysburg Address." You can actually stand on the actual spot upon which he stood.
---
---
Gettysburg also has several house museums that present stories of residents and their experiences during and post-Civil War. We often view the Battle of Gettysburg in terms of the soldiers and those who lost their lives, but rarely do we consider the civilians who, perilously caught in between, also paid a steep price.I toured two such houses: Shriver House Museum and Jennie Wade House Museum. The former was built in 1860 by 18-year-old George Shriver, recently married to his wife Hettie. Shriver not only wanted to start a family, but also a new venture, the Shriver Saloon and Ten-Pin (bowling) Alley. When the war started, George was called into service and as the Battle of Gettysburg began, his wife left home with their two daughters seeking safety at her family's farm. Instead, they found themselves in the middle of the conflict. When they returned days later, they learned their house had been commandeered for use as a hospital.
---
---
Today, the house feels frozen in time. Your guide, who's clothed in period dress, leads you through its history room by room. Of particular interest is the basement saloon, as well as the Confederate sniper nest in the attic, where at least two of the shooters died. CSI detectives used modern forensics to confirm the blood stains found there. And numerous live Civil War bullets were also discovered, along with hidden medical supplies, providing proof of the house's use as a hospital.
There's also a 19th century, four-square garden and museum, where many artifacts found during the restoration of the home in the late 1990s are on display. Check out the bullet holes that scar the brick exterior.
---
---
The story of 20-year-old Jennie Wade comes alive at the Jennie Wade House Museum. Tragically, Jennie became the only civilian killed during the battle when she was struck by a bullet while making bread in the kitchen for the troops. A guided tour takes you back to that fateful day.
---
---
The house is authentically furnished throughout and is a shrine to Jennie. It's actually not Jennie's house, though, but that of her sister, Georgia. Jennie and her mom went to be with Georgia, who had just given birth, thinking it would be a safer place than in town. 
Unfortunately, the war transitioned to right outside the house and they were caught in the crossfire. Over 150 bullets hit the residence, one that lodged in the bedpost next to Georgia and her baby boy. Then another penetrated through two doors and struck Jennie as she was kneading dough. She died instantly.
You'll also hear a side story that adds to the drama of this young woman's sad tale. Jennie had a sweetheart, Jack Skelly, who was a Union corporal. Unbeknownst to her, Jack had been seriously injured in battle two weeks before she died. A few days after her death, Jack passed away from his injuries not knowing that Jennie was gone, too.
Artifacts on display include the artillery shell that punctured the roof of the house and a floorboard with Jennie's blood still on it. And you can see the holes in the doors that the bullet went through when she died. Rumor has it if you put your finger in one of the holes, you'll become engaged not long after. Being married, I declined the opportunity!
---
---
Another tour that visitors find interesting is of the Daniel Lady Farm. Daniel Lady and his wife raised their seven children on this 146-acre site, then when the war broke out, they were forced to evacuate their homestead for Confederate forces, who used it as a staging area for their attack on Culp's Hill. The place additionally served as a Confederate Field Hospital during the battle.
The house and impressive 1842 barn survived the battle, but much of the furniture in the home was chopped up and used for cooking fires or medical necessities. Doors became stretchers and operating tables. Bloodstains from the wounded and dying can still be seen on the walls and floors today, along with cannonball fragments and the initials of soldiers etched into doorjambs.
---
---
You'll learn about Civil War medicine as part of this tour– a gruesome, yet oddly fascinating subject. The methods utilized back then are not for the fainthearted. Amputation was the name of the game for many injuries and body parts were simply thrown out the window. Boiled horsehair was used to stitch the men up after the supply of silk was gone. Interestingly, because the hair was boiled, the men had a higher rate of survival than with the silk, which was not sterilized.
---
---
Due to its turbulent Civil War history, it's no surprise to learn that Gettysburg is known to be one of the most haunted places in the country. There's a number of sites that have attracted the attention of paranormal investigators and television series. Sachs Covered Bridge, for example, has become a hot spot for otherworldly sightings and ghostly encounters. Used by both Confederate and Union troops during the Battle of Gettysburg, the structure was also the execution site for at least three Southern soldiers.Story has it that a trio of Confederate soldiers tried to evade the war by clothing themselves in Union attire. They joined a Northern troop and were marching with them near Sachs Covered Bridge when their true identities came to light. The men were quickly made an example and hung from the bridge's beams as a warning to other Confederates passing through the area.
The bridge is a handsome, red painted, wooden structure amid a bucolic setting. It's very picturesque, drawing visitors to its beauty and alluring mysterious charm. Get your photos during daylight and then return at night if you dare! People have reported sightings of three disembodied heads floating on the bridge and their photos have captured what seems to be the ghostly apparitions of the three soldiers. Some have detected the strong scent of cigar smoke, pointing to the possibility that someone – a soldier from the past – continues to patrol the vicinity. Still others have purported to have heard distant gunfire accompanied by cannon sounds. And if you feel a tap on your shoulder and no one's there when you turn around…!
For a unique perspective on what happened in town before, during and after the Civil War, head to Gettysburg Beyond the Battle Museum. This new attraction tells the stories of ordinary eyewitnesses and their personal experiences via a series of interactive exhibits.
One of the highlights is "Caught in the Crossfire," an immersive and visceral experience which puts you up close and personal with the horrific sights and sounds of war. Through cutting-edge technology, you're placed inside a reconstructed farmhouse during the Battle of Gettysburg. Engaging your senses, you'll see, hear and feel what it was like for one family to be overrun by invading forces and trapped behind enemy lines.
---
---
Other exhibits delve into the aftermath of the war when the locals had to deal with death, disease and massive destruction. Lincoln's famed Gettysburg Address gets its due, which visitors hear amid the simulated noises of a crowd of townspeople, who reflect on his speech and offer their opinions. The last gallery is devoted to those who shaped the past century of Gettysburg's history, with a focus on Eisenhower and his contemporaries. 
---
---
For more about President Eisenhower's time in Gettysburg, drive over to the Eisenhower National Historic Site. Adjacent to the Gettysburg battlefield, Eisenhower's farm served as a weekend retreat for the President and First Lady, as well as a meeting place for world leaders. Not only was the farm a respite from hectic D.C. life, but it was also a backdrop for efforts to calm Cold War tensions.Eisenhower would often host notable world leaders including British Prime Minister Winston Churchill, French President Charles de Gaulle, Prime Minister Nehru of India and Soviet Premier Nikita Khruschev, for informal, off the record chats. This was the only home the couple ever owned and they ultimately retired here after leaving the White House.
When you plan your trip to Gettysburg, you'll want to book your lodging in advance, as there are numerous popular events held around town throughout the year, and accommodations tend to fill quickly. I personally gravitate towards historic properties, especially in places where history is the main focus. Staying in one of these unique spots enhances my experience, giving me a peek at living life in a different era.
---
---
The Brafferton Inn B&B served as homebase during my trip. Built in 1786, this is the oldest deeded house in downtown Gettysburg. The location is ideal, as it's walking distance to shops, art galleries, restaurants, museums and more. Convivial and hospitable innkeepers, Brian and AmyBeth Hodges, have been running the place for nearly twenty years. They bought it in 2005, making their dream of owning an historic inn a reality.
---
---
Each of the comfy eighteen rooms in the property is individually decorated with styles ranging from Colonial to Victorian, to "Shabby Chic" and "Industrial Farmhouse." And all have modern amenities. Guests often gather in the parlor, where you'll find many books on Gettysburg, along with the ever-essential coffee and tea service, and home baked cookies in the afternoon.
---
---
Nearby is the original 1815 dining room, which is adorned with a period folk mural painted by renowned artist Virginia McLaughlin. Here's where Brian, who does double duty as chef, puts his talents in the kitchen on full, farm-to-table display. Guests are treated to a first course of fresh fruit and homemade pastries. Three different entrée selections are offered daily, from scrambles and omelets to quiche, egg casseroles, pancakes and French toast. Accompaniments include potatoes and bacon or sausages. Weather permitting, you can also dine al fresco on the outdoor deck in the back, overlooking the lovely garden. With such a hearty meal, you'll be well-fueled for the start of your active day.
www.destinationgettysburg.com
www.brafferton.com
Debbie Stone is an established travel writer and columnist, who crosses the globe in search of unique destinations and experiences to share with her readers and listeners. She's an avid explorer who welcomes new opportunities to increase awareness and enthusiasm for places, culture, food, history, nature, outdoor adventure, wellness and more. Her travels have taken her to nearly 100 countries spanning all seven continents, and her stories appear in numerous print and digital publications.
---