Ascend Pikes Peak on the highest cog railway in the world
Travels with Deb
October 23, 2023 at 6:00 a.m.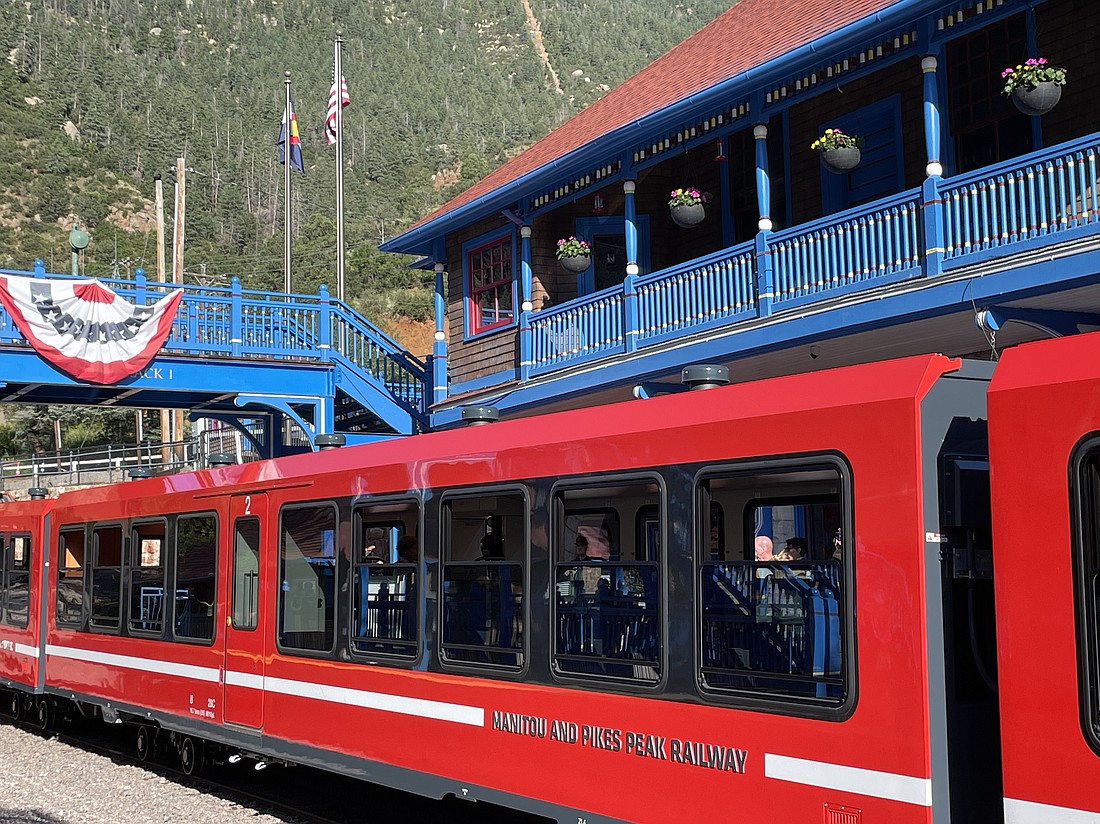 ---
---
Hiking up Pikes Peak, the highest summit of the southern Front Range of the Rockies, is an epic accomplishment, as it involves a long, hard, 13.5-mile climb uphill with a gain of about 7,400+ feet in elevation. It's not for everyone, but thankfully, there are other ways to summit the mountain without having to lace up your hiking boots.
---
---
You can drive the distance, which involves nineteen miles consisting of over 150 switchbacks and often bumper-to-bumper traffic. Your passengers will enjoy the views, while you white- knuckle the steering wheel and concentrate with razor focus on the road. Or you can choose to have a relaxing ride on the Broadmoor's Manitou and Pikes Peak Cog Railway and leave the navigating up to someone else.

---
---
The Cog Railway is the highest of its kind in the world and it has been in operation since 1891, offering visitors an unforgettable trip up Pikes Peak. This prominent mountain, a notable fourteener, is located twelve miles west of downtown Colorado Springs, Colorado. The quaint, historic town of Manitou Springs lies at its base.
Designated a National Historic Landmark, Pikes Peak is named in honor of American explorer Zebulon Pike. Over the years, however, it's been called a variety of things, including El Capitan, Grand Peak, Great Peak, James Peak and Long Mountain.

---
---
The tribe of Ute people who made the Pikes Peak region their home was the Tabeguache, whose name means the "People of Sun Mountain." Tava or "sun" is the Ute word that was given by these first people to the mountain.
Pikes Peak is referred to as America's Mountain for its role in inspiring Katharine Lee Bates to pen "America the Beautiful." At the time the author, poet and professor who wrote the words to what became one of the country's most famous patriotic songs was living in Colorado Springs, teaching English at Colorado College. The year was 1893 and on a trip up the mountain by mule, she was stirred by the dramatic landscape and described it with the memorable phrase "purple mountain majesty."

---
---
You'll begin your three-hour roundtrip journey on the cog railway at the Manitou Depot. It'll take you one hour, ten minutes to get to the summit, where you'll have forty minutes to explore the interactive exhibits at the Summit Visitor Center, snack on the famed high-altitude donuts and take in the spectacular views from the observation areas outside. Then it's back on the train for your return ride, giving you another opportunity to absorb the scenery.
During the ride up, your conductor provides informative commentary and lore about all things Pikes Peak, with numerous puns and jokes thrown in for good measure. You'll learn about how this legendary train came to be, a story that involves one Zalmon Simmons, inventor and founder of the Simmons Beautyrest Mattress Company.

---
---
Simmons rode to the summit, also on a mule, in the late 1880s, an arduous, two-day trip, which was the only way to reach the top back in those days. He was awed by what he saw but determined that another transportation method needed to be developed so that people could enjoy the experience in a more comfortable manner. Thus, the railway was born, and on June 30, 1891, the first passenger train made it to the summit for its maiden journey. Tickets were $5.

---
---
Later, in 1925, Spencer Penrose, owner of The Broadmoor Hotel in Colorado Springs, acquired the railway. Today, the railway continues to be under the ownership of The Broadmoor. And recently, it went through a renovation with an assortment of modern updates, including a refreshed depot, three new Swiss trains, a new single rail cog system and a brand new Visitor Center at the summit.

---
---
The ride up the mountain takes you past several striking waterfalls, aspen groves, ponderosa and ancient bristlecone pines - some estimated at over 2,000 years old. You'll be treated to glorious alpine views encompassing reservoirs, summits of shorter peaks, and even the Continental Divide. You'll also be engulfed within the steep, rocky walls of Englemann Canyon and surrounded by ginormous boulders that rise above in stacked formations. As you move beyond the timberline, the scenery gets expansive and tundra begins to appear. Interesting fact: It takes about 100 years for one inch of tundra to grow horizontally.
---
---
Some of the places we passed had names. Lions Den, for example, describes an area of big rocks where mountain lions occasionally sunbathe. Calendar Mountain, at 12,365 feet, is an obvious choice. And Windy Point is an apt moniker for a spot where the wind has been clocked at 180 mph. Ghost Corner is where the souls of a Texas couple who froze to death hiking the mountain can be heard. A cross memorializes them.

---
---
The panorama at the summit is breathtaking and it's easy to see why Katharine Lee Bates was moved to words and why Spencer Penrose was compelled to find a more civilized means for people to experience such grandeur.

---
---
After your memorable adventure, head over to The Broadmoor to check out additional grandeur, albeit of a different kind. The legendary, historic property is the longest-running Forbes Five-Star, AAA Five-Diamond Resort in the world. And she's a beaut! Stroll around inside and out to get the full measure of this grand dame. Then head to one of the resort's numerous restaurants for a bite to eat, like the Golden Bee, an authentic English pub that arrived panel by panel at the hotel in 1961.

---
---
This convivial and lively spot, a neighborhood "Cheers," boasts an eclectic menu of tasty, hearty dishes such as fish and chips with housemade beer batter, cider steamed mussels, herb-crusted salmon, chicken pot pie and an array of burgers, salads and sandwiches. Dine on the rooftop patio and accompany your meal with a lager or stout, or perhaps one of the crafted cocktails labeled "Bee Stingers." If you're there in the evening, join in the fun singing along to Ragtime tunes on the piano.
www.cograilway.com
www.broadmoor.com

Debbie Stone is an established travel writer and columnist, who crosses the globe in search of unique destinations and experiences to share with her readers and listeners. She's an avid explorer who welcomes new opportunities to increase awareness and enthusiasm for places, culture, food, history, nature, outdoor adventure, wellness and more. Her travels have taken her to nearly 100 countries spanning all seven continents, and her stories appear in numerous print and digital publications. 
---