Gloria Steinem and Her Surprising Ties to Washington State - Redux
October 1, 2023 at 12:00 a.m.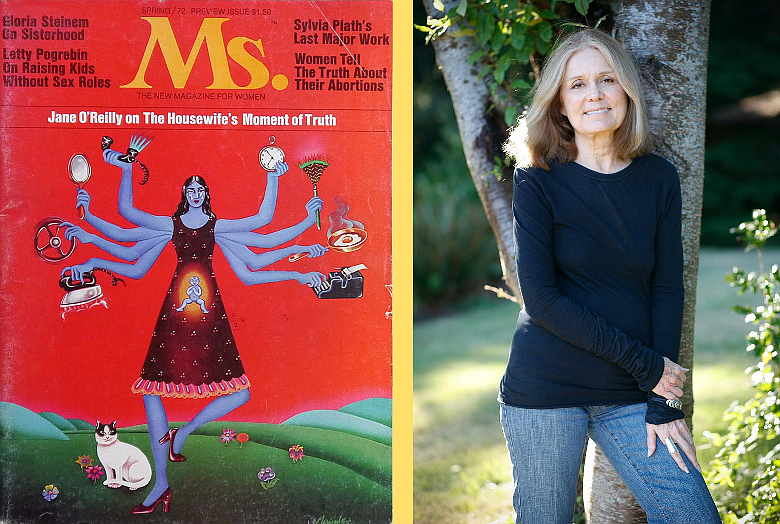 ---
...by Michelle Roedell, Editor, Northwest Prime Time
---
Years ago,
Northwest Prime Time
conducted a reader survey to learn about favorite restaurants, walks, get-aways, along with various and sundry other recommendations from the local "50+" crowd.
One question was, "What is your favorite television show?"
One answer to the question has me still watching that favorite program of some long-ago reader: CBS
Sunday Morning
. Before the survey, I didn't watch the venerable program, whose first host was Charles Kuralt, followed by Charles Osgood. It is currently presented by Jane Pauley, whose smiling face follows the familiar sun logo and sparkling trumpet fanfare by Wynton Marsalis.
I do love watching the newsmagazine, with its unhurried segments, quirky stories, and leisurely profiles of interesting people, whether famous or not-so-famous—fascinating all the same.
What I didn't know at the time was that
Sunday Morning
would offer up so many story ideas for
Northwest Prime Time
.
Take Sunday morning, September 17, 2023. A feature story about
Ms. 
magazine showcased the
longstanding feminist periodical, which has been published for more than 50 years. A story about
Ms. 
magazine wouldn't be complete without an interview of Gloria Steinem, one of the magazine's founders. In the recent CBS program, she discussed the challenges of selling advertising for the women's magazine. Car manufacturers seemed to think that women didn't buy cars, and that if they did, it would devalue a car to see a woman driving it. "I mean," laughed Steinem, "they told me that in Detroit. I'm not making it up!"
The segment reminded me of the article I wrote back in October 2015 about Gloria Steinem and "Her Surprising Ties to Washington State." You can read a slightly updated version below.
-----
Gloria Steinem is not your typical senior citizen. At 89, she remains active as a writer, lecturer, political activist and feminist organizer.
In 1972, Gloria Steinem famously co-founded Ms. magazine, a publication dedicated to women's rights. But her career of activism began long before and started when she graduated from Smith College in 1956. Women had few opportunities back then; their career choices were limited; they were not allowed to have credit cards without their husband's permission or even to participate in events like running the Boston Marathon.
After college, Gloria worked as a freelance writer. She first gained national attention in 1963 when she went undercover as a Playboy Bunny at Hugh Hefner's New York Club to write an exposé of how women were treated there—the piece was seen as a feminist manifesto. She later became editor of New York magazine, where she focused her attention on political and social issues. These early experiences influenced her philosophy and a dedication to equal rights that continues to this day.
Although Gloria lives in New York City, she has a surprising connection to Washington State – a long and prolific history with Hedgebrook on Whidbey Island, a unique retreat that is devoted to visionary women writers.
In 1997, Hedgebrook's founder, Nancy Nordhoff, invited Gloria to stay at the writer's retreat. Gloria called the experience a 'win-win' situation, as it connected her both with Nancy and with Hedgebrook.
Gloria revisited Whidbey Island in 2007 at the invitation of Hedgebrook's then Executive Director Amy Wheeler, who met her at an event in Seattle. Gloria's initial response was that she didn't want to take time and space away from another writer. But Amy reassured her that she would be staying in Meadow House, a 7th cottage reserved just for invited fellows. And so Gloria returned to Hedgebrook to continue work on the book she'd begun there 10 years earlier but hadn't had the time or mind space to complete.
Over the ensuing years, Gloria has sojourned at Hedgebrook's Meadow House several more times—she has said that it's the only place she is fully able to leave behind her life on the road, clear her mind, unplug and write. She continues to be connected with Hedgebrook, including the Creative Advisory Council that she helped launch.
Gloria's last book, aptly titled My Life on the Road, came to life during her time at Hedgebrook. Her first book in 20 years, My Life on the Road is Gloria's personal account of a lifetime spent traveling, organizing and leading the movement for equality for women. She says it tells a story she has never told before.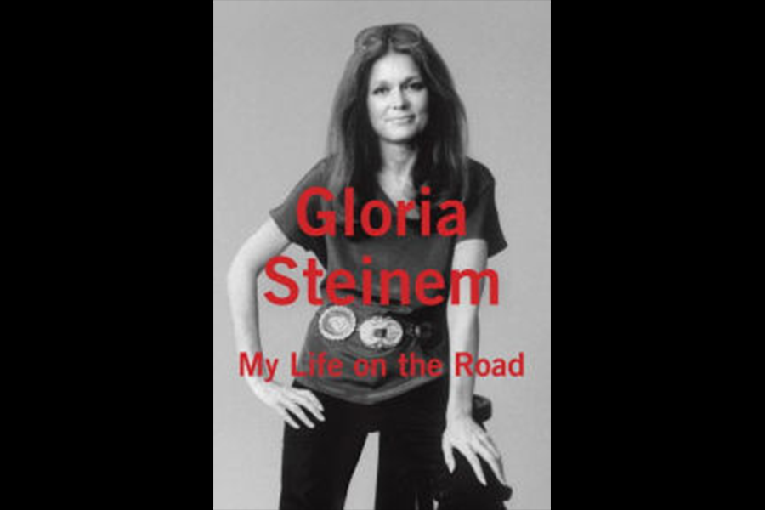 "When people ask me why I still have hope and energy after all these years, I always say: Because I travel. For more than four decades, I've spent at least half my time on the road... At first I was a journalist following stories, then a sometime worker in political campaigns and movements, and most consistently an itinerant feminist organizer. I became a person whose friends and hopes were as spread out as my life. It felt natural that the common element in that life was the road." --Gloria Steinem, from 'My Life on the Road'
While Gloria Steinem's awards and achievements are far too long to list, here are a few: She has been the subject of books and documentaries. Rutgers University is now creating the Gloria Steinem Endowed Chair in Media, Culture and Feminist Studies. Biography magazine listed her as one of the 25 most influential women in America. She created the "Take Our Daughter's to Work Day" and Parenting magazine selected her for its "Lifetime Achievement Award" in 1995 for her work in promoting girls' self-esteem. In 1993, she was inducted into the National Women's Hall of Fame and in 2013 President Obama awarded her the Presidential Medal of Freedom, the nation's highest civilian honor.
---