Carole King is Back in Town! The musical based on her life is playing locally
November 20, 2023 at 3:01 p.m.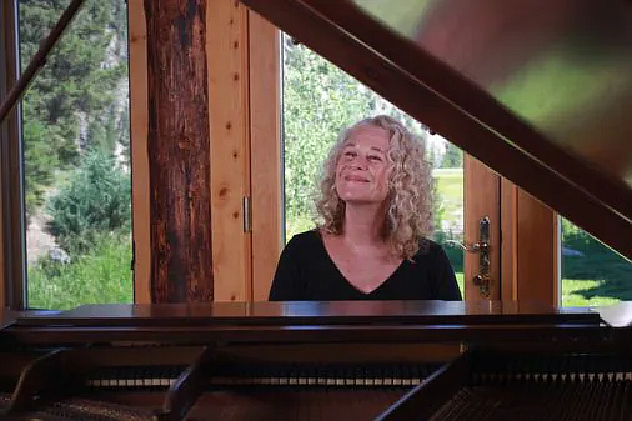 ---
...by Michelle Roedell, Editor, Northwest Prime Time
---
I still haven't attended
Beautiful: The Carole King Musical
, though it's one I'd love to see. I vividly remember playing Carole King's best-selling
Tapestry
album over and over when it came out in 1971.
Tapestry
was the property of my older sister, 17-year-old Susan, but she magnanimously allowed me to play it too.
That album still holds the record for most consecutive weeks at number one by a female solo artist. I think I can faithfully sing all the songs from the album to this day.
The musical,
Beautiful
, based on Carole King's life and songs ran on Broadway from 2014 through 2019, with the first U.S. tour starting in 2015. The musical
came to Seattle's Paramount Theater during the first tour. And now,
Beautiful: The Carole King Musical
is at Village Theatre—the first regionally produced version of the show in the Puget Sound area.
Northwest Prime Time
ran a cover article about Carole King when the musical first came to town in 2016. I remember reading her memoir,
A Natural Women
, in preparation for the article and marveling at her life's story.
Below you can read an updated version of that original cover article, which includes a semi-confirmed rumor about Carole King's surprising ties to Washington state.
*     *     *     *     *
Long before she was Carole King—the chart-topping music legend—she was Carol Klein, Brooklyn girl with passion and chutzpah.
She boldly found her own way into the record business as a teenager and, by the time she reached her twenties, she had the husband of her dreams, two kids and a flourishing career writing hits for the biggest acts in rock 'n' roll.
Carole began her livelihood with a record deal at the tender age of 15 and wrote her first #1 hit, "Will You Still Love Me Tomorrow" – performed by the Shirelles – at 17. Her early hits, which she wrote with then-husband Gerry Goffin, just kept coming, including the iconic "Natural Woman" made famous by Aretha Franklin. When she finally began to record and perform her own music, the result was
Tapestry
(1971), which was on the charts for more than six years and remains one of the most successful albums of all time.
Now, at age 81, the Grammy-award winning singer-songwriter has continued to see a whirlwind of accomplishments and accolades over the years ...
In 2011, a feature-length documentary,
Troubadours
, was released about her triumphant reunion concert with James Taylor. In 2012, she published her memoir,
A Natural Woman
. 2013 brought her the Recording Academy Lifetime Achievement Award – the same year she became the first woman awarded The Gershwin Prize for Popular Song presented by President Barack Obama at an all-star White House gala. Carole received the Kennedy Center Honors in 2015 (which recognizes the extraordinary achievements in excellence by individuals whose impact have left an indelible mark on civilization). The program included a show-stopping performance of King's "A Natural Woman
"
by the incomparable Aretha Franklin that brought President Obama to tears. The following year, PBS premiered an
American Masters
documentary about her life.
In 2021, Carole was inducted into the Rock and Roll Hall of Fame for a second time (she has been recognized both as a songwriter and a performer). More recently, the documentary,
Carole King: Home Again – Live in Central Park
, aired earlier this year on PBS. It celebrates her homecoming concert in 1973, the first-ever Central Park Great Lawn concert in her hometown of New York City. The documentary also features a behind-the-scenes look at her career and commentary from the legend herself.
In January 2014,
Beautiful: The Carole King Musical
opened on Broadway and became the hit of the season—audiences were amazed at her deep musical catalog and captivated by her life story.
Sony Pictures has announced that the film adaption of
Beautiful 
will soon be in production.
What an impact this down-to-earth mother and grandmother has made on popular music! Carole King's 2012 memoir,
A Natural Woman
, begins with a description of the frenzy taking place in the minutes before a concert.
"I check my hair in the mirror. It's frizzy. I daub some conditioner into my hands, add a splash of water, and scrunch the mixture into my hair. Much better…I look exactly like Carole King…Seconds later, Slice opens the door and says, 'Showtime!' "I follow Slice past a series of long concrete-block walls filled with performance photos of other artists who've appeared at this venue...I look up and see photos of Bob Dylan, Barbra Streisand, Aerosmith, Jefferson Starship, Johnny Cash, Reba McEntire, Joni Mitchell, Simon & Garfunkel, Earth Wind & Fire, Crosby Stills & Nash, David Bowie, U2 and the Rolling Stones. I well up unexpectedly at the realization that I am one of a select cadre of people who do this thing that I'm minutes away from doing…How did I get here?"
Her book answers that question and more; it is filled with revealing stories and insight into the eventful life of this talented mother of four (and now a proud grandmother). Some tidbits:
~ Carole King grew up in Brooklyn to a Jewish family. Her mother was a teacher and theater aficionado, her father a firefighter. Carole learned the piano when she was four years old, and at age eight appeared on the television shows
The Children's Hour
and
The Amateur Hour with Ted Mack
.
~ While still in high school in the 1950s, Carol Klein started writing songs, changed her name to Carole King and formed a band called the Co-Sines.
~ On the advice she got at age 15 from famed DJ Alan Freed: "He told me to look in the phone book under 'Record Companies' and play my songs for the A&R man…The next day, less than ten minutes after the last school bell had rung, I was on an express train from Kings Highway to Manhattan wearing a pink sweater set, a black felt skirt with a pink poodle on it, a ponytail, white bobby sox, and a pair of white sneakers." She walked into Atlantic Records' offices unannounced and asked if she could play her songs for someone. Moments later, she was performing for Atlantic's legendary founders Ahmet Ertegun and Jerry Wexler. "You got talent," declared Wexler, while Ertegun chimed in "Yeah, man, very soulful." "You know what?" Carole said during an interview on NPR's Fresh Air. "When I was younger, I was kind of fearless…I was completely naïve." But it worked!
~ Carole, who had skipped two grades in elementary school, entered college at age 16 and made demo records with fellow student, her pal Paul Simon, for $25 a session.
~ On meeting Gerry Goffin, her future songwriting partner and husband: "At fifteen, I had come upon a drawing in
True Story
magazine of a young man with dark hair and dark eyes. It had so epitomized my ideal boyfriend that I cut it out and put it in my wallet." The drawing was still there when she started at Queens College the following year, where she met Goffin. "…the door opened and Gerry walked in. My heart stopped. He looked exactly like the drawing in my wallet."
~ She remembers the first time she and Gerry heard one of their songs on the radio: "It was
Will You Still Love Me Tomorrow
, and Gerry and I were in his '56 Mercury Monterrey. And we're listening to this coming out of the tinny speakers and we're like, 'Oh, my God. I can't believe this. We were just through the roof and to the moon. It was such a thrill."
~ Carole and Gerry wrote music for
The Monkees
television show and movie. "Our Monkees songs sold remarkably well," said Carole.
~ With success came heartache – she and Gerry Goffin divorced in 1968. Goffin moved to California and Carol followed on her own so her daughters could remain close to their father. It was there she met a long-haired guitarist, fellow singer-songwriter James Taylor. The two formed a lifelong professional relationship that would prove pivotal for each. Taylor recorded her song, Y
ou've Got a Friend
, his first #1 hit.
~ Carole sang lead vocals in public for the first time in 1970 while on tour playing piano in James Taylor's band. Taylor surprised her with the request that she sing her song,
Up on the Roof,
only moments before show time. This performance helped launch Carole's next step – to become a recording artist performing her own songs. James Taylor played on her breakout album,
Tapestry
.
~ Carol married three more times after Goffin (including Charles Larkey, the father of her second two children). On the sadness of her failed marriages, she said she really felt she knew herself only after she reached her 60s.
~ Carole left the hustle and bustle of Los Angeles in the late 70s for the rural lifestyle of Idaho. Although a highly successful star, she revealed that she never fit in with L.A.'s superficial, materialistic lifestyle and that she found her peace in Idaho, where she still resides.
~ Before moving to a ranch in Idaho, for several years, Carole and her family lived in a cabin in Idaho without electricity or running water, one so remote that in the winter their only communication with the world was via something they called "ski-mail." Carole explains: "Visitors on cross-country skis brought our mail, and we sent mail out with them or other skiers." Carole homeschooled her children during this time.
~ It is rumored that Carole and her family lived for a time in an old farmhouse above Puget Sound in Des Moines, Washington.
Editor's note:
Carole King's ties to Des Moines came from the real estate agent who listed the home where Carole reportedly lived. I had just read Carole King's autobiography when I visited the open house and heard the news of its famous inhabitant directly from the agent. With her autobiography so fresh in my mind, I could almost see Carole's kids playing in that old farmhouse and trekking down the nearby steps leading to the beach. Granted, Des Moines was not mentioned in the book, and I tried to confirm the connection by contacting Carole King's press agent. Since I did not hear back either way, the rumor is possibly true!
"Along the way, Carole King made more than beautiful music. She wrote the soundtrack to a generation," proclaimed an enthusiastic review. Ever humble, Carole told CBS News' Norah O'Donnell that the highest compliment she's ever received was being told that she was down-to-earth, which she describes as a value that "I have tried to keep…through the whole trajectory of my life."
In addition to her continuously evolving musical career, Carole is actively involved with environmental organizations in support of wilderness preservation.
BEAUTIFUL: The Carole King Musical


Beautiful: The Carole King Musical
, the award-winning hit about the early life and career of the legendary singer-songwriter, plays at The Village Theatre in Issaquah through December 23 and the theater's Everett location from January 6 through January 28.
Beautiful
follows the inspiring story of Carole King's remarkable rise to stardom – from being part of a hit songwriting team with her husband Gerry Goffin, to becoming one of the most successful solo acts in popular music history.
Beautiful
features Carole King's stunning array of beloved songs including
 "
I Feel the Earth Move
," "
One Fine Day,
" "
(You Make Me Feel Like) A Natural Woman
," "
You've Got a Friend
"
and "Beautiful" – the title song. For more information, visit
https://villagetheatre.org
.
---