Experience the magic of Grand Teton National Park
Travels with Deb
November 1, 2023 at 6:00 a.m.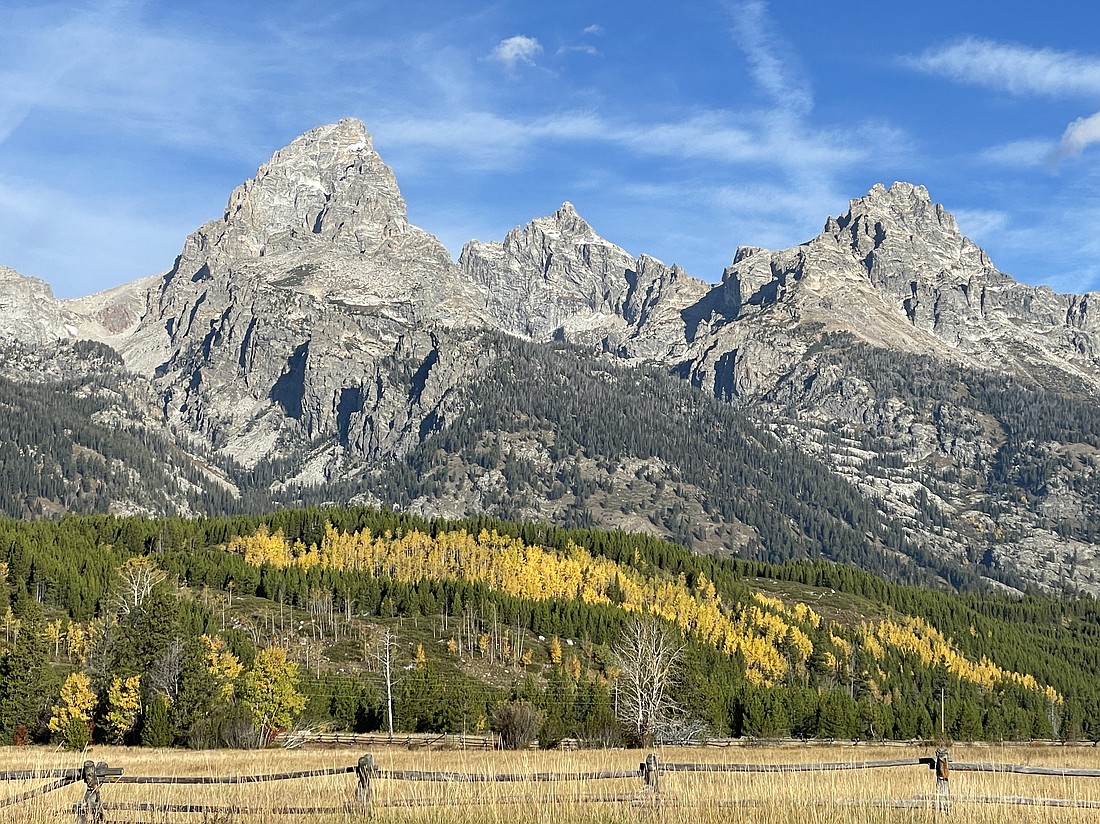 ---
---
When I think of mountains, the Tetons immediately come to mind. The jagged peaks of the Teton Range rise abruptly from the Jackson Hole Valley in northwest Wyoming, creating awe-inducing views. And Grand Teton, the namesake peak, towers high above at 13,775 feet tall like a formidable sentinel in the sky, while others in the chain top 12,000 feet. Created and sculpted by geologic forces, these mountains are a thing of wonder and I never tire of marveling at their presence.

---
---
Though I'd been to the Tetons in summer and once in winter, I had yet to discover the allure of this destination in fall. After my recent visit, I can now attest that autumn is my favorite season here. The aspens with their white bark and bright yellow leaves set against the blue sky paints the most breathtaking and enchanting scene. The temps are still mostly mild, yet there's a crisp quality to the air in the mornings and evenings that reminds you summer is over.

---
---
Most people aren't aware that the birth of present-day Grand Teton National Park involved much controversy and a struggle that lasted several decades, nearly derailing its establishment. By contrast, nearby Yellowstone NP took only two years from idea to reality. Though Grand Teton formally became a national park in 1929, it encompassed only half of its present size. It wasn't until 1950 when President Truman signed the law completing the park's expanse as it stands today.

---
---
It's easy to understand why so many people visit world-renowned Grand Teton National Park, one of the most popular in the country. Comprising 310,000 acres, this wonderland not only boasts magnificent mountains, but also pristine lakes, an abundance of wilderness to explore and a wide array of wildlife. And then there's the wild and scenic Snake River that runs through the valley floor, serving as a main artery in the park.

---
---
The closest town to the park is Jackson Hole, which is about twenty minutes away from the Moose Entrance in the southern part of Grand Teton. For a good intro to all that the park offers, head to the Craig Thomas Discovery and Visitor Center located just inside this entrance. Here you'll find exhibits and films detailing the park's history, people, preservation, wildlife, mountaineering and more. And you can also get maps, trip planning info, backcountry or boating permits and find out about ranger programs, any road closures and other pertinent information. Note that while the park is open year-round, some roads, most visitor facilities and all campgrounds are limited or closed November through April.

---
---
Grand Teton offers some of the best hiking in the country, with over 250 miles of trails to choose from. One of my favorites is Inspiration Point, located in the Jenny Lake area. You can take a shuttle boat across the lake to the mouth of Cascade Canyon, then hike up to the Point if you're short on time. Otherwise, you can take the path around part of the lake and connect with the trailhead. I personally like to do the latter option one way, then return via the boat.

---
---
Once you reach Inspiration Point, take in the spectacular vistas of the lake and surrounding mountains, and yes, you will be inspired! On the way down, take a short spur trail to Hidden Falls for a view of this thundering, 200-foot cascade. Enjoying the landscape sans crowds is always my goal, so I get an early start to ensure having these special moments mostly to myself.

---
---
When you're done, opt to do the Jenny Lake Scenic Drive, a one-way route that connects with the Teton Park Road. You'll get nice views of the lake from different junctures and can stop in at Jenny Lake Lodge for a look-see or bite to eat.
Another hike I like is the Taggart Lake-Bradley Lake loop, which visits two lovely lakes surrounded by glacial moraines. As this is another well-known trail, I recommend doing it first thing in the day to avoid the masses – and to get parking! There's nothing worse than planning to do a hike and then not finding a space to park.

---
---
Towards the north end of the park, you'll find the Colter Bay, Jackson Lake and Signal Mountain areas, each with its own set of trails leading to more glorious highlights. Check out the Lakeshore Trail along the Colter Bay shoreline with views of Jackson Lake and the Tetons. Or do an easy loop for access to Heron Pond and Swan Lake. Ascend Signal Mountain on a moderately challenging hike for more peak panoramas.

---
---
Hike smart no matter where you are in the park as you may encounter wildlife at any time. The park is home to elk, bison, wolves, fox, moose, deer and countless other creatures. Always respect your distance and don't approach them under any circumstances. Injuries occur when people try to get too close, which can threaten the animals and cause them to react. Although this all seems to go without saying, it still confounds me when I see people encroaching on a creature's personal space to get that perfect pic or selfie.

---
---
Some of the most popular trails pass through both grizzly and black bear habitat, so be alert, make noise, carry bear spray and know how to use it, and hike with a companion when possible. If you happen to meet a bear, don't run. Back away slowly unless it charges you (rare), in which case stand your ground and use bear spray. I've never had to discharge bear spray, as during my few chance encounters with bears over the years, I retreated and the bear never followed me. But I definitely know how to use it if necessary.

---
---
For more breathtaking views, geological features, historical sites and of course wildlife, drive the 42-mile scenic loop through the park. There are numerous pullouts with notable spots including Jackson Lake Overlook, Signal Mountain Summit, Willow Flats Overlook, Oxbow Bend Turnout, Snake River Overlook, Potholes, Cathedral Group Overlook and Elk Ranch Flats Turnout, where herds of bison can often be seen roaming the valley.

---
---
As for historical sites, there's Cunningham Cabin, the oldest dwelling in Jackson Hole circa 1881; Bill Menor's homestead in the Menors Ferry District; the Chapel of the Transfiguration, a house of worship built in 1925 so settlers wouldn't have to travel to Jackson for church services; and Mormon Row, with its picturesque, iconic barns and homesteads constructed by Mormon settlers in the 1890s.

---
---
Museumgoers and art aficionados will want to put the National Museum of Wildlife Art on their list. Built into a hillside overlooking the National Elk Refuge, just two miles from the gateway to the park, this top attraction holds more than 5,000 artworks representing wild animals from around the world. The permanent collection chronicles much of the history of wildlife in art from 2500 B.C.E. to the present. Paintings and sculptures by such prominent artists as Georgia O'Keeffe, Andy Warhol and John James Audubon are on display. 

---
---
Outside the museum is an outdoor sculpture trail, where you'll experience larger-than-life works and some of the best views in Jackson. Light and the seasons play on the pieces, providing an ever-changing perspective on art in nature.

---
---
Accommodations abound throughout the park with options that include lodges, cabins and even a dude ranch, plus numerous camping sites. Reservations are necessary for all. In and around Jackson Hole there are hotels, motels, lodges, inns and B&Bs, ranging from rustic abodes to five-star luxury resorts.  
Homebase for the first part of my stay was in town at the family-friendly Snow King Resort. Nestled at the base of Snow King Mountain, Snow King Resort is the town's largest resort with 203 rooms. And at less than a mile from Jackson Hole's Town Square, it's convenient to shops and restaurants.

---
---
The property offers an authentic, yet modern, Western lodging experience, featuring an outdoor heated pool and hot tub, fitness center, restaurant and full service spa. It's the only resort in town where you can walk or ski directly to the base of the mountain and catch the chair lift or new gondola to the top.

---
---
Rooms are spacious and comfortable, and the design is contemporary, with a combination of warm tones and cool colors, wood finishes and whimsical artwork.
With its casual vibes, you'll feel right at home here. I found the staff to be welcoming and always willing to assist with a smile on their faces.

---
---
As I am a spa girl, I headed to the recently opened Grand View Spa for a bit of pampering, which I always appreciate after a day of hiking. The 9,000 square-foot facility boasts six treatment rooms, rain showers, eucalyptus steam rooms, infrared sauna, hot tubs and the state's first-ever halotherapy salt lounge. This is a place of relaxation and rejuvenation, with an array of signature treatments inspired by the region's natural fauna and flora.
I had the pleasure of experiencing the Grand View Massage, which combines aromatherapy, Swedish and other therapeutic techniques, and focuses on your areas of tension and stress. It was an hour of pure mountain bliss, as I was able to relax and unwind with the help of my therapist's magic hands.

---
---
I also spent time in the halotherapy salt lounge. If you've never been in one of these, you're in for a treat. Halotherapy, or salt therapy, uses a halogenerator to vaporize pure salt into the air so you can breathe it deeply into your lungs. When these vapors are inhaled, it helps to boost your immune system, combat stress and alleviate the high amounts of pollutants and bacteria we are exposed to on a daily basis. Being in the spa's halotherapy lounge for twenty minutes cleaned out my sinuses like a Netti Pot does without the water.

---
---
When hunger strikes, head to Hayden's Post, the resort's restaurant. You'll dine in a handsome, rustic-style room with breathtaking mountain views outside the expansive floor to ceiling windows. The place evokes the Wild West with its pine beams, massive stone wall, elk antler chandeliers and railroad tie-like partitions accented with straps of various styles of western leather belts. A large, double, indoor/outdoor fireplace creates a cozy ambiance.
As for the gastropub fare, there are fresh salads and hearty burgers, flatbreads and a selection of seafood, wild game and other carnivore-loving entrees. Accompany your meal with a hand-crafted cocktail, local craft beer or glass of wine. Opt to dine alfresco on the outdoor patio facing Snow King Mountain. Time it right when the sun starts to set for an Instagrammable-worthy pic.

---
---
When it comes to activities, Snow King Resort is a recreational playground for all ages. Having Snow King Mountain next door is a big plus, as you can do everything from ziplining (North America's steepest!) and putt putt golf to riding the thrilling Cowboy Coaster (if you have a need for speed this is for you!) and alpine slide. For impressive views, take the scenic gondola to the top of the mountain, where a new restaurant, observatory and planetarium are in stages of construction.

---
---
Wherever you stay in town, make sure to spend some time strolling around Town Square with its famed elk antler arches on each corner. Peruse the eclectic boutiques and art galleries, and dine at one of the many cafes, bistros and restaurants for great grub. Then belly up to the bar at The Million Dollar Cowboy Bar, where you can sip a cold one astride a saddled seat. Yee-haw!
---
---
During the second half of my trip, I moved over to the Four Seasons Resort and Residences in Teton Village. The Village surrounds the base of Jackson Hole Mountain Resort and is a very scenic and popular four-season recreation area. It's also easily accessible to the park and to the town of Jackson Hole. Here you'll find hotels, lodges and condos, several restaurants and watering holes, spas and more.

---
---
Having never stayed in a Four Seasons property, I was excited at the prospect of experiencing its unparalleled Forbes Five-Star AAA Five-Diamond service. And I was not disappointed! The personal attention that each guest receives from every staff member is notable. It starts even before you arrive, as the resort's concierge reaches out to contact you about your stay. Then upon arrival, the contact continues throughout your time at the property. There is a conscientious effort made to ensure that your stay is memorable from start to finish. And no detail is left undone.

---
---
The 155-room property, which includes its residential units, is designed in a mountain style with wood, stone, leather, earth tones and Native American motifs. Guest rooms are spacious and come with furnished private balconies and fireplaces, a comfortable seating area and views of either Jackson Hole valley, the hotel courtyard or the Grand Teton mountains. And the beds are heavenly!
---
---
You'll find the resort to be amenity-rich with facilities that include a full-service spa (more on that later), swimming pool, hot tubs, fitness room, three restaurants, 8,000 square feet of meeting space and even a Kid's Club. The concierge team is always available to organize on and off-site recreation adventures from hiking and mountain biking to fishing, horseback riding, rafting and more. And skiers are in their element here with the mountain steps away.

---
---
Among the many curated experiences that the Four Seasons offers is a half-day trip with Jackson Hole Wildlife Safaris. This memorable adventure gives you the opportunity to explore and learn about the park with a professional naturalist guide, while searching for wildlife. Each safari can be customized to your areas of interest.

---
---
For most visitors, the wildlife in Grand Teton is a magnet that draws them to the park. On a safari, you have an experienced guide who is well-versed in animal behavior and habitat and knows all the fortuitous locations. Once he/she spots the animals, you'll get time to observe them with the assistance of high-powered optics. If the creatures are further away, these tools are especially helpful in giving you a more up close and personal view.
---
---
When searching for wildlife, it's important to understand the animals don't appear just because you're looking for them. It takes work and patience to carefully scrutinize the landscape and sometimes all you might see is a fleeting glimpse of an antler or fur. But then you round the corner and there's an elk peacefully grazing or a bull moose chomping at some willows.
During my safari, we were rewarded with sightings of moose, elk, bison and pronghorn, some nearby and others in the distance. I considered this quite a successful venture. Plus, we had the added boon of striking views, fascinating commentary and discussion about everything from the geological aspects of the park to its rich anthropological history.

---
---
At the end of a day of activities, I headed to the spa to soak in the hot tub. The environment oozed tranquility and the whirlpool worked its magic on my tired muscles. Though I was very content to stay in the warm water, I kept looking at the cold tub nearby. Feeling brave, I took a nanosecond plunge into the icy milieu, let out a loud gasp, then quickly returned to the hot tub. Having done hot and cold therapy previously, I know that it offers a variety of health benefits from improved cardiovascular function to elevated mood. And it really does help awaken your senses!
---
---
As for treatments, the spa crafts its therapies to "harness the powerful natural resources of the area" and uses indigenous flora known for their healing properties. Such treatments include the Wildcrafted Facial, Turquoise Sage Body Ritual and Alpine Glow Body Wrap.
The Wildcrafted Facial was exactly what I needed, as my skin was dry and desperately craved attention. This treatment exfoliates, detoxifies, brightens and infuses the skin with deep hydration. Among the lotions and potions used are hand-cultivated wild arnica, chamomile, calendula, sage and something called Bakuchiol, a natural retinol, to stimulate collagen. A divine rose quartz facial massage is included. My skin glowed and felt velvety soft at the end of this heavenly experience.

---
---
Dinner at the hotel's Westbank Grill was another treat. The beautiful dining room is cozy, yet elegant, with dramatic views of the mountain. You'll have top notch service and the food is splendid – creative, seasonal, flavorful – giving your taste buds a journey to remember.
Opt for the enhanced bread service, where you can accompany your warm bread with Wagyu or Foie Gras butter or a cashew and thyme spread. Start with the oysters of octopus and calamari. Or go big with the Grand Tower, a seafood lover's nirvana.

---
---
There are several salads to choose from including a delightful Spring Salad with white asparagus and grilled artichokes tossed in a strawberry rhubarb vinaigrette. And the smoked salmon chowder is a must for chowder lovers.

---
---
Entrees primarily feature seafood and steaks and chops that you can accompany with different sides. I had the charred Ahi Tuna and Diver Scallops with Idaho sweet corn and kale. I savored each bite of this amazing meld of flavors and textures. My husband had the chicken with a porcini chicken cream sauce, which he devoured.
---
---
We ended our meal with the Cowboy Cookie, a large chocolate chip cookie baked in a small cast-iron skillet and topped with vanilla ice cream – a melt-in-your mouth, gooey dessert. Then we waddled out and proceeded to walk around the hotel, admiring the museum-quality art collection in this handsome property.
---
---
www.nps.gov/grte
www.snowking.com
www.fourseasons.com/jacksonhole
Debbie Stone is an established travel writer and columnist, who crosses the globe in search of unique destinations and experiences to share with her readers and listeners. She's an avid explorer who welcomes new opportunities to increase awareness and enthusiasm for places, culture, food, history, nature, outdoor adventure, wellness and more. Her travels have taken her to nearly 100 countries spanning all seven continents, and her stories appear in numerous print and digital publications.
---