Northwest summer in a jar
Red, sweet strawberries can be enjoyed now and in the future
May 31, 2023 at 8:00 a.m. | Updated July 1, 2014 at 11:44 a.m.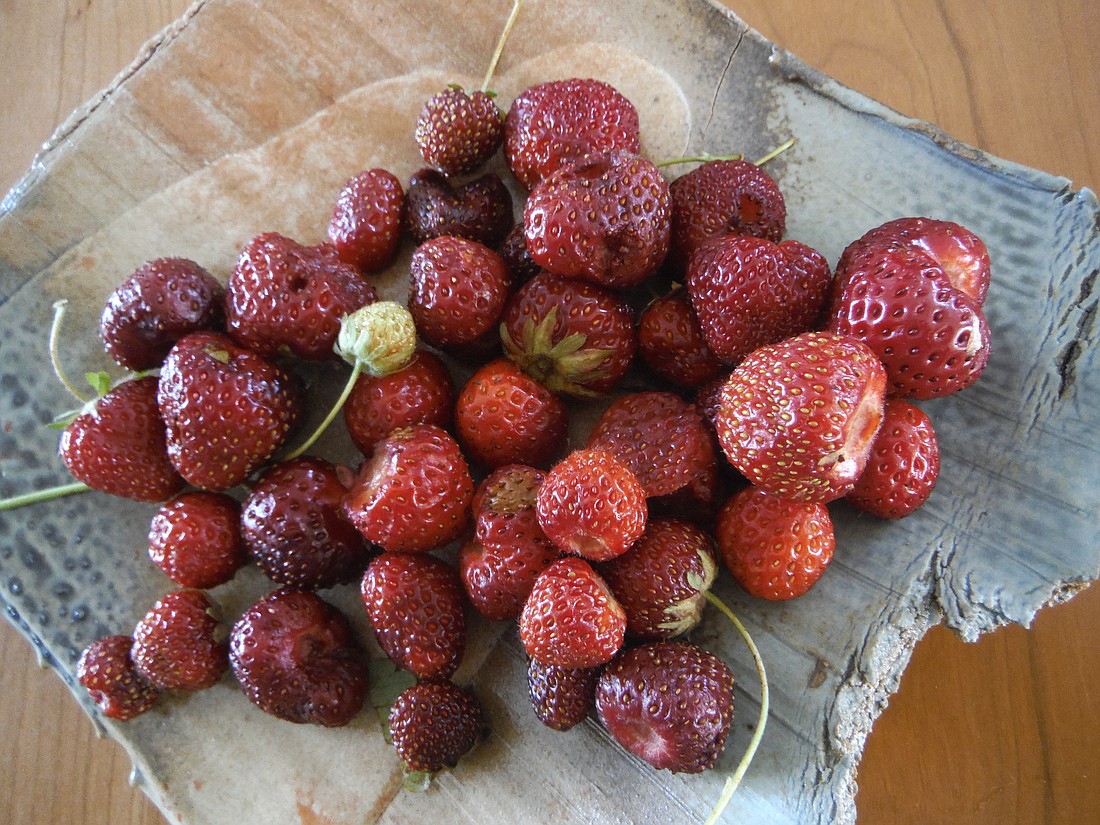 ---
---
When my son was very little, he couldn't say the word "strawberry." It came out, "Strawbaby!" Since then, at our house, we have strawbaby jam, strawbaby and spinach salad, strawbaby vinegar and strawbaby and rhubarb squares.
The Pacific Northwest is strawberry heaven! We have just the right weather, including the rain, to make our strawberries the most desirable in the nation. And we get to keep most of them because they don't ship well. So take advantage of our local berries when they are in season at local farmers' markets. You can also stick a few plants in your garden, or in a pot on the deck. Local berries are smaller, darker in color, and packed with flavor. But use them up quickly; they don't keep!
If you can't wait for a new way to savor local strawberries, make jam. Even if you've never canned, succeed with this quick, easy, microwave recipe for the best strawberry jam you will ever eat. My son, in college now, regularly requests a care package of homemade Strawbaby Jam. "It tastes like real fruit," he says, "not red paste."
Microwave Strawbaby Jam
1 cup mashed strawberries (or any combination of raspberries, blackberries, huckleberries, blueberries)
¾ cup sugar
¼ teaspoon butter or margarine
1 teaspoon lemon juice
Put ingredients in a microwave-proof bowl and mix. Microwave on high for 4 minutes for strawberries (5 minutes for all other berries). Stir and microwave another 4 minutes (5 for all other berries). Cover with plastic wrap, keep refrigerated.
1 tablespoon is 40 calories of summer!
Strawbaby and Spinach Salad 
1 bunch baby spinach, washed
1 cup strawberries, sliced
4 ounces goat cheese, refrigerated
¼ cup hazelnuts or cashews (unsalted)
Vinegar and oil
Tear spinach into a large bowl, sprinkle with strawberries and nuts. Crumble cheese over the top and serve with vinegar and oil dressing.
Strawbaby Vinegar
To preserve a few more of those wonderful local berries, make your own vinegar! Just add 1 cup of sliced berries to a quart of white, wine, or champagne vinegar. Let sit for a week at room temperature, strain, and use with a nice olive oil for a great salt-free dressing!
Strawbaby Rhubarb Squares
You can make this recipe with 4 cups of strawberries and no rhubarb, but cut back on the sugar to ¾ cup.
1 cup flour
3/4 cup oatmeal
1 teaspoon cinnamon
1 cup brown sugar
1/2 cup unsalted butter, melted
2 cups chopped rhubarb
2 cups sliced strawberries
1 cup granulated sugar
1 cup water
3 tablespoons cornstarch
Preheat oven to 350F. Mix together flour, oatmeal, cinnamon and brown sugar. Add melted butter and mix until crumbly. Press 2/3 of mixture into 9" x 9" square pan. Cover with rhubarb and strawberries. Combine sugar, water and cornstarch in a small saucepan. Bring to a boil for one minute or until thickened. Pour over fruit. Sprinkle remaining crumb mixture on top. Bake 1 hour. Cut into 12 squares.
Nutrition information per square:
Calories: 251
Carbohydrates: 44 g
Protein: 2 g
Sodium: 8 mg
The information in this column is meant for people who want to keep their kidneys healthy and blood pressure down by following a low-sodium diet. In most cases, except for dialysis patients, a diet high in potassium is thought to help lower high blood pressure. These recipes are not intended for people on dialysis without the supervision of a registered dietitian.
This article was originally published in 2014. 
Katy G. Wilkens is a registered dietitian and department head at Northwest Kidney Centers. The 2014 recipient of National Kidney Foundation Council on Renal Nutrition's Susan Knapp Excellence in Education Award, she has a Master of Science degree in nutritional sciences from the University of Washington. See more of her recipes at www.nwkidney.org. 
---