La Fonda oozes with historical ambiance and the spirit of the Southwest
Travels with Deb
May 15, 2023 at 6:00 a.m.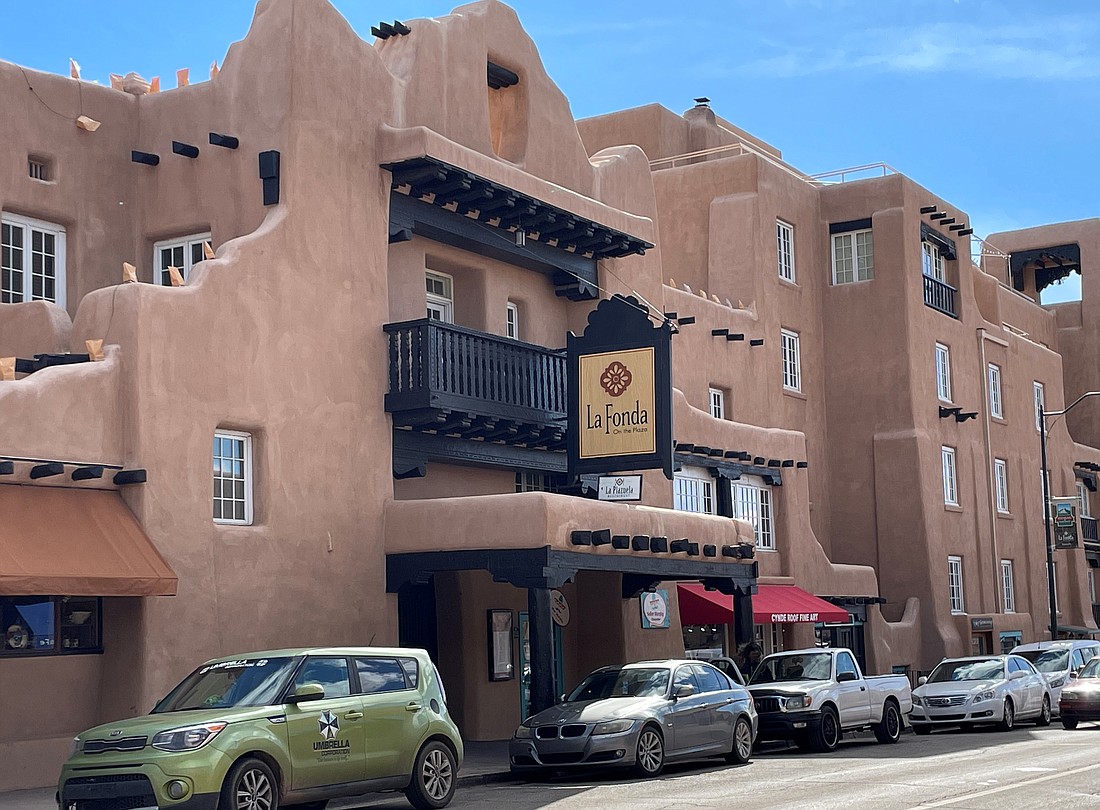 ---
---
La Fonda is a beloved Santa Fe landmark. It's one of the earliest and best-known hotels in America's oldest capital city. And it's the only hotel on the Santa Fe Plaza, steps away from many of the city's popular attractions.
---
---
Free history tours of this prized property are offered by docents four days a week and are available to the public, so you don't have to be a guest to enjoy this informative journey into the hotel's colorful and vibrant past. The tour will transport you back in time as you learn there has been some type of inn on the site since the 1600s, making it the oldest corner in the country offering lodging. The place first served as a way station on the Camino Real, then later as a respite for travelers on the Santa Fe Trail.
---
---
In 1846, the U.S. Hotel opened at this location. It was short lived, as it soon passed hands, changed names and became the Exchange Hotel. According to legend, a teenage Billy the Kid worked there as a dishwasher and piano player.Flash forward to 1919, when the Exchange was demolished by a WWI tank, the "Mud Puppy," with bashes auctioned off at $100 a pop to raise money for victory bonds. Construction began on a new property and La Fonda Hotel officially opened its doors in 1922. The name in Spanish translates to "the inn."
---
---
Unfortunately, La Fonda faltered due to poor management, but thankfully, the Atchison, Topeka and Santa Fe Railroad stepped in and bought the place, subsequently leasing it to the Fred Harvey Company. Fred's son Ford took over the management of the hotel.Fred Harvey is a name that once inundated the hospitality industry. Harvey is credited with developing the first restaurant chain in the U.S. and establishing standards for quality lodging and dining for travelers. He's also responsible for creating the signature "Harvey Girls," single women hired and trained to be the epitome of a perfect server. The women typically wore black and white uniforms, (those at La Fonda wore ruffled Mexican embroidered blouses and skirts) and lived onsite in dorms supervised by matrons.
---
---
Harvey had more than sixty hotels and restaurants along rail routes throughout the Southwest, and between 1883 and 1965 there were an estimated 100,000 Harvey Girls employed in the Harvey empire. The company was extremely successful until the advent of the automobile when people no longer had to be dependent on trains for their transportation. La Fonda remained a Harvey House until 1968 and was one of the last of its kind.
---
---
By this time, however, the hotel had fallen into disrepair and faced demolition once again. Enter Sam and Ethel Ballen. The Texas couple, who had fallen in love with Native American culture and art and often stayed at La Fonda on their visits to Santa Fe, bought the property and took on the task of restoring and preserving it for the next several decades.
---
---
In 2014, Jennifer Kimball and her brother, Philip Wise, a principal of Cienda Partners LP, along with other family investors, became the fourth and current owners of the property. They view themselves as dedicated stewards of its rich history.Designed in the Spanish Pueblo Revival style by architect Isaac Hamilton Rapp, with further expansions by architects Mary Elizabeth Jane Colter and John Gaw Meem, the hotel boasts earth-tone colors and rounded corners, wooden "vigas" or horizontal roof posts, hand-carved and hand-painted beams, sculpted corbels, terracotta tiles and handsome wood doors. Though the property has gone through several renovations and additions over the years, it has never lost sight of its historic roots and authenticity.
---
---
Colter and Meem brought in artwork by local artists, many by Native Americans and Pueblo artists, a focus that has continued by owners, past and present. The collection has grown considerably and is regarded as world class with original paintings, sculptures, textiles, photos and other media adorning not only all of the public areas in the hotel, but in every guestroom and throughout the hallways.
---
---
Among the artists that have contributed to the collection is prolific painter Gerald Cassidy. Known for his dramatic depictions of life in the frontier West, Cassidy is also responsible for creating the famous Four Corners map, which hangs in the Santa Fe Room. This room is an event space that has been a focal point of the town's social scene since its construction.
---
---
Paul Lantz's colorful murals showing life in a Mexican village are eye-catching, as are Vladan Stiha's striking panels of Native America. Stiha, a former Yugoslavian who emigrated to the U.S. at the age of 66, was actually a onetime resident of the hotel who had a gallery onsite and paid for his room rent with art. He, like many artists who came to Santa Fe, was captivated by New Mexico's landscape and quality of light.
---
---
You can't miss the whimsical, hand-painted motifs of Ernest Martinez that are sprinkled throughout the property, most notably on the windows of the hotel's restaurant, La Plazuela. The designs add a charming touch of folk art to the surfaces they bedeck and no two designs are the same. Martinez's work can also be seen throughout the hotel from framed paintings to decorated light switches and the painted pillars in the parking garage. The local man served as the head of maintenance at La Fonda for 56 years, but it's clear he leaves a legacy of art at the hotel.Johnathan Kendall's folk art wood carvings and unique assemblages are also of note. A restless nomad, Kendall, spent much of his time on the road, passing through state after state. In Santa Fe, he, too, exchanged his artwork for a room at the hotel.
Arnold Rönnebeck is another contributor to this vast collection. His large terracotta panel above the fireplace behind La Plazuela assumes a prominent position. The piece incorporates symbols and characters from Zuni and Hopi tribal stories. Another frieze, located in the Santa Fe Room, depicts modernist interpretations of Native American life.
---
---
A display case in the lobby holds one of the oldest works of art in the hotel's collection. It' a "bulto," or three-dimensional figure, of the Virgin Mary, hands clasped in prayer, dating back to 1820.Upstairs is "Rio Grande Pueblo Girl," an imaginative collaboration by artists Mateo Romero, Ryan Singer and Marla Allison. Each of the artists created a painting of a Pueblo girl comprised of 32 square panels. The artists then move the panels around from time to time and from painting to painting.
Your guide will point out other treasures like chandeliers made from Spanish galleons, pieces of punched tinwork, an old Buffalo robe and Navajo rug, hand-painted headboards and Colcha style drapes, which are found in the guestrooms. Colcha is a type of embroidery developed in New Mexico, but based on a Spanish style. Even the bathrooms in the guestrooms have hand-painted tile murals.
---
---
The tour takes participants to a guestroom (when available), several special event spaces and various corridors and staircases so the guide can present different pieces of artwork, while regaling you with tales from the past. He/she will also show you old photos of what the hotel looked like at various stage, along with pictures of significant characters who played a part in its celebrated history.One of the amusing anecdotes you'll hear takes place at a particular staircase. Story has it that the cast of the 1940 movie, "The Santa Fe Trail," stayed at La Fonda when the film had its premiere at the Lensic Theater in town. The cast starred Errol Flynn, Olivia de Havilland and Ronald Reagan. One night Errol Flynn got quite inebriated and tried to slide down the railing of the staircase, but ended up breaking his leg. Supposedly, he told everyone he injured it on set instead of revealing the embarrassing truth.
---
---
Many celebs and distinguished guests have stayed at La Fonda including John Wayne, Simone de Beauvoir, Paul Newman, Eleanor Roosevelt, Sinclair Lewis, Helen Keller, Howard Hughes, Lucille Ball and Desi Arnaz, Katherine Hepburn, Walt Disney and Presidents John F. Kennedy, Ulysses S. Grant and Bill Clinton, among others. And the socialite/actress Zsa-Zsa Gabor got married to Conrad Hilton here in 1942. He was husband two of nine!
---
---
A favorite spot on the tour is La Terraza. This banquet room at the top of the hotel boasts opulent marble floors, dazzling handmade copper and tin chandeliers, plus lovely stained-glass skylights. But it's the views that often take centerstage. From here, you can see the famous Cathedral Basilica of St. Francis of Assisi, which is right across the street, and the spectacular Sangre de Cristo Mountains. Step outside onto the private garden patio for a better look. With such a magical backdrop, it's understandable why this is a favorite place for weddings.
www.lafondasantafe.com
Debbie Stone is an established travel writer and columnist, who crosses the globe in search of unique destinations and experiences to share with her readers and listeners. She's an avid explorer who welcomes new opportunities to increase awareness and enthusiasm for places, culture, food, history, nature, outdoor adventure, wellness and more. Her travels have taken her to nearly 100 countries spanning all seven continents, and her stories appear in numerous print and digital publications.
---