Memphis is my kind of town!
Travels with Deb
June 2, 2023 at 6:00 a.m.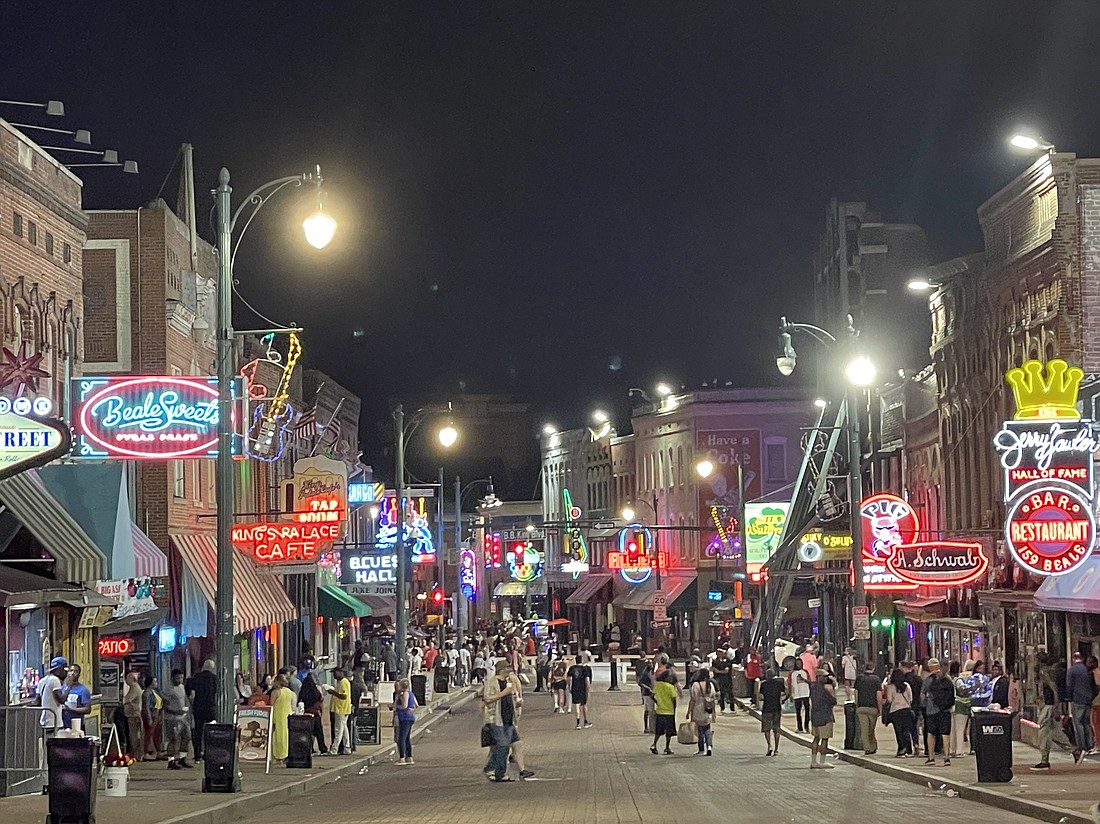 ---
---
Memphis is a city with heart and a whole lot of soul. Take its pulse and register the passion, pride and resiliency that resonates through the people. This is a town where the roots of history run deep, where music beats through the city's lifeblood and where the cultural tapestry is rich with influences from across the globe. And this is a place where visitors receive a warm welcome, and good old Southern hospitality.

---
---
You'll never lack for things to do in Memphis. Whether you're a history buff, music lover, foodie or culture vulture, this town has you covered.

---
---
At the top of many visitors' bucket lists is Graceland, home of Elvis Presley. If you're expecting to only see the actual house, as I did umpteen years ago, you're in for a surprise. Visitors can now also immerse themselves in the life and legacy of the King at Elvis Presley's Memphis Entertainment Complex.

---
---
Graceland, the mansion, is smaller than what most visitors anticipate. It's not like the mega mansions of today. The tour includes the living room, Elvis' parents' bedroom, kitchen, TV room (with 3 TVs as Elvis liked to watch several shows at one time), billiards room, Jungle Room or man cave/den (aptly named for the wild décor), Elvis' father's office, Trophy Building, indoor Racquetball Building and Mediation Garden. 
---
---
The garden is where the graves of Elvis, his parents Vernon and Gladys, and grandma, Minnie Mae, are located. A  memorial to Elvis' twin brother, Jessie, who was stillborn is also there. And nearby, is the grave of Elvis' daughter, Lisa Marie, who passed away last January.

---
---
Rooms are decorated in what I would call American mid-century kitsch. I felt like I was in a time capsule from the 60s and 70s. There's everything from green shag carpeting on walls and ceilings, stained glass peacock panels, heavy blue and purple velvet drapes and mirrors galore, to creepy monkey statues, eye-boggling fabric-covered walls and ceilings, Polynesian style Tiki furniture and a fake fur upholstered couch sporting dragon arms.

---
---
Photos of Elvis at various stages in his life, his wife Priscilla, and daughter Lisa Marie are sprinkled about, along with those of his parents. And there's a sample of fan letters and gifts from his multitude of admirers. It was not uncommon for the King to receive over 5,000 pieces of fan mail a day, which also included personal works of art.

---
---
There's even a collection of police badges. Elvis always said that if he hadn't decided to pursue singing, there's a chance he would have been a police officer, as he always had a deep respect for law enforcement. He had dashboard police lights for his cars and was known for pulling people over occasionally, giving them a lecture on safety and signing an autograph, before letting them get on their way.

---
---
The other attractions on the 120-acre estate include Elvis the Entertainer Career Museum, Presley Motors Automobile Museum and Elvis Discovery Exhibits. In the first, you'll find the King's vast collection of gold and platinum records, movie memorabilia and my favorite, "Elvis: Dressed to Rock." This exhibit features more than 100 pieces of the legend's colorful and outlandish stage wear plus original designer sketches. Jumpsuits, jewelry, capes and more are showcased in floor-to-ceiling, illuminated displays.

---
---
At the Automobile Museum, you can stroll among some of Elvis' beloved cars, oohing and aahing at his iconic Pink Cadillac, 1956 Cadillac Eldorado, Dino Ferrari, Rolls Royce sedans and Mercedes Benz limo.

---
---
Elvis' stint in the U.S. Army gets its own gallery space, with artifacts like his army fatigues, dress uniforms, army foot locker, suitcases and photos of his induction and time spent in the service. You'll get a kick out of the pic of the King getting his hair buzzed!
---
---
There's also a space devoted to Elvis' influence on a host of musical artists. As a music pioneer, he paved the way for such icons as Bruce Springsteen, Jimi Hendrix and Elton John, among others.  

---
---
Don't leave before checking out Elvis' customized airplanes. Climb aboard "The Lisa Marie," which Elvis named after his daughter. He spent more than $800,000 to remodel the jet, which boasts a living room, conference room, private bedroom (note the seatbelt on the bed), bathroom with 24-karat gold-flecked sinks, suede chairs, leather covered tables and more.

---
---
Continue to explore Memphis through a musical lens with a tour of Sun Studio, known worldwide as "The Birthplace of Rock 'n' Roll." Here's where Memphis disc jockey, Sam Phillips, helped bring fame to a cadre of young talent, putting Memphis on the musical map. Through these doors passed such greats as B.B. King, Ike Turner, Jerry Lee Lewis, Johnny Cash and of course, Elvis.

---
---
Local musicians serve as your guides, providing a passionate and informative tour of this hallowed place. You'll see priceless memorabilia from musical legends and hear their voices as you listen to outtakes from recording sessions. And you'll hear a slew of colorful tales, sending you back in time.

---
---
One story that fascinates many visitors concerns a woman named Marion Keisker. Marion was Sam's assistant and she is credited as being the first person to record Elvis. She saw the eighteen year old's potential when he came in to record the song, "My Happiness" for his mother. And she went ahead and made an extra cut of the record to play for Sam, who promptly hated it.
Flash forward a year to when Elvis returned to the studio to audition for a singing job. Sam quickly became bored with Elvis' singing until Elvis, out of nervousness, began playing and singing "That's All Right" a little too fast. And the rest, as they say, is history.

---
---
On the tour, you'll go down to the small studio space, which looks pretty much like it did in the 1950s. Sam donated a lot of equipment, including the original mics that Elvis and others sang into during their recording sessions. But he did it with one caveat – they couldn't be kept behind glass. He wanted the public to be able to touch them and have a visceral experience with authentic rock history. So touch them we did.
We also stood by the same piano where on December 4, 1956, an extraordinary twist of fate brought Elvis Presley, Carl Perkins, Jerry Lee Lewis and Johnny Cash together in the studio for what would be one of the greatest jam sessions ever, thereby coined the "Million Dollar Quartet."

---
---
Soul music gets its due over at the Stax Museum of American Soul Music. Located on the original site of the Stax Records studio in Memphis, this museum pays tribute to the hundreds of artists who recorded there, as well as other American soul powerhouses. Highlighted are such artists as Otis Redding, the Staple Singers, Johnnie Taylor, Al Green, Ike and Tina Turner, Isaac Hayes, Aretha Franklin, Booker T. & the M.G.'s and more. Interactive exhibits, films, costumes, musical instruments, vintage recording equipment, photos, records and more fill the galleries.

---
---
Then get your groove on over at Beale Street, one of the most iconic streets in the country. Bar hop down the neon row of nightclubs to hear a melting pot of blues, jazz, rock R&B and gospel. Music spills out onto this lively, three-block National Historic Landmark district from such iconic spots as B.B. King's Blues Club, Rum Boogie Café, Blues Hall Juke Joint and Silky O'Sullivan's.

---
---
Once home to many Black-owned businesses, clubs, restaurants and shops, Beale Street served as the headquarters of Ida B. Well's' anti-segregationist newspaper, "Free Speech." And in the first half of the 20th century, this area inspired many blues hits. Artists such as Muddy Waters, Louis Armstrong and B.B. King played on Beale, developing the famed Memphis blues sound.
Later, the area became prominent during the Civil Rights Movement. African Americans would come here, not only for entertainment, but to organize, strategize and protest. City sanitation workers on strike marched down Beale in response to terrible job conditions in 1968, drawing Dr. Martin Luther King, Jr. to support their cause. It was the precursor to his assassination just a few months later.

---
---
Which brings me to the National Civil Rights Museum. Since opening in 1991, millions of people from around the globe have visited this significant site in Memphis. The museum provides a comprehensive overview of the American Civil Rights Movement from slavery to the present. Touring it is an emotional experience, so be prepared to be overcome by its impact.

---
---
Located in and around the Lorraine Motel, where civil rights leader Dr. Martin Luther King, Jr. was assassinated, the museum offers artifacts, films, oral histories and interactive media to guide visitors through five centuries of history. Galleries are arranged in chronological order and cover such themes as the global impact of slavery; life under Jim Crow; the battle for desegregation of public schools; boycotts and student sit-ins; Freedom Riders; the passage of the 1964 Civil Rights Acts and the Voting Rights Act; Black Power movement; the Memphis sanitation strike; ending with MLK's final hours.

---
---
Exhibits are well-detailed, offering a wealth of information. But it's the moments when you see the mind-bending statistics about the Atlantic slave trade, or listen to audio clips of the vicious sentiments hurled at bus boycotters and students at the lunch counter sit-ins, or when you view a monumental-sized screen of film showing the Bloody Sunday attack on peaceful protestors or hear an excerpt from MLK's "I Have a Dream" speech that resonate so powerfully.

---
---
Then you see the room where King stayed in at the motel that fateful evening, as well as all the artifacts relating to his assassination – even the bullet that was removed from his body. A wreath marks the exact spot on the balcony nearby where he was shot and killed on April 4, 1968. Standing so close to such a tragic place in history is overwhelming.

---
---
Another oft-visited attraction in the city is the Peabody Memphis. This legendary property is known for its charm and elegance and is often referred to as the "South's Grand Hotel." Opened in 1869, the Peabody is on the National Register of Historic Places. It's where royalty, entertainers, politicians and locals have stayed and dined, and continue to do so today. Elvis attended his high school prom here and signed his first contract with the Colonel in the lobby. And reportedly, Jerry Lee Lewis spent much time misbehaving in the hotel bar, while Neil Diamond is known to have written his beloved hit, "Sweet Caroline," here as well.
The Peabody is also world famous for its five resident Mallard ducks, who march daily, without fail, through the lobby at 11 a.m. and 5 p.m. If you want to learn how this tradition began, be present in the lobby at the designated times. Go early for a good seat or place to stand, as the event draws the masses.
---
---
Duckmaster Keenan Walker will entertain you with the history of the ducks at the Peabody, which began back in the 1930s. Story has it that Frank Shutt, then GM of the hotel, and a friend, Chip Barwick, returned from a weekend hunting trip. The men had sipped a little too much whiskey and thought it would be funny to place some of their live duck decoys in the beautiful Peabody fountain. Three small ducks were selected. The reaction by the guests to finding ducks in the fountain the next morning was nothing short of enthusiastic. Thus a Peabody tradition was born.
But, it didn't stop there. In 1940, Edward Pembroke, a bellman at the hotel, who happened to be a former circus animal trainer, offered to help with bringing the ducks to the fountain each day. He taught them the Peabody Duck March, and from that point on, he became the Peabody Duckmaster, a title he proudly had for fifty years until he retired in 1991.
There's much pomp and circumstance with the Duck March. The ducks step out of the fountain and proceed to walk single file down a red carpet, which has previously been unfurled by several young children. The paparazzi go wild, snapping pics and taking videos of the scene all the way up until the last duck steps into the elevator. At that point, the Duckmaster and his brood say goodbye to their adoring public.

---
---
When off-duty, the ducks live in their Royal Duck Palace on the hotel's rooftop. And royal it is! The $200,000 structure is made of marble and glass and features its very own fountain with a bronze duck spitting water. It also includes a small house, a replica of the hotel where the ducks can laze on a soft, grassy front yard.
Each team of ducks resides at the hotel for three months before retiring and returning to the farm where they were raised and now are free to live as wild ducks. You have to wonder how well the creatures reacclimate to their surroundings after their cushy tenure at the Peabody!
When your stomach starts to grumble, just know that sustenance is always nearby. Memphis has one of the great food scenes in the country. People take pride in what they serve here. And yes, the city is well known for its Memphis-style barbecue, but there's plenty more culinary treats to discover. North and South come together here, so you'll find everything from fried chicken and waffles to New England style lobster rolls and Chicago style pizza. And if you're craving ethnic food, you'll have your pick from countless eateries.

---
---
Get fueled in the morning at By the Brewery, a cute little spot across the street from the original Tennessee Brewery, now stylish lofts overlooking the mighty Mississippi. Inside is biscuit heaven with cheesy grits on the side. The biscuits are made with beer, which complements the sweetness of these cakey delights. Choose from a variety of biscuit sandwiches and sweet and savory biscuit muffins.
There's something for everyone at South of Beale. The menu includes several flavorful dishes with an Asian bent, like General Tso's Cauliflower, Duck Fried Rice and Fried Chicken Bao Buns, along with hearty burgers and fresh salads with unique dressings. While you're waiting for your order, munch away on the free sweet/savory popcorn. It's addicting! The scene is casual in this contemporary space and the retro touches are a nod to the historic building.

---
---
Global Café reigns supreme when it comes to authentic dishes from around the world. Located in Crosstown Concourse, a "vertical urban village," that's home to restaurants, bars, shops, apartments, a clinic, high school, art galleries, a performing arts center and dozens of other businesses, the café is basically an international food hall. It's hosted by immigrant/refugee food entrepreneurs, who cook and sell an eclectic mix of affordably priced dishes from their home countries. Three open-air kitchen bays let diners watch their meals being made, as enticing aromas fill the air. Choose from a wide variety of items such as empanadas, falafel, African peanut soup, chicken shawarma, Somali spaghetti, street tacos, samosas and more.

---
---
Memphis is a fried chicken capital and Gus's World Famous Fried Chicken has been treasured by Memphis locals for decades. I'm usually a tad leery of such over-the-top accolades, but in this case, the chicken far exceeded my expectations. It's crisp, golden-brown on the outside, moist and tender on the inside, and perfectly seasoned with just enough kick to ensure no tears are shed. 
Plates come with baked beans, slaw and bread, but I recommend adding a side of mac & cheese and some fried okra or greens for the full Southern meal deal. You'll feast in a circa 1950s style diner with neon signs and checkered tablecloths. And oh, yea, the food is served on paper plates!

---
---
If you like Italian, you're going to love Catherine and Mary's, with its array of innovative Sicilian and Tuscan specialties. Outstanding pastas like Bucatini, Rigatoni and Radiatore are featured at this chic establishment, along with several small plates and antipasti. The well-versed staff provides great service. Check out the open kitchen to watch the chef perform his magic and make sure to save room for the strawberry cake. It's sublime!

---
---
When you want to splurge on that truly special and memorable meal, book a table at Chez Phillipe in the Peabody. This is the Midsouth's only Forbes four-Star and AAA four-Diamond rated restaurant. The elegant dining room is the epitome of sophistication, featuring modern American cuisine with a French flourish. 
---
---
Chef Keith Clinton will take you on a culinary journey that's delicious and artful. Opt for the seven-course pre-fixe menu, enhanced with wine pairings. It's a feast for the senses! Just note, you'll never see duck on any menu at the Peabody!

---
---
Memphis barbecue is in a class of its own. Typically, pork is the type of meat used. It's slow-cooked, and can be prepared "dry" or "wet." The former involves covering the ribs with a dry rub of spices before cooking, while the latter entails brushing the meat with sauce before, during and after cooking.
Barbecue joints abound in the city and both locals and visitors have their favorites. Some top-reviewed spots include Central, Payne's, Cozy Corner, Corky's, One & Only, Leonard's and Blues City Café.

---
---
The city recognizes its rightful place in the barbecue arena. Each May, it plays host to the World Championship Barbecue Cooking Contest. Recognized by USA Today as the "Most Prestigious Barbecue Contest," this event draws teams of pit masters from all over the world, eager to compete for the title of World Champion and a share of the more than $145,000 in prize money.
The contest features the championship pork categories of "Ribs," "Shoulder" and "Whole Hog," as well as the ancillary competitions of "Hot Wings," "Sauce" and "Anything but Pork."
This past May, 150 teams registered, sporting fun names like Blue Collar Smokers, Sowsed By Noon, Love Meat Tender, Parrothead Porkers and Game of Bones. Ribdiculous Bar-B-Krew was crowned the Grand Champion, taking the top honor with their entry in the Ribs category.

---
---
Getting thirsty, yet? You'll be happy to learn the city's culinary reputation also extends to its libations – from craft cocktails and whiskey to your morning Joe. Start the day at Cxffeeblack's Anti Gentrification Coffee Club. Started by Bartholomew Jones and Renata Henderson, "Cxffeeblack is a social experiment interested in exploring the impact people can have when they are empowered to live with no sugar and no cream."

---
---
The company seeks to make coffee black again, meaning it wants every part of its business to reflect Black culture and keep the money within its community. To this aim, the business is not only Black-owned, but it's also Black operated with an all-Black supply chain, sourcing its beans from Ethiopia, Congo and Rwanda.
I confess I'm not a coffee drinker, but after I tasted the java at this place, I could easily see myself becoming one. The coffee was smooth, real smooth, and needed no sweetener. And the Gold Brew, a cold coffee drink with citrus notes, was nothing short of amazing!

---
---
When it's 5:00 somewhere, check out the following hot spots: Crosstown Art Bar, Tiger and Peacock, Cameo Memphis and Inkwell. At Crosstown Art Bar, a hidden gem inside of Crosstown Concourse, taste artful cutting-edge cocktails made with local, fresh and foraged ingredients. Ease into things with "Let's take it slow," a meld of Sloe gin, vanilla, lemon, strawberry and cava. Or try a refreshing "Spring in Bloom," with honeysuckle vodka, lemon Red Bud syrup and Topo Chico. You'll be surrounded by eclectic art, mismatched furniture and unfinished concrete walls, creating a funky, arty vibe.

---
---
Tiger and Peacock is on the rooftop of the Memphian Hotel, where the atmosphere is akin to a sultry speakeasy, complete with low-lit chandeliers and a private champagne room. A massive taxidermy of the namesake bird hangs behind the bar, while other animals pop out where you least expect them. Get a load of the giraffe wearing a feather necklace, holding a chandelier in its mouth!

---
---
The lounge specializes in handcrafted cocktails made for your Zodiac sign. Like a raspberry mint vodka for all you Virgos. Or a spicy bourbon sidecar if you're a Scorpio. Sit outside on the deck of this astrological oasis for great views.
Cameo Memphis is one of the new kids on the block. It's a bartender-owned, cocktail-driven place, where the atmosphere is moody and dark, with thick curtains, wine-colored walls and an old-school black and white tiled ceiling. This is a spot to see and be seen…that is if you can make out who's actually there!
The folks who run the place have taken the drink-naming game to a new level. Your curiosity will be piqued when you see cocktails with monikers like "Self-Proclaimed Disruptor," "Waves of Women Weeping" or "Season Tickets to Dollywood."

---
---
Inkwell is also new to Memphis. This sleek, stylish and intimate bar offers a variety of cocktails and signature drinks. Try the "Jam Jar," a concoction of gin, lemon, apricot liqueur and the jam flavor of the week, or the "Madam CJ Walk Me Down," loaded with vodka, gin, tequila, rum, peach schnapps and orange liqueur. The multi-hued, patterned, tile floors take centerstage. They're original to the place, which makes sense, as it used to be a tile shop. When the temps heat up, make your way to the outdoor patio and sip on a cool one.
As for the bar's name, owner Ben Colar was inspired by the purpose of an inkwell – to refill and recharge a pen. Similarly, he wanted his place to be a haven where people come to relax and rejuvenate.

---
---
Whiskey aficionados will want to stop in at Old Dominick Distillery for a tour and curated tasting of the company's portfolio of spirits. Your guided experience begins with the history of Old Dominick and its founder, Domenico Canale – a story that can be traced back 150 years. Then you'll get an up-close view of the grain to glass craft distilling factory, while learning that Memphis water, regarded as some of the best quality water in the country, is responsible for the sweetness in Old Dominick's spirits.

---
---
During the tasting session, you'll get to sample the company's vodkas, gins, bourbons, Tennessee Whiskey and Memphis Toddy. Afterwards, you can choose to continue to imbibe in the sleek, state-of-the-art bar.

---
---
The perfect place to work off all the delicious food and drink you've been consuming is Big River Crossing. Nearly a mile in length, this is the longest public pedestrian bridge across the Mississippi. Stretch your legs and walk or cycle the distance while taking in views of the river and city. In a short time, you'll reach the Tennessee/Arkansas line, which is clearly marked. Straddle it for a two-state stance!

---
---
Home base for my stay in Memphis was the Arrive Hotel, a modern boutique property in the South Main Arts District. The location is convenient to a number of attractions, restaurants, shops and the farmers market, plus you can catch the trolley right outside the front door. Rooms are spacious with comfy beds, oversized showers and plenty of amenities. Some offer unobstructed views of the city. Concrete floors, brick walls and old pipes used as bath fixtures create an industrial and artful décor.

---
---
Arrive has a welcoming, neighborhood feel to it due to it being a place where locals frequent. They come for the hotel's onsite food and drink options at Hustle & Dough, Bar Hustle and Longshot, joining guests for killer coffee, fresh homemade breads and pastries, bar bites and abundant libations. And they, like the guests, appreciate the casual, hip ambiance, along with the welcoming and attentive staff.
---
---
For all things Memphis:
www.memphistravel.com
Arrive Hotel:
www.arrivehotels.com/memphis

Debbie Stone is an established travel writer and columnist, who crosses the globe in search of unique destinations and experiences to share with her readers and listeners. She's an avid explorer who welcomes new opportunities to increase awareness and enthusiasm for places, culture, food, history, nature, outdoor adventure, wellness and more. Her travels have taken her to nearly 100 countries spanning all seven continents, and her stories appear in numerous print and digital publications. 
---