Seattle National Nordic Museum Director Receives Knighthood
July 23, 2023 at 12:30 p.m.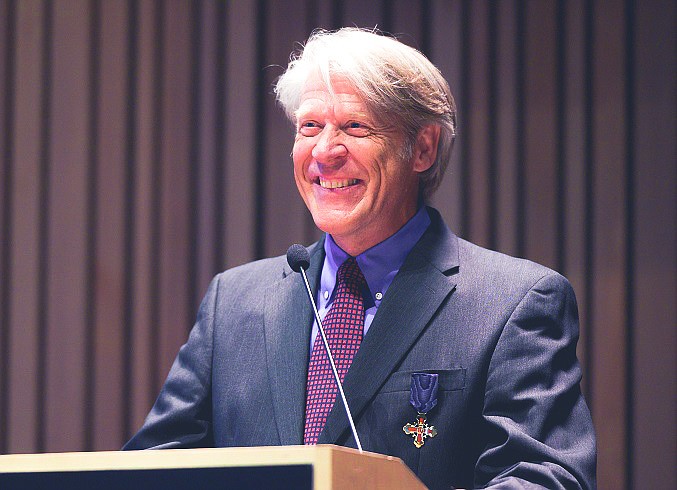 ---
Seattle's National Nordic Museum recently played host to a knighthood being awarded to the museum's Executive Director and CEO, Eric Nelson.

On July 18, Nelson received the Royal Norwegian Order of Merit, Knight First Class from His Majesty King Harald V of Norway, presented by Norway's Ambassador to the United States Anniken R. Krutnes. In attendance at the ceremony was Governor Jay Inslee, Viggo Forde—Honorary Consul of Norway for the Pacific Northwest, and more than 300 supporters and friends of the Museum.

Believe it or not, Nelson is no stranger to being knighted. This award marks the third time that he has received a knighthood from a Nordic Head of State. Nelson was previously named Knight of the Order of the White Rose of Finland by the President Sauli Niinistö of Finland and was awarded Knight First Class of the Royal Order of the Polar Star by His Majesty King Carl XVI Gustaf of Sweden. He has received many other rare honors, including becoming the only non-Swedish citizen to receive the 'Hazelius Medal in Gold' and being inducted into the Scandinavian-American Hall of Fame in 2022.

What has this modest man done to receive such recognition?

Nelson joined the National Nordic Museum in 2008 when the organization was called the Nordic Heritage Museum, a small but much beloved institution located in Seattle's Ballard neighborhood. Under Nelson's leadership, the museum has expanded into a nationally and internationally recognized hub for sharing Nordic culture, values, and innovation. He oversaw the development of the new $5.2M museum, which opened in 2018; the museum's grand opening ceremonies were attended by Nordic heads of state, royalty, national and international dignitaries. 
The museum has received an outpouring of acclaim and, in 2019, earned national designation by an Act of Congress when it became the National Nordic Museum.
.

Eric Nelson's family emigrated from Sweden in the 1870s and eventually settled in Colorado. "They were all working in the mines in the southwest area. We would go back to my grandmother's place in the summers and Christmas, and stay connected to Swedish tradition in that way," Nelson said in an interview with The Norwegian American. Despite those family connections, he wasn't engaged with his Scandinavian heritage in those younger years. "I grew up in Napa for the most part where 20% of the population were Italian-American and 3% Scandinavian-American. I also lived overseas in Africa for a few years. It was a big shift moving to Seattle, where 18% of the population is of Nordic origin."

While Nelson wasn't exposed much to Swedish culture growing up, the core values of his Scandinavian heritage did make it through the generations. The most important element of his work at the museum, Nelson explained, is to express those core values of Nordic culture – in part, putting society ahead of the individual – and to make the Nordic culture relatable to all Americans.

Nelson is a graduate of the prestigious Getty Museum Leadership Institute and holds a Master of Art degree in History. He has served as a guest lecturer at several universities, including the University of Washington, and previously served in leadership roles at California museums.

Upon receiving his latest recognition, Nelson said, "I'm honored to receive this award on behalf of the National Nordic Museum and our community of supporters who made it possible to realize the dream of a new state of the art Museum. This award celebrates the region's Nordic community and close ties between the Pacific Northwest and Norway."
More About the National Nordic Museum: 
The Museum shares Nordic culture with people of all ages and backgrounds by exhibiting art and objects, preserving collections, providing educational and cultural experiences, and serving as a community gathering place. For more information, visit this link: National Nordic Museum.
---