Art blends with nature at Long Beach's 'Sandsations'
Travels with Deb
July 3, 2023 at 6:00 a.m.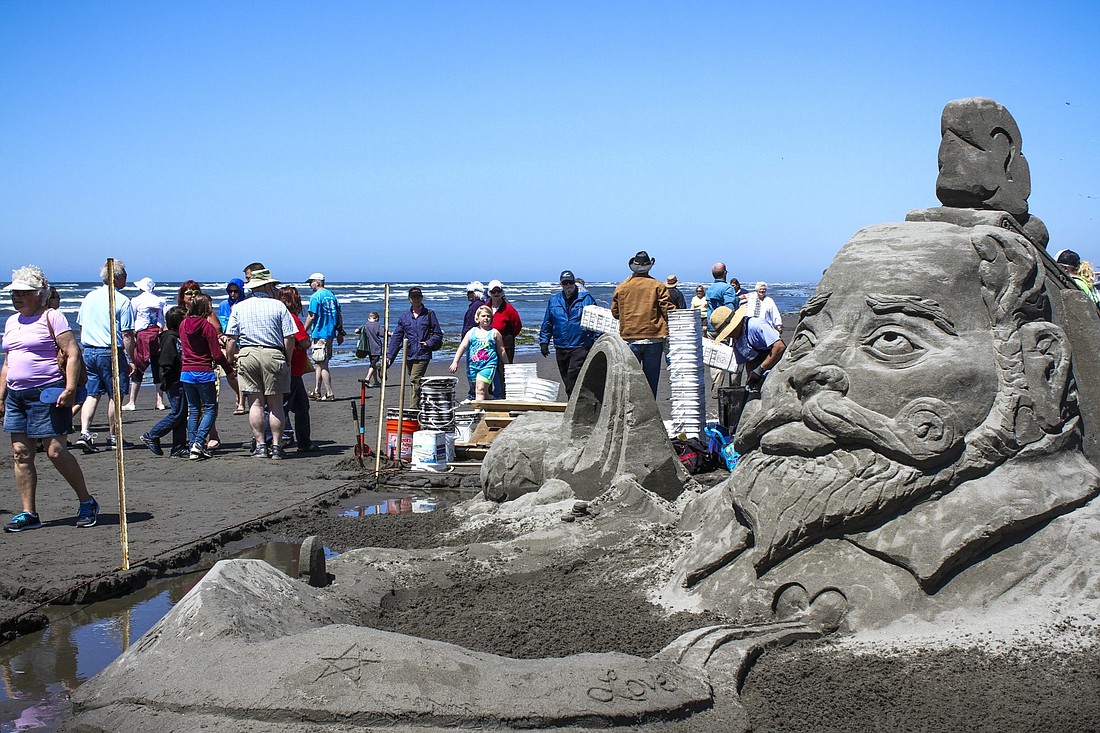 ---
---
Many internationally recognized sand sculptors got their start as kids playing around at the beach. Unlike most of us, however, they kept at it and over the years honed their skills, crafting eye-popping and intricate creations, from amazing replicas of famous structures to imaginative, original works of art. Despite the impermanence of their pieces, the sculptors spare no effort in rendering the tiniest and most ornate details that it seems hardly possible the structures are made of sand.

---
---
This summer, the city of Long Beach will again play host to "Sandsations," a fun, family-friendly festival. From July 12-16, you can try your hand at building a sandcastle or view the work of master sand sculptors as they mold sand into magic, paying homage to one of our most beautiful resources.

---
---
The festival, now in its 27th year, is sponsored by the Long Beach Merchants Association. It draws thousands of visitors, in addition to numerous master sculptors from all over the country. Many of the fans and competitors are multi-year returnees.

---
---
During the first few days of the festival, the masters create fun and fanciful works of art at various sites, including on the Bolstad, which is the approach to the beach, around town and throughout Pacific Country. Maps will be available detailing locations to enjoy a sandy tour of Long Beach Peninsula.

---
---
Different merchants sponsor each of the sculptures and their logos are built into the pieces, offering the ultimate Instagram-worthy promotion. Sculptures on the Bolstad have themes, suggested by the merchants, though the artists are free to interpret these themes in their own special way.

---
---
The finale is a sand-sculpting competition that takes place on the section of the beach paralleling the Long Beach boardwalk. This year, 35-40 teams at the masters, intermediate and novice levels, will race the incoming tide to wow the judges for recognition and prizes. Due to the timing of the tide, they typically have from six to eight hours to complete their sculptures. The rules are simple: teams can only use sand, water and forms or molds…and their imaginations.

---
---
Anything goes, from humongous, elaborate castles and forts with intricate waterways and canals to marine life representations, spaced themed creations, monsters, mermaids, Disney figures and more.
After the judging and award ceremony, stick around to watch the tide erase these fleeting forms of art, as nature returns them to the sea.

---
---
If you get inspired and would like to learn how to make your own sand sculpture, head to "Lesson Beach." Several master sculptors will be giving free instruction and sharing tips and techniques to all ages, providing a wonderful opportunity to build future sand sculpture talent.

---
---
And if you'd like that special family holiday pic, bring your festive wear on Saturday and Sunday for a photo op with the "Holidays at the Beach" sculpture. You'll be the envy of all your friends and relatives when they receive your unique holiday card or see your framed pic sitting atop the mantel!
For more information about "Sandsations" and other Long Beach events:
www.visitlongbeachpeninsula.com
Debbie Stone is an established travel writer and columnist, who crosses the globe in search of unique destinations and experiences to share with her readers and listeners. She's an avid explorer who welcomes new opportunities to increase awareness and enthusiasm for places, culture, food, history, nature, outdoor adventure, wellness and more. Her travels have taken her to nearly 100 countries spanning all seven continents, and her stories appear in numerous print and digital publications.
---