Snagged in the process?
Writing Corner: Use the Muse
Sharing Stories
February 13, 2023 at 4:47 p.m. | Updated February 26, 2023 at 6:42 p.m.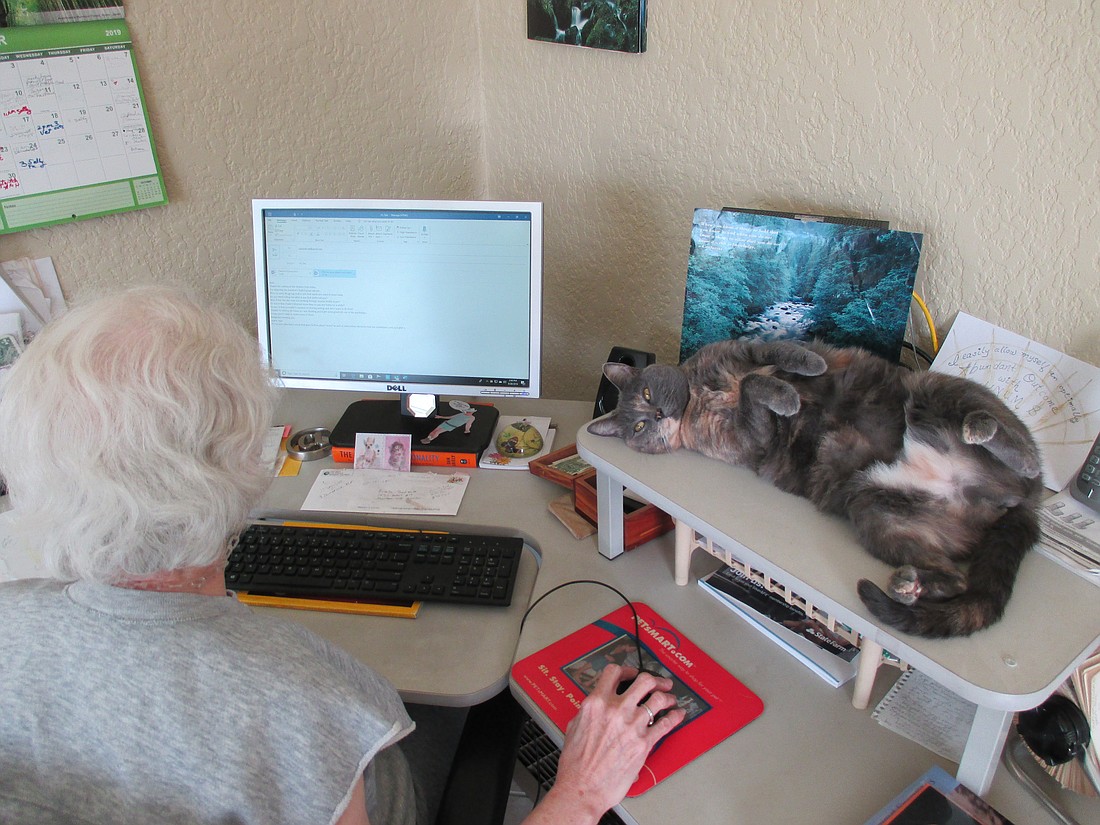 ---
---
Writing Corner:                
"Use the Muse"
One of my favorite movies is
The Muse
. Sharon Stone plays the woman who is a physical version of a muse.
The Greek Muses ruled several types of inspiration, including song, dance, writing, art, and even scientific pursuits. In stories about them, the one big rule was not to challenge a Muse. Doing so had desperately bad consequences.
In the movie, Albert Brooks' character attempts many times to placate Sharon Stone's requests with less difficult things to find, achieve, or purchase. The predictable outcome is failure. The Muse wants what it wants…period.
So, let's take that concept and apply it to the state of musing, which is deep thought, dreamy abstraction, absorption in thought, daydreaming, and/or careful and thorough thinking.
Recently, I got snagged in the process of developing my current book. This experience, as many artists, writers, and composers will tell you has all the charm of tripping into a barbed wire fence. Immediate thoughts turn to negatives: I'll never finish this book; no one will like my poem; I'll never create another sculpture as good as my previous ones, etc. Painful, yes. Helpful, no.
Add to this that having been through this stage of creation previously doesn't seem to make it any less painful or more helpful. Grrrr.
What does work is to muse. Here are some of the ways to muse that have helped me find a more comfortable creative place than a barbed wire fence.
Go to the source. When I'm writing about men, I often have to talk to some to get the real feel for where I'm going wrong and how to improve. My husband is first on the list and, since he is an expert at being a man—having been one now for 61 years—he usually can help. Second on the list is my longtime writing friend, also a man with added story skills. Between them, I can often improve my male characters' actions, speech, and thoughts.
Go to the source. Find information about places, careers, objects, conditions (like illnesses or weather) that I don't know enough about.
Let go. Daydreaming, reading, staring at a plant or animal or sunset. Often, these activities can re-direct me.
Keeping a dream journal and requesting my mind to particularly address the story situation I'm struggling to solve. This can take a week or two. Actually, any of these methods tend to take a while.
Going to the emotional self. Fiction and nonfiction: Both require the writer to have a connection to the topics, characters, situations. If I can't find an emotional connection to any part of my writing, that's a strong suggestion I need to consider a change in the direction of the piece.
Join me in the delightful pursuit of writing in an online class or a ZOOM group, or individual Skype work. For a list of classes connect at ariele@comcast.net. I'm glad to have a phone chat with you about your writing.
Ariele has been with
Northwest Prime Time
for 23 years, creating Writing Corner, Poetry Corner, and hosting and writing for Sharing Stories. Send poems or stories to
ariele@comcast.net
....
SHARING STORIES is a weekly column for and about the 50 plus crowd living in the Puget Sound region. Send your stories and photos to
ariele@comcast.net
. Tell local or personal stories; discuss concerns around aging and other issues; share solutions, good luck, and reasons to celebrate; poems are fine too. Pieces may be edited or excerpted. We reserve the right to select among pieces. Photos are always a plus and a one-sentence bio is requested (where you live, maybe age or career, retired status, etc.).
SHARING STORIES is featured on
www.northwestprimetime.com
, the website for Northwest Prime Time, a monthly publication for baby boomers, seniors, retirees, and those contemplating retirement. The newspaper can be found in the greater Seattle area and other Puget Sound locations. For more information, call 206-824-8600 or visit
www.northwestprimetime.com
. To find other SHARING STORIES articles on this website type "sharing stories" in the search function above.
---