Destined to Write a Book Entitled 'Destined to Be a Hamilton'
August 31, 2023 at 6:38 p.m.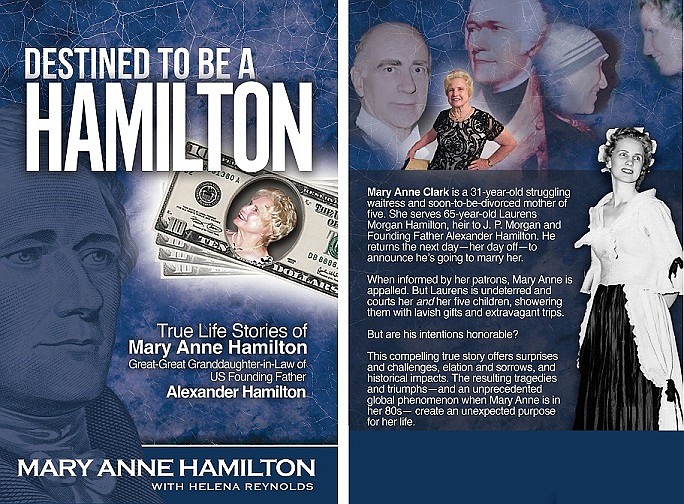 ---
---
This article has been updated from the original version.
In 2016, Helena Reynolds created a Hamilton Discussion Group at the City of Kent Senior Activity Center, in Kent, Washington. The free sessions were held monthly from 2017 to 2020 to discuss the song lyrics of the Broadway production, "Hamilton, An American Musical." As part of her research, Helena joined the Alexander Hamilton Awareness Society and hosted Rand Scholet, its founder and president, as a special guest at their discussion group. He introduced Helena to Mary Anne Hamilton; eventually he suggested they collaborate on Mary Anne's book combining her life stories with facts about her great-great-grandfather-in-law, Alexander Hamilton.
Mary Anne Hamilton often heard people say, "Your life sounds unbelievable. You should write a book." She thought about it for several years, but until the spring of 2016, she had no tangible incentive to undertake such a daunting endeavor.

What happened in April of 2016?
Her neighbors took her to New York to see a Broadway musical shortly after her 82nd birthday.

The experience revealed an answer to a decades-old question, which eventually created a viable reason to preserve her stories in print. But first, the stars needed angelic help to align themselves so Mary Anne could begin pursuing her literary goals.

* A regional newspaper printed her story, including reasons her neighbors took her to Broadway.
* A local resident saw the article and invited her to attend an upcoming event he was planning.
* The resident also introduced her to another local man, who had started a national organization to revive the family legacy of the person whose life was featured in the Broadway musical.

You may have guessed that the show was Hamilton, An American Musical, a production highlighting little-known-facts about America's Founding Father, Alexander Hamilton. But you most likely did not know he was Mary Anne's great-great-grandfather-in-law. In fact, she was one of the first Hamilton (by marriage) family members to meet the musical's creator and original star, Lin-Manuel Miranda, after the 2016 show.
The regional newspaper was the Tampa Bay Times. The local resident was Greg Plantamura, organizer of an event called Hamil*Fest. Greg introduced Mary Anne to Rand Scholet, who, in 2011, founded the Alexander Hamilton Awareness Society, a national nonprofit promoting the forgotten Founding Father's legacy. Thus, the stage was set for Mary Anne's memoir manuscript.
One of Mary Anne's unbelievable stories happened in Washington, DC in 1965, when she was a 31-year-old struggling cocktail waitress and soon-to-be-divorced mother of five. After she served a 65-year-old patron, he returned the next day, her day off, and announced to her customers and co-workers that he was going to marry her. She tried to dissuade him by informing him that she had five children and that her divorce was not yet final. But he courted her and her children—he even offered to pay her waitress wages and tips so she could stay home and take care of her family until her divorce was final.
Another peculiar aspect is that the 65-year-old patron was Laurens Morgan Hamilton, great-great-grandson of America's Founding Father Alexander Hamilton, and grandson of global financier, John Pierpont (J. P.) Morgan. His pedigree, however, meant nothing to Mary Anne. She met many famous people and historical heirs at her cocktail lounge every night.

Although Laurens' age and brashness were initial deterrents, two things convinced Mary Anne to reconsider his generous offers. Laurens showed a genuine interest in all of her children. In fact, only three weeks after they met, he took her entire family to a lovely Thanksgiving Dinner and overnight stay in Virginia.
Initially, Laurens seemed stuffy, proper, and solemn. He often represented the Hamilton family at government events. In January 1966, only two months after they met, Laurens presented the first annual Alexander Hamilton Lecture at the US Coast Guard Academy (USCGA), in New London, Connecticut. After his official speech, he then sat cross-legged on the floor with the young recruits, answering questions and sharing stories, connecting at their level.
When Mary Anne read Laurens' speech, she saw a new side of his persona. He seemed fun-loving and witty. In the photo of him with the cadets, he appeared to be down-to-earth, literally. She decided to try to get to know him better and, eventually, she felt more comfortable with him despite their 34-year age gap.

They were married on May 4, 1966, and in June when school was out, Mary Anne and her children moved to Laurens' luxurious Lindwood Estate in Virginia.

Unfortunately, Laurens' wealth dwindled in 1967 and his health declined, too. Mary Anne briefly returned to waitressing, earned a real estate license, and cared for Laurens until he died in 1978.
She then contacted the US Coast Guard Admiral, who arranged for an official Burial at Sea aboard the USCG Cutter Hamilton WHEC-715, a vessel Laurens helped commission in 1967.
Mary Anne built a successful real estate career over the next 38 years. She closed her final sale in 2014 at the age of 80.

Before and early in their marriage, Laurens was passionate about promoting Alexander Hamilton's legacy. But Mary Anne was so busy working, raising five children, and eventually, caregiving, that she didn't have time to learn why his great-great-grandfather was so important.
That is, until April 11, 2016, at the Richard Rodgers Theatre in New York City.

As Mary Anne experienced Hamilton, An American Musical, she began to comprehend why Laurens had been so obsessed with his great-great-grandfather's legacy. While that answered the "why" question, a challenge arose after her initial observation. She became inspired to attempt to continue Laurens' mission. But "how" could she pick up where he left off, promoting Alexander Hamilton's legacy to the masses, one audience at a time?
Coincidentally, after the newspaper story, Greg Plantamura and Rand Scholet, who both lived nearby, invited Mary Anne to join them on their similar quest. Beginning in 2017, they promoted Alexander Hamilton's incredible legacy by sharing educational presentations at local, regional, national, and international venues and media outlets.
In 2020, COVID 19 restrictions confined Mary Anne to her home and her neighborhood park. She began writing her recollections and reviewing photos from the first 86 years of her life. Rand encouraged Mary Anne to collaborate with a fellow AHA Society member to create a book based on her amazing memories and forgotten facts about Alexander Hamilton's life and contributions.
As Mary Anne approaches her 90th birthday, her new book continues the mission Laurens and Rand started. It was also written to extend appreciation to Lin-Manuel Miranda for creating the ingenious production, Hamilton, An American Musical. He, Rand, Greg, and others helped Mary Anne continue her late husband's educational efforts to promote Hamilton's legacy here in our nation as well as throughout the globe.
Although Rand's sudden death in July 2021 created a setback for Mary Anne's manuscript, she and her co-author continued on and dedicated the project to Rand's memory. The book includes incredible true stories, as well as 90 Hamilton facts presented in three sections labeled Laurens' List A, (West Indies birth and youth experiences); Laurens' List B, (American education and military feats); and Laurens' List C, (family and foundational contributions to the USA). In addition to entertaining and informing readers, Mary Anne wants to inspire everyone to learn how Hamilton's accomplishments can benefit all individuals in our nation, as well as in countries around the world.
Destined to Be a Hamilton by Mary Anne Hamilton with Helena Reynolds is available on Amazon: Destined to Be a Hamilton: True Life Stories of Mary Anne Hamilton, Great-Great Granddaughter-in-Law of Founding Father Alexander Hamilton
The official book launch on September 15 was a big success. 
The next local event is Wednesday, January 3, 2024, 1-2:30pm
Tattered Pages Book Club (Review and Discussion)
City of Kent 50 Plus Program
600 E. Smith Street
Kent, WA 98031
RSVP: 253-740-2263
About Helena Reynolds: 
Helena Reynolds wrote her first book decades ago in an attempt to be a work-at-home mom. Critics said her book was unmarketable and that she should tear out a few family stories to sell as articles. So she did. (Two articles.) Subsequently, she spent the next 45 years as an assistant teacher (Kent, Highline and Yelm School Districts), and a Parks Program Coordinator (City of Kent Senior Activity Center), as well as a wife, mother, and wannabe writer.
For over 40 years, Helena has been writing the life stories of her Filipino immigrant family. She even produced a highlight video of her parents' unique, WWII, five-year, unconventional pen-pal romance, involving 17 years and 7,000 miles between them. As a sidenote,
Hamilton: The Musical 
opens in the Philippines on September 17, 2023.
Recently retired, Helena completed the 2021 and 2022 sessions of #1
New York Times
Bestselling Author, Karen Kingsbury's
 Believe
Writing Intensives near Nashville. She is passionate about telling life stories, especially those involving information about our forgotten Founding Father, Alexander Hamilton's contributions to the creation, foundation, and maturation of our great nation. Helena is honored to help share Mary Anne Hamilton's incredible memories.
Helena, her husband, Dave, and their family reside in Federal Way. Washington.
---