Walk to End Alzheimer's
August 22, 2023 at 4:14 p.m.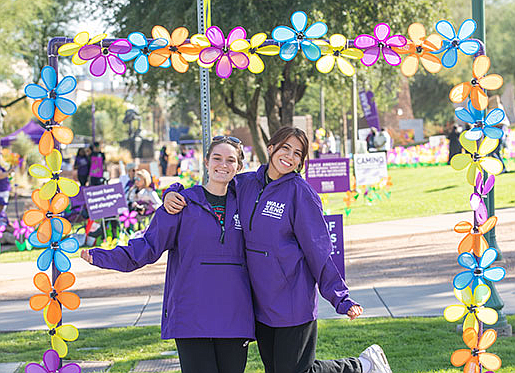 ---
The Walk to End Alzheimer's is held annually in more than 600 communities nationwide, including several locations throughout the Puget Sound region. It is the world's largest fundraiser for Alzheimer's care, support, and research. This inspiring event calls on participants of all ages and abilities to join the fight against the disease.
On Walk day, participants honor those affected by Alzheimer's with the poignant Promise Garden ceremony—an experience that signifies solidarity in the fight against the disease. During the ceremony, walkers will carry flowers of various colors: each color represents their personal connection to the disease.
There is no fee to register for the Walk to End Alzheimer's, but participants are encouraged to raise funds that allow the Alzheimer's Association to provide 24/7 care and support and to advance research in the field.
Puget Sound region walks include:
Tacoma/Pierce County:  September 23 – Opening ceremony at 11am, Dune Peninsula Park at Point Ruston
Seattle/King County: September 30 – Opening ceremony at 10am, International Fountain at the Seattle Center
Everett/Snohomish County: October 7 – Boxcar Park in Everett
"Why I Walk"
One Washington state resident, Kay, tells her story on the Washington State Alzheimer's Association blog (
www.alzwablog.org
):
"Alzheimer's made me an orphan. My Dad had Alzheimer's and my Mom was his caregiver. She wore herself out mentally and physically and wouldn't accept help. It took such a toll on her that she passed away quite suddenly. That's when we found out Dad's Alzheimer's was much worse than we knew. We had 24-hour care in his home for about a year but after he attacked a caregiver, his doctor advocated to move him into memory care. He passed away about 2 years after Mom."
The first struggle was to get an accurate diagnosis. "Dad was just savvy enough to pass the questions about current events and remember some words. The family had to write letters to his doctor explaining all the things we had witnessed and that helped get a diagnosis. The next struggle was trying to get Mom to allow care into their home. We failed at that ad I am convinced it cost us Mom's life."
After her mom died, Kay became the de facto caregiver and advocate for her dad. She recalls turning to the Alzheimer's Association website often for resources and information. Since then, her involvement and connection with the Alzheimer's Association has only become stronger.
She started a Walking to End Alzheimer's team seven years ago and has chaired her local walk for the past five years. She is also a board member of the Alzheimer's Association Washington State Chapter.
"I am determined to see the end of Alzheimer's before I leave this planet," says Kay.
When asked what gives her hope to continue fighting, Kay quickly points to Alzheimer's research.
To read the full blog entry, click this link: 
Why I Walk: To See the End of Alzheimer's - ALZWA BLOG
For more information about the local walks, how to participate /or to donate, visit www.alz.org/walk
---