---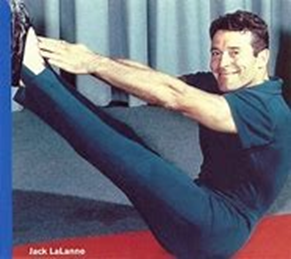 Jack LaLanne!
"Smile at your internal organs with your lips when you do yoga or meditation."

I found I'd jotted this thought in my daily journal many years ago. (Sixty-five years ago.)

I'll still stand by that as good practice. At that time, though few of my co-workers—or the general population shared many of my beliefs or habits, laughed at the weird food in my lunchbox, and thought my exercise regime was a waste of time.
In the fifties, I was an odd bird who drank soy milk, did yoga morning and night, and read many books on ancient philosophies.

Often, I explained and defended my experiments by pointing to Jack LaLanne, who was on television for 34 years, promoting fitness and good health practices, the longest running tv exercise program.
He opened his first fitness gym in 1936. I bought one of the huge stainless-steel "Power Juicers" on his recommendation. My wife and I giggled as we juiced everything in the refrigerator that fit his lengthy list of healthy foods.

We became convinced that this practice was lifesaving after we'd given homemade juice with good results to some of our family and friends who were fighting illnesses. We have continued doing that and gave our children their first juicers too. However, the early versions of soy milk didn't pass the family test in spite of Jack's encouragement.

LaLanne's lifetime of physical feats enchanted many people…including me and our family. For example, he could swim from Alcatraz to Fisherman's Wharf while dragging a boat and handcuffed, and he worked out the day before he died…at 96!

A lot of his advice and exercises are still valid. Check out Jack's guidance yourself…and smile!

John W. Sweazey, retired Emeritus from the University of Washington at fifty, in order to spend more time reading, thinking, philosophizing, rock climbing, recording videotapes, designing better geodesic domes, continuing to keep daily journals, contacting those in power with ideas, learning Greek dances with my wife, sharing Ivars fish and chips with her, enjoying the ultimate pleasure of helping my family, friends, and neighbors with their cars, homes, aging and parenting, loving my animals, learning, learning, learning. Thanks for listening!

SHARING STORIES is a weekly column for and about the 50 plus crowd living in the Puget Sound region. Send your stories and photos to ariele@comcast.net. Tell local or personal stories; discuss concerns around aging and other issues; share solutions, good luck, and reasons to celebrate; poems are fine too. Pieces may be edited or excerpted. We reserve the right to select among pieces. Photos are always a plus and a one-sentence bio is requested (where you live, maybe age or career, retired status, etc.).
SHARING STORIES is featured on www.northwestprimetime.com, the website
for Northwest Prime Time, a monthly publication for baby boomers, seniors, retirees, and those contemplating retirement. For more information, call 206-824-8600 or visit www.northwestprimetime.com. To find other SHARING STORIES articles on this website type "sharing stories" or a writer's name into the search function above.
---