Fresh salad dressings for spring greens
April 14, 2023 at 3:25 p.m. | Updated April 14, 2023 at 3:25 p.m.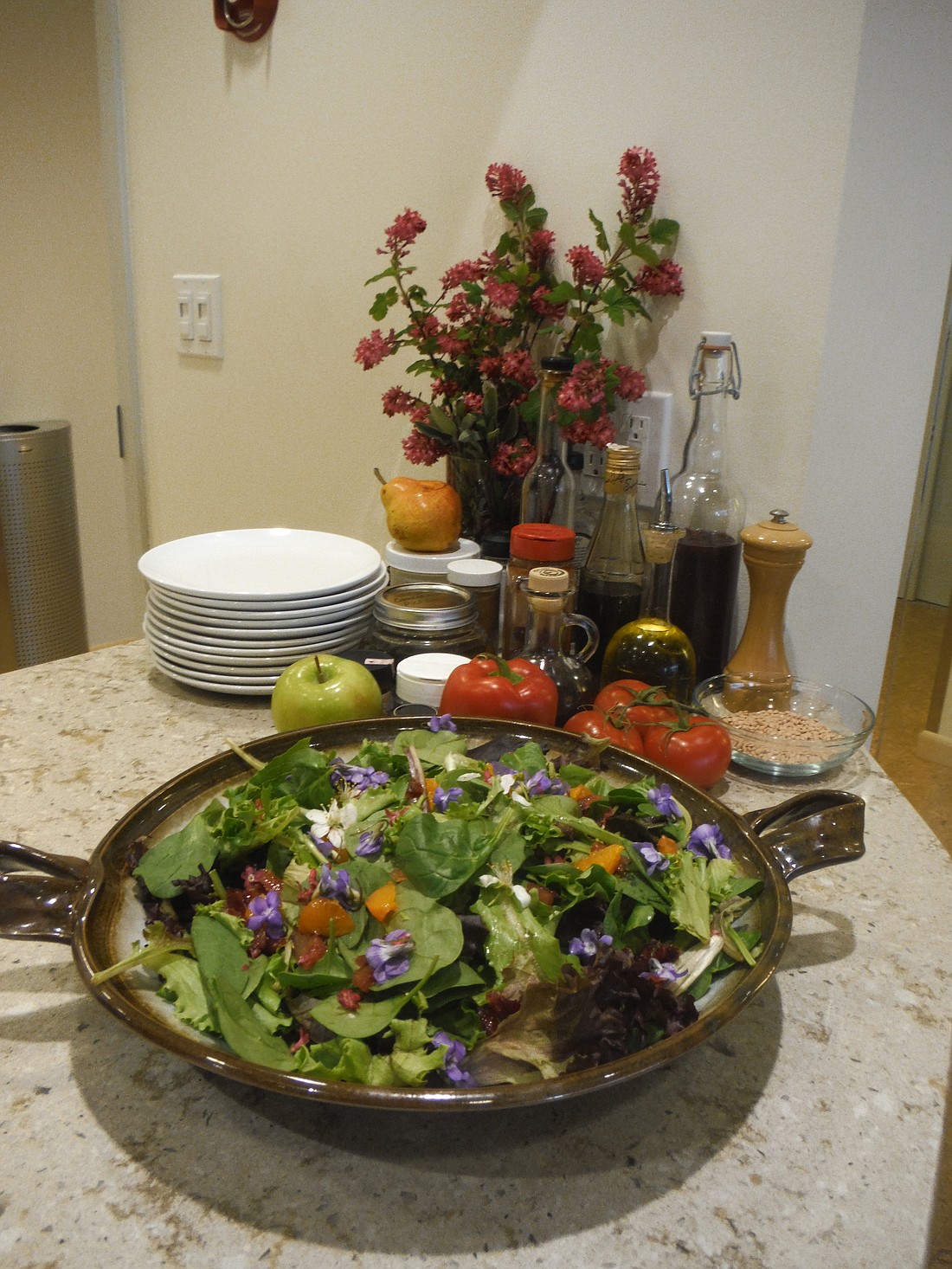 ---
---
After a long, cold winter, any signs of spring are welcome. Chances are some early spring greens are popping up in your yard right now.
The dandelion leaves you struggle with make a great salad, as long as you haven't used herbicides or pesticides on them. If eating your weeds doesn't appeal to you, try some of the wonderful spring greens from your local grocery store.
Many spring greens are grown locally, including lettuces, spinach, dandelion greens, endive, radicchio, watercress and even fiddlehead ferns if you can find them. These greens are often available in a mix of different types and all are good sources of fiber and vitamins A and C.
Sometimes what appears to be a healthy salad has more fat and salt than you'd suspect— often because of the salad dressing. The average bottle of dressing has between 200-500 milligrams of salt in just two tablespoons, which can make it hard to stay within the recommended limit of 2,000 milligrams a day.
Why not make your own dressing for a fraction of the cost and with a fraction of the salt? These homemade dressings are easy to make and oh so flavorful.
Try serving a salad as an entree along with a bowl of homemade soup and nice, warm bread for a light dinner. You can always find delicious salt-free recipes at www.nwkidney.org.
Orange-Sesame Dressing
1/4 cup sesame seeds
1/4 cup oil
2 tablespoons lemon juice
1 tablespoon vinegar
1/8 teaspoon celery seed
1/8 teaspoon cumin
1/8 teaspoon paprika
½ orange, peeled and chopped
Toast sesame seeds by heating in a dry frying pan on medium heat. Grind them in blender or food processor. Shake all ingredients together in a jar, or blend. Makes 6 servings.
Nutrition Information
Calories per serving: 118, Sodium: 2 milligrams
Fresh Herb Ranch Dressing
½ cup mayonnaise
½ cup milk
2 tablespoons vinegar
1 tablespoon fresh chives, chopped
1 tablespoon fresh dill, chopped
1 tablespoon fresh oregano leaves, chopped
½ teaspoon garlic powder
Add vinegar to milk, and then whisk all ingredients together in a medium bowl. Chill mixture at least 1 hour to allow flavors to develop. Stir dressing well before serving. Makes 8 servings.
Nutrition Information (per 2 tablespoons)
Calories: 106, Sodium: 100 milligrams
Creamy Blue Cheese Dressing
1 pint sour cream
1 tablespoon lemon juice
½ teaspoon Worcestershire sauce
1/8 teaspoon liquid hot pepper seasoning
1 clove garlic, minced and then sauteed
8 ounces blue cheese or 6 ounces Roquefort cheese, crumbled
Pepper to taste
In a bowl, combine sour cream, lemon juice, Worcestershire sauce, hot pepper seasoning and sauteed garlic. Blend well. Stir in blue cheese, mashing large pieces with a fork, until well blended. Add pepper to taste. If made ahead, cover and refrigerate. Store up to 10 days. Makes 2½ cups.
Nutrition Information
Calories: 77, Sodium: 75 milligrams
1 cup plain yogurt
1 green onion, sliced thinly
2 tablespoons tarragon vinegar
1½ tablespoon parsley, minced
2 teaspoons sugar
1 teaspoon tarragon leaves
¼ teaspoon anchovy paste
Place tarragon and vinegar in a blender; let stand for 5 minutes. Add onion, parsley, anchovy paste, sugar and yogurt, and then blend until smooth. If made ahead of time, cover and refrigerate. Stores for up to a week. Makes 1 1/4 cups.
Nutrition Information (serving size: 2 tablespoons)
Calories: 20, Sodium: 20 milligrams
[Contributor Katy G. Wilkens recently retired as registered dietitian and department head at Northwest Kidney Centers. The National Kidney Foundation Council on Renal Nutrition has honored her with its highest awards for excellence in education and for significant contributions in renal nutrition. She has also been awarded the Medal of Excellence in kidney nutrition from the American Association of Kidney Patients.]
Eating Well, Living Well classes
Studies show that working with a registered dietitian can delay kidney failure and postpone dialysis for longer than two years. FREE nutrition classes taught by Katy's former team of registered dietitians are available at convenient times and locations around Puget Sound.
Eating Well, Living Well classes teach people how to eat healthier to slow the progress of kidney disease and postpone dialysis. Learn more at www.nwkidney.org/classes.
---