Linda Evans: Finding Peace and Happiness Growing Older in the Northwest
April 9, 2023 at 6:45 a.m.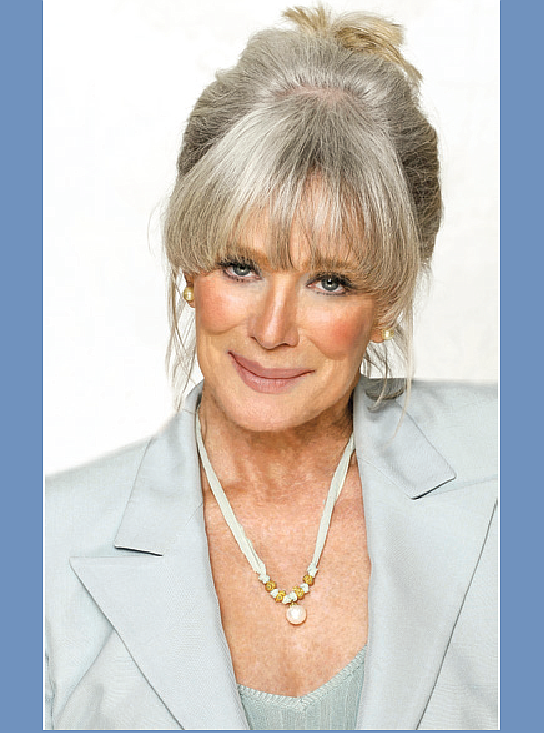 ---
...by Michelle Roedell, Editor, Northwest Prime Time
---
An article that graced our cover back in January of 2015 is trending on our site in recent months and was one of the top viewed posts this past year. Linda Evans was in the news in November because she was turning 80 at the same time as the Golden Globes Awards (which aired in January). Linda, who won a Golden Globes award in 1981 for her role on "Dynasty," was Miss Golden Globes in 1964. (Every year, a new Miss Golden Globes hands out trophies to the winners and escorts them offstage.)

You can read more updates about the well-loved actress at the end of this article. 
 
The award-winning actress Linda Evans has long been hailed as one of the most beautiful women in the world.
She is also known for her warmth and kindness: in 1985, during the height of her fame, the Los Angeles Times proclaimed her to be the most well-liked celebrity in Hollywood. Linda is known best for her roles of Audra Barkley on The Big Valley (1965-1969) and Krystle Carrington on Dynasty (1981 -1989). In 2009 she won the British competitive cooking reality show, Hell's Kitchen.
Today she spends her time writing, cooking, working with organizations such as Meals on Wheels and traveling the country to speak on aging gracefully in a culture that does not revere aging.
Linda Evans turned 80 in November 2022
Linda makes her home in the small town of Rainier, Washington. "I have 70 acres with a river running through it," she said in an interview on the Oprah Winfrey Show. Her sister, nephew and stepdaughter, Sean Derek (from her marriage to John Derek), all have homes on the property. "We've got dogs. We've got deer. I live in heaven," she exclaims. "I absolutely love it here." While Linda could live anywhere in the world (thanks to the success of Dynasty), she fell in love with the Northwest because of its extraordinary natural beauty and the people she meets here: "You want to be where your heart feels safe," she says. "I came for a visit and couldn't leave."
Moving to Washington gave her the peace she was seeking. "Even though it was a blessing to have Dynasty, you have absolutely no privacy. It's difficult because when you have a public persona, people see you in a certain way." When Harper's Bazaar named her one of the 10 most beautiful women in the world, she thought, "This is not reality." She felt tremendous pressure trying to live up to the illusion of Krystal Carrington.
Linda left Dynasty before its last season because she needed time to reflect on her life. "That was the whole purpose of coming up here [to Washington State], because I understood that so much of my life was outside of me." She had once lived her life trying to make her husband happy. "To think of just me never entered my mind," she says. When her marriages ended, she found herself focusing on her career. "But it just seemed there had to be more to life than all that…I was looking to find out who I was. I wanted to go on the inner journey."
She says she never felt healthier or more satisfied than after moving out of the spotlight to Washington. "I'm happier because I don't define myself by what other people think. You get older and wiser, that's the great thing about aging," she told Oprah. "You get more certain in yourself…who you are and what you want."
Even as a girl, Linda never placed much value on her looks. She was born November 18, 1942 in Connecticut. When she was six months old, her parents, both professional dancers, moved the family to Hollywood, next door to her grandparents. At age 14, Linda, the second of three daughters, was encouraged by her English teacher to enroll in drama classes to overcome shyness. At 15, she went with a friend who was auditioning for a television commercial and, without wanting to, Linda got the part. Shortly after, in a true Hollywood twist of fate, Linda's first role on a major television series was in Bachelor Father, starring John Forsythe. Over two decades later she would play his wife on the hit show, Dynasty.
Many small roles followed, but Linda's big break came when she landed the role of Audra in The Big Valley, daughter of Victoria Barkley, played by Barbara "Missy" Stanwyck. "It's stunning to me that my first television series was with such an incredible legend," said Linda in an interview with Katherine Scrivens. "What a magnificent actress and beautiful human being. I was very fortunate that she wanted to teach me how to be a professional. Missy's love and protection of me in the beginning of my career was really beautiful and her influence on me has been tremendous. She came to me when my mom died and said, 'I'll never replace your mom, but I'll be your mom from now on,' put her arms around me and was there for me her whole life."

During her time on The Big Valley, Linda met and married actor / director John Derek. She remembers falling in love with him at age 12, years before they met, after seeing him in a movie. He was 16 years older, but, she says, "Age doesn't matter when you are in love. It was a fabulous marriage," she adds, although it ended in divorce when John left her for then-teenager Bo Derek. Linda was devastated, of course. "I was only in my late 20s. I wanted to die. I didn't know what to do."
What she did was to turn her mind to herself. She called her agent, found another job and eventually married again. "Life went on," she says. Despite the heartbreak, she calls John Derek one of the great loves of her life. She even became friends with Bo Derek.
Another of her great loves is Yanni, the international music star. "I wouldn't have missed it for the world," she says of the relationship that lasted nine years. During her Oprah interview, she revealed that she had plastic surgery during that time because "I was madly in love with a man 12 years younger than me. I still wanted to look good because I was with him." She doesn't regret her decision. Although the relationship didn't last, it seems their friendship did. Linda calls Yanni the other great love of her life.
Linda also had a long relationship with her on-air arch nemesis from Dynasty: Joan Collins' character Alexis. On their famous catfights on the show, Linda revealed in an interview: "I love to do stunts because Barbara Stanwyck and I did them, and it was a bonding thing for us. But Joan absolutely hates those kinds of things – fighting, physical fighting." Joan preferred the verbal fights. Those Dynasty catfights have been called a staple and icon of 1980s culture.
Another lasting legacy of Dynasty was her friendship with her television husband, John Forsythe, whom she adored. They stayed friends until he died in 2010.
Linda remains physically active, even after recent back problems. Her habit is to walk daily and do strength training. She also makes time to add stimulating activities to her life. "Change is invigorating. I try to change up my life by doing things I've never done before. The best investment you can make in your life is to take care of yourself…and be happy."
Linda, who turned 80 in November, has spent quite a bit of time reflecting on what it means to age in our society. "It can be a revealing and beautiful time. A lot of people wish they could be younger again. I would never go back because the life lessons that I've learned, the wisdoms that I've gained…There is something glorious about getting older as a woman, the freedom from so many of society's agreements that age helps you let go of."
She acknowledges that aging can bring difficult challenges, such as health issues or losing people you love. When her sister and others close to her became seriously ill, she had to reconsider some of her ways of thinking—the caretaker in her wanted to fix those she loved, but she was helpless. She now knows she can "see all the colors of life, the sweet and the sad...It has been one of my greatest gifts."
She encourages everyone as they grow older to express themselves: pursue unfinished dreams; make a difference in the lives of others; test the limits; break barriers! "Everyone has something to offer," she advises.
"Today I am grateful for my long life, the grace that comes from living it well and the excitement I feel for all the potentials that exist for me in the future. At any age, the greatest prize is joy."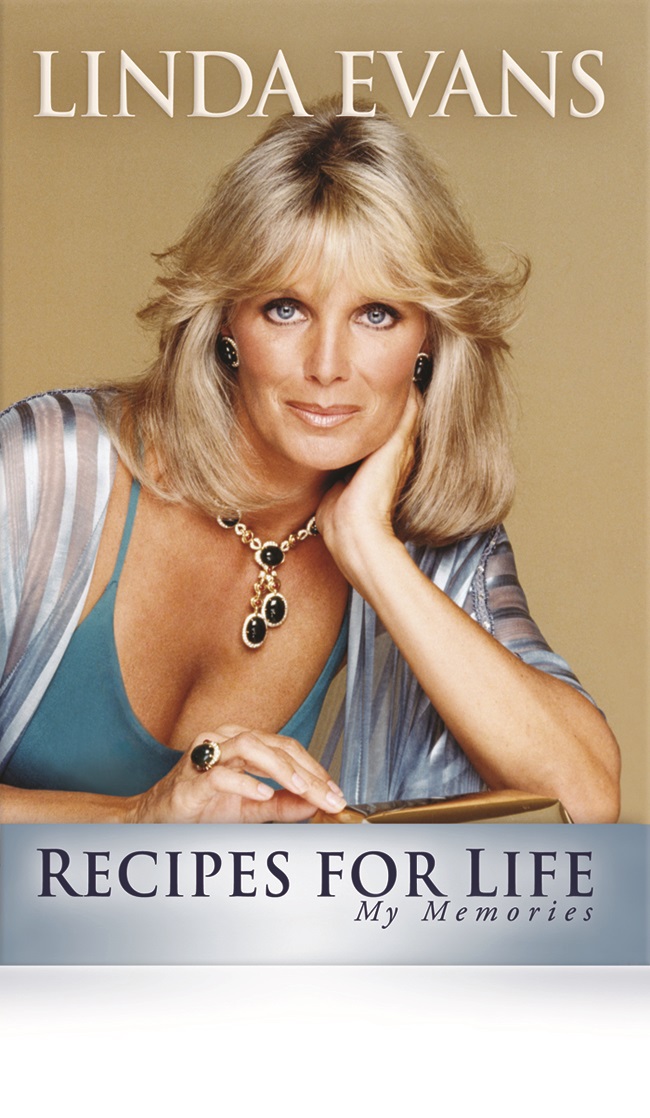 Linda Evans' book, Recipes for Life: My Memories, is out in paperback. In the book, Linda "opens her heart, her past, and her kitchen," sharing stories on growing up, family ties, her life in Hollywood, her friends and high-profile romances. The book is full of photographs and contains over 40 recipes, some handed down through generations (Mom's Hot Dog Stew), some taught by famous friends (John Wayne "The Duke's" Crab Dip).
MORE UPDATES
In 2021, Linda briefly returned to acting by appearing in the film, "Swan Song." She said the script awakened her curiosity enough to bring her out of retirement.
A 2023 article about Linda Evans from AmoMama (which focuses on content for women) writes that while she freely admits to having plastic surgery in the past, Linda now prefers a more natural approach to beauty and fitness. Her health routine includes a focus on nutrition, exercise, and avoiding stress. The actress has said she enjoys long walks, especially with her beloved dog, Alexie. Strength training is part of her regime; she also practices yoga for flexibility and meditates each morning for a peaceful state of mind. Reducing stress is one key to healthy aging, she advises.
The article reported that Linda Evans is living life to the fullest, taking pleasure in pursuing her interests and spending time with her loved ones - many of whom live on her extensive property in Washington State. "
I never knew being alone could be so delightful. I'm rich because I have family and friends living all around me."
You can watch an interview with the ever-youthful Linda Evans that was filmed in advance of the Golden Globes 80th anniversary and her 80th birthday:
80 Days to 80th Golden Globes: Miss Golden Globes Linda Evans
.
Keep up with Linda Evans by visiting her Facebook page:
Linda Evans (Official) | Facebook
or her website at
www.LindaEvansOfficial.com
---