Canote Brothers – Live at the Phinney Center
September 24, 2022 at 2:13 p.m.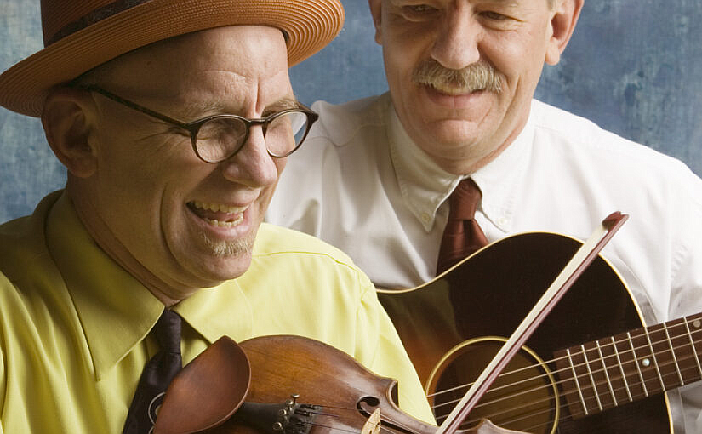 ---
Greg and Jere Canote are described as two of the most versatile and joyfully infectious musicians in the Pacific Northwest. "Original, old-time, and swing tunes and songs mixed with humor and stories for a delightful evening for all ages," according to the Seattle Folklore Society, which is presenting the Canote Brothers in concert on
Saturday, October 1 at the Phinney Center Concert Hall at 6532 Phinney Avenue North in Seattle
(Tickets:
https://knct.club/3QbyKeS
).
The Canote Brothers will also be featured in a documentary,
The Canote Twins
, scheduled to premiere in 2023.
From the film's website: The Canote Twins
, a film by Larry Edelman, is a feature length documentary about Greg and Jere Canote, identical twins who have been playing music together for most of their 70-plus years. And not just any old music, but simply amazing, genetically-matched singing and musicianship. They quickly bring to mind the rich tradition of singing brother duets, evoking such seminal duos as the Blue Sky Boys, the Delmore Brothers, and the Everly Brothers. They've shared their music for more than half a century, teaching and performing at countless festivals and workshops, and on radio and television. But delightful music is only part of the story. Greg and Jere have another unique characteristic – they are two of the happiest people you will ever meet. And their happiness is mysteriously contagious. Anyone finding themselves in close proximity to the twins, might also find themselves caught up in a vortex of joy and optimism. This documentary spans their lifetime, right up to the present day. You'll appreciate their musical inspirations and tap into some of the secrets of their happiness. You'll get to relive their cross-country touring with Sandy Bradley and their roles as the affable sidekicks on the weekly radio broadcast, "Sandy Bradley's Potluck." You'll see the twins when they aren't in concert, but, of course, the documentary will feature LOTS of music!
"And after it's over," says the documentary's website, "we hope you'll feel a little more joyful, a bit happier. And can't we all use a little bit more of that?"
MORE INFORMATION
---