Medicare Ads That Claim to Put Money Back in Your Social Security Check
September 11, 2022 at 1:54 p.m.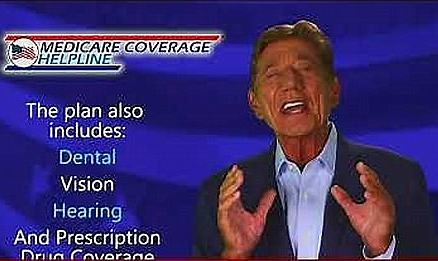 ---
Open enrollment for Medicare starts next month on October 15 and runs through December 7. Perhaps you've seen the TV ads with pitchmen like Joe Namath telling you that you may be missing out on benefits.
"You may be entitled to the Medicare benefit that adds money back to your Social Security check every single month!" exclaims the former NFL quarterback.
An article in VerifyThis.com by Erin Jones and Brandon Lewis takes a closer look, asking the question: "Are Medicare ads that claim to put money back in your Social Security check true?"
The authors of the article say the claims are specifically about Medicare Advantage programs (Medicare Part C) that bundle together the different parts of Medicare, including Parts A & B (original Medicare) and often Part D, prescription drug coverage. These programs, which are run by non-governmental private insurance companies regulated by Medicare, often include additional benefits not covered by Original Medicare, like dental, vision and hearing.
The Kaiser Family Foundation (KFF) says some Medicare Advantage plans can potentially cost more than Original Medicare but may offer more comprehensive coverage. Others may cost less monthly but might require more restrictive networks, require more co-pays, deductibles and other out-of-pocket expenses. You'll also want to check the formulary – or the medications and dosages the plans cover – plus the maximum out-of-pocket expenses for any plan you are considering.
With all this in mind, write Jones and Lewis, the truth is that the claim needs context.
HOW IT WORKS:
If you have Original Medicare, the cost of it is deducted from your Social Security check every month (or if you or not yet collecting Social Security, you pay for Medicare yourself).
When looking at the TV ads' claims, it gets a little complicated. That same amount is deducted from your Social Security check when you choose an Advantage Plan, and the government sends along that amount to your Advantage Program plan (run by private insurance companies). But if you opt for a program that offers fewer benefits or has higher co-pays among other things, then the private insurance company sends some of that money back to your Social Security check. So, you could receive a larger payment each month. The amount varies based on what plan you choose.
According to the authors of the article, the downside is: "You may end up with a plan that has a smaller network of doctors or charges more for procedures than Original Medicare," write Jones and Lewis. "So, while you may get more money in your Social Security check each month, it could end up costing you more in the long run."
With all this in mind, it is important to consider all your expected medical needs and your specific financial situation when choosing a Medicare Advantage program. The authors suggest you carefully utilize Medicare's comparison tool to help you decide whether switching plans or which plan makes the most sense. Also consider speaking to an impartial advisor, like those available through the Statewide SHIBA Program.
The bottom line, say the authors, is the claims in the TV ad are technically true, they are also misleading when considering the full picture.
The sources for this article were: Centers for Medicare and Medicaid Services; Social Security Administration; and Kaiser Family Foundation. You can read the original article HERE.
---