Step By Step
Walkers raise funds and awareness at the American Parkinson's Disease Association Optimism Walk
September 2, 2022 at 9:59 a.m.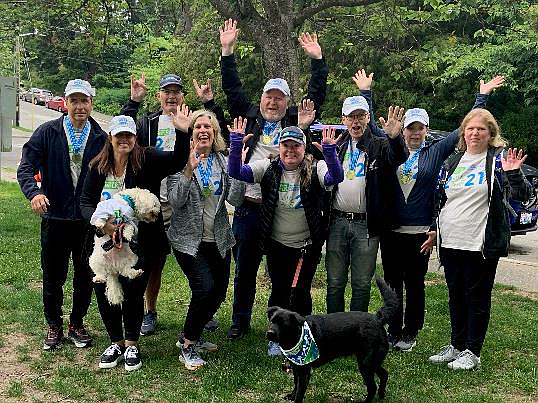 ---
The American Parkinson Disease Association (APDA) Northwest Chapter is hosting the Northwest Optimism Walk on October 1 at the Ship Canal Trail in Seattle.
What is an Optimism Walk? The APDA Northwest Optimism Walk is a family-friendly fundraising event that offers a short 1.5 mile walk for all abilities, and other activities in a carnival-like atmosphere including games, giveaways, music and most importantly, the chance to bond with others who are similarly connected. The event will start and end at the APDA office parking lot located at 180 Nickerson Street in Seattle. It is perfect for people with PD, their friends, family, coworkers, and care partners – anyone who wants to step up and help put an end to this disease.
There are approximately one million people living with Parkinson's disease (PD) in the United States – an estimated 60,000 here in the Northwest -- with more being diagnosed every day.

With 16 events across the country, the Optimism Walk series brings thousands of participants together to support APDA's mission to help every person impacted by Parkinson's Disease live life to the fullest. By raising funds and awareness, every participant in the APDA Northwest Optimism Walk is stepping up and stepping out to make a difference for those living with the disease today and to push for answers that will ultimately make PD a thing of the past.

"The APDA Northwest Optimism Walk is a fun and inspiring day, and such a great way to support the local PD community" states Kirsten Richards, Director of Development, APDA Northwest Chapter. "When someone you love is diagnosed with Parkinson's disease, it can be frustrating to not know how to help. But then we see that frustration turn into motivation, determination, and purpose when people take part in the Optimism Walk.
Participants tell us they feel proud to have made a difference, to have done their part by raising critical funds that will help APDA provide more programs and services in our 5-state territory."
The funds raised at the Northwest Optimism Walk help APDA provide essential support groups, exercise classes designed specifically for people with PD, educational conferences, and so much more. "Access to the right information and support is key to living your best life, and that's true for the person living with PD as well as care partners, friends, and family," states Richards. "APDA is the largest grassroots network serving people with PD and their families. The more funds we raise at each Optimism Walk, the more people we can help every day." Local programs currently include online Take Control education programs focused on timely topics presented by a local expert, free online exercise programs such as Yoga for PD, and support series for both the newly diagnosed and care partners.
To learn more and register for the Northwest Optimism Walk, visit www.apdaparkinson.org/Northwest or call 206-695-2905. 
---