Best 3 Coziest Small Towns in Washington
October 25, 2022 at 8:09 p.m.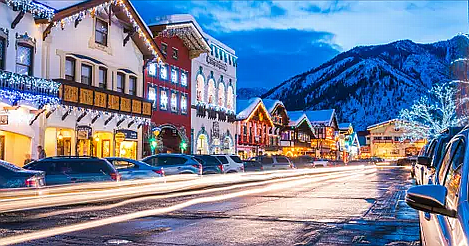 ---
It's the time of year when we're layering on sweaters and blankets, and to celebrate the winter season. A new survey by MyDatingAdviser.com has ranked the coziest small towns in the USA.
These Washington towns are considered the coziest: Leavenworth (ranked No. 15 coziest in the nation), Friday Harbor (64th), and Port Townsend (129).
To determine the coziest small towns in America, this survey compared 170 well-known small towns across the country on ten key metrics, including winter temperature, average snowfall, cafes, bakeries, crafts, and bookshops, among other indicators of a cozy small town. By analyzing the data points, each city has been given a 'Cozy Town Index Score,' representing the level of coziness you might experience in that small town.
If you're in the mood for a visit to a "cozy town" to get into the winter spirit, here are some of the best small towns in Washington state and across the country to visit, according to mydatingadvisor.com:
In Washington: 
Leavenworth
The Bavarian town of Leavenworth isn't actually in Bavaria, Germany—it's in Washington. In the 1960s, the town remodeled itself after a traditional German village to draw in tourism and it's still working today. Though one of the most popular times to visit is during Christmas, as Leavenworth hosts an annual Christmas market just like Bavarian towns do, it's a four-season destination. In the summer, visitors take advantage of great hiking, bouldering, and birding.
Rank: #15 out of 170 cities
Average Winter Temperature: 27.5 °F, Winter Season: 3.3 months, Snowfall: 95.6 inches, Days Below Freezing: 166
Friday Harbor
This beautiful hamlet sits in the farthest northwest reaches of Washington, with a marina at Roche Harbor that serves as a jumping-off point for cruising around small, uninhabited islands. Friday Harbor was once a major produce provider for the state, but these days the economy is centered around tourism—sea kayaking and orca-watching are the biggest draws. Year-round ferries from Anacortes make it easy to visit in every season.
Rank: #64 out of 170 cities
Average Winter Temperature: 41 °F, Winter Season: 3.3 months, Snowfall: 95.6 inches, Days Below Freezing: 166
Port Townsend
With outdoor adventures, quaint streets, dramatic coastlines, and more, the West Coast's small towns have lots in store for visitors. Port Townsend, a small town in Washington state, boasts a beautiful waterfront location and plenty of places to hike, bike and kayak nearby.
Rank: #129 out of 170 cities
Average Winter Temperature: 42 °F, Winter Season: 3.7 months, Snowfall: 2.1 inches, Days Below Freezing: 38.3
Find the 20 coziest small towns in the USA:
Stockholm, Wisconsin
Stowe, Vermont
Stanley, Idaho
Ellicottville, New York
Breckenridge, Colorado
Medora, North Dakota
Lake Placid, New York
Keystone, South Dakota
Mackinac Island, Michigan
Lake George, New York
Deadwood, South Dakota
Leadville, Colorado
Silverton, Colorado
Saugatuck, Michigan
Leavenworth, Washington
Kohler, Wisconsin
Telluride, Colorado
Harpers Ferry, West Virginia
Talkeetna, Alaska
Baileys Harbor, Wisconsin
Amy Pritchett, Editor-in-Chief at MyDatingAdviser.com, said: "We've swept the country to find some of the coziest towns in America for a winter weekend escape. Whether you're looking for a ski lover's paradise, a historic spot that's still near a major metropolis, or a remote waterfront retreat, you'll find it on this list.
Winter can seem like a never-ending season dampened by drizzly weather, cold temperatures, and dark nights that can leave you in a miserable mood to match. Combat the seasonal blues by visiting some of the coziest small towns on this list, which can provide sanctuary and warmth while winter rages on outside.
I encourage everyone to indulge in some cozy things. Drink hot chocolate, sit by a fireplace, read a book, enjoy warm meals, and curl up with someone special under a warm blanket."
What is Hygge? 
Interestingly, the act of taking pleasure and contentment from a cozy environment is known as 'hygge' – a term coined by the Danes. Hygge is a central part of Danish culture, which perhaps explains why the Danes are some of the happiest people in the world.
Methodology: 
To determine the coziest small towns in the nation, MyDatingAdviser.com compared 170 well-known small towns across the following categories: 1) Weather, 2) Food, and 3) Activities. They then evaluated each area using 10 data points of cozy town friendliness—like average winter temperature, snowfall, cafes, bakeries, and craft shops.
This article is courtesy of MyDatingAdviser.com:
https://mydatingadviser.com/best-small-towns-in-america/
.