Double Trouble, Double Adorable
Zookeeper Allison Barr discusses her new charges – bear cubs Juniper and Fern
November 26, 2022 at 6:04 p.m.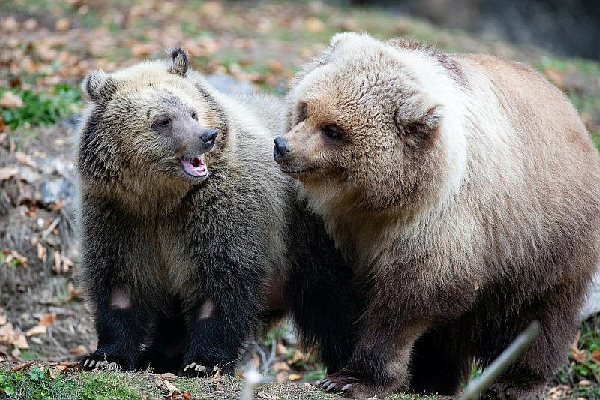 ---
Visitors to the Woodland Park Zoo's Living Northwest Trail are delighting in the antics of its newest residents, Juniper and Fern, brown bear cubs that were brought to the zoo after being orphaned in the wild.

Animal keeper Allison Barr has been working with grizzly bears for 11 years. She has a long history of working with a variety of animals, including Malayan sun bears, Kodiak bears and big cats. Now she is part of the team caring for the orphaned cubs that can be seen careening around their naturalistic setting, which includes a flowing stream, a bear-sized swimming pool with live fish, and exhibit "furniture," such as rocks for basking in the sun, tree stumps that make great scratching posts and a quiet cave for winter naps.

"Visitors will notice a size difference," says Allison about the cubs, who were both born this past winter. "That is because Juniper is an Alaska coastal brown bear, and the new cub is an inland grizzly bear." Allison explains that the grizzly bear is a subspecies of brown bear. "I like to tell people that all grizzly bears are brown bears but not all brown bears are grizzly bears. While brown bears are omnivores, the coastal brown bear diet consists heavily of fish, which has contributed to its larger size in comparison to the smaller grizzly."

Juniper, the larger of the two, came to Seattle in July, weighing 89 pounds. Four months later she tipped the scales at 256 pounds. Juniper was rescued after being found roaming alone near an air force base in Anchorage, Alaska. Her mom was nowhere to be found, and the Alaska Department of Fish and Game jumped into action to lure her to safety. Since bears have a well-documented sweet tooth, the team first tried donuts. But Juniper wouldn't come to the culvert trap they had set up until they tempted her with Vienna sausages, which, luckily, one of the agents had in his lunch.

Grizzly bear cub Fern was born this past winter in Montana and arrived at the zoo in October, weighing 95 pounds. She recently weighed in at 167 pounds. In addition to her smaller size, Fern's snout is longer than Juniper's.
Fern's mother had a history of conflicts with humans, and Montana Fish, Wildlife & Parks had to euthanize her because of the long-term, ongoing conflicts. "I would like people to understand how their actions impact bears and all animals in the wild," says Allison. "For example, the new grizzly bear cub is here because her mother repeatedly visited a home with chickens and, even though they tried to stop her by moving [her far away] and scaring her away, she went back…" The situation was deemed unsafe. "Particularly in bear country, people have to be aware of how to coexist with wildlife," she adds. "Don't add attractants to your yard." Bear attractants can be bird feeders, pet food, garbage that is not kept in secure containers. Even pets can attract bears – don't let your pets run free in bear country. Allison also cautions against leaving out food and garbage when camping and hiking. "Be bear smart!"

According to Kevin Murphy, senior director of Animal Management at Woodland Park Zoo, becoming familiar with humans during a rehabilitation process creates an incredibly dangerous situation later in life. "Bears are extremely smart and resourceful and can have more than a 2,000-mile home range. Even moving 'problem' bears to a remote location is generally not successful in the long term, as was the experience for this cub's mother," he said.

"It's unfortunate when a wild cub loses its mother and becomes an orphan… the cub learns so much about how to be a bear directly from its mother," added Murphy. Both cubs were too young to survive on their own, but Juniper's presence, who arrived at the zoo first, has helped Fern acclimate to her new home much faster than usual.

"Having Juniper here has truly helped," said Erin Sullivan, an animal curator at the zoo. "The cubs are fast becoming best buds and Juniper has taken Fern under her wing. Zoo-goers are going to really enjoy watching the cubs grow, play and get into mischief together."
The last time the zoo received brown bears was in 1994 when brothers Keema and Denali arrived as 10-month-old cubs from Washington State University Bear Center. Denali passed away in December 2020 just weeks shy of his 27th birthday due to geriatric age-related issues. Male grizzly bears have a median life expectancy of 21 years in human care and often less in the wild.
Zoogoers want to know how the "old guy," Keema, is doing, especially since he lost his brother. "Keema is doing well," says Allison. "As a geriatric animal, he has some health-related issues that we are keeping a close eye on, but his activity, appetite and behavior all appear normal." He receives cosequin for joint health. "He is a special bear," adds Allison. "The advice for keeping him young at heart is to keep him active, engaged and curious by offering different enrichment items and spending time with him and yes ... spoiling him!"

Keema and the cubs rotate in the exhibit. And while they don't occupy the same space, they can sometimes see, hear and smell each other.  Allison tells us that, "Keema was curious...Initially they did 'huff' at each other across the holding room, but after they got used to seeing each other they don't vocalize at each other anymore. There isn't much interacting between them."
The exhibit had to be "baby bear proofed" for the cubs, which included refreshing safety barriers, adding more baby-sized furniture, along with new and enrichment features and vegetation. These young, curious cubs are going to explore every nook and cranny of the exhibit, areas that Keema hasn't ventured into in recent years due to his age and reduced mobility and activity.
Allison is enthusiastic about her time with the bears. "There are so many things I have learned about bears since working with them at Woodland Park Zoo," she says. "Firstly, they are so intelligent. Coming up with new enrichment for them is an interesting challenge. The bears have live trout in their pool that they (particularly Juniper) have been spending a lot of time trying to catch. They actively try to fish this time of year but usually aren't successful until it gets colder and the fish slow down.

"To keep the bears stimulated and enriched, they are moved between the off-view indoor dens and the public exhibit three to five times a day. We offer new enrichment such as produce hidden throughout the exhibit. This stimulates natural behaviors such as foraging, smelling and digging."
In the indoor dens, the bears also have access to many enrichment items, including balls, fire hose braids, hay and a pool, with items hidden throughout. "In both the indoor dens and public exhibit, we offer them popsicles (frozen fruit juice with fruit in it)," says Allison. "We also scatter a variety of scents to stimulate their keen sense of smell. The beauty of enrichment is we don't provide it on a routine schedule; offering at varying times makes the activities or treats even more enriching for the bears."
Because bears are so smart and food motivated, training them is quite fun, says Allison. Part of the training involves having them learn to participate in their health care, which includes receiving injections and blood draws for exams. They are also trained to return to the indoor dens with a bell. "Some of their favorite rewards are grapes, dog food and honey…Yes, bears really do LOVE honey!" exclaims Allison. She adds, "Also, I have learned how gentle they are. When spoon feeding them medication or (for) training, they so gently take the food. I have never had any of these bears display any aggression toward me or other animal keepers."
Brown bears are an iconic species, and these new cubs are a symbol of hope to restore grizzlies in the North Cascades. Stay tuned for updates on both cubs at www.zoo.org/brownbear. Other animals to check out in the Living Northwest Trail include lynx, elk, wolves, river otters and other regional wildlife. For more information, visit www.zoo.org
---