Laughter, Tears and Dusty Muffins
Local television veterans Julie Blacklow and Penny LeGate start a podcast together
November 8, 2022 at 12:00 a.m.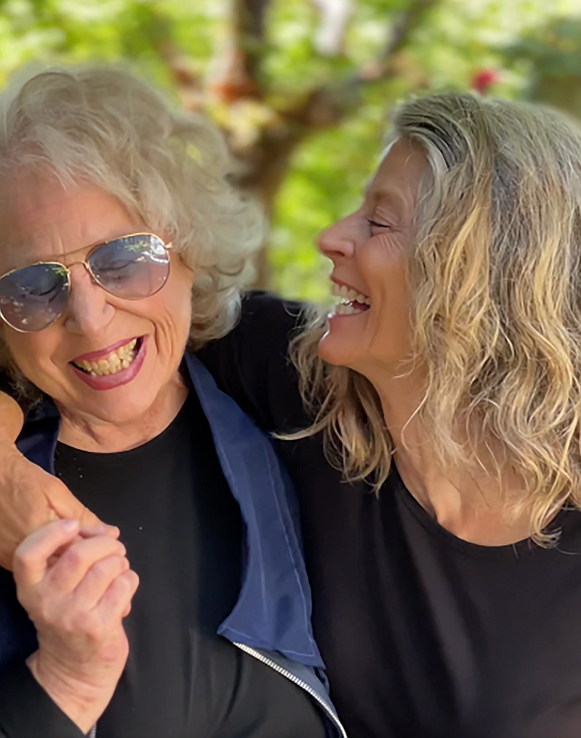 ---
---
This article was originally posted on November 1, 2022
Between them, veteran reporter Julie Blacklow and longtime
Evening Magazine
host Penny LeGate racked up a total of 75 award-winning years in Seattle television.
Over that time, they reported on other people's lives (as Julie says, from movie stars to murderers), but now they're opening up about their own in a new podcast cheekily entitled 'Coupla Dusty Muffins.' If the side-eyed meaning isn't clear, please refer to actress Betty White's classic 2010
Saturday Night Live
skit featuring her trademark innocent but raunchy hilarity.
In the podcast world, they're finally unplugged. No bosses, no managers, no camera-ready makeup and hair, no artifice, no rules. Just the hard-earned humor, feistiness, and uncensored thoughts of women who've lived adventurous lives, share a strong friendship, and have
plenty
more to do and to say.
"When you have less time ahead of you than behind you, for me, it amps me up!" Julie remarked. "It's a gift to grow old. It energizes me." Penny added, "It's such freedom," to be part of a podcast now. "It gives us complete freedom from any management team, from any measurement of audience. We don't have to clear our subject matter with bosses." And she noted, "We say bad words once in a while, and it's just so free. It's so
freeing
!"
These days, Julie is an author, painter, and horsewoman who plays Wordle with her adult son Jeremy every morning. After TV, she managed a horse ranch for twenty years.
Penny has freelanced on projects for the Seattle Channel, travels, shares her life with husband Craig and daughter Molly, is a prolific advocate for community and humanitarian projects, and recently returned from a family trip to the European sites where her father fought and was wounded, and where her uncle was killed during World War II.
Julie and Penny have known each other for decades from their days as familiar faces on Seattle TV. The two first worked together at KING-TV, and later at KIRO-TV (where I was also a colleague), and always clicked for a quick chat though they didn't know each other well. But they stayed in touch.
Then in recent months, their spark reignited as Penny attended a book launch for Julie's memoir about her pioneering days as a TV journalist,
Fearless: Diary of a Badass Reporter. 
"I was intrigued by her book and her stories," Penny remembered, but it was Julie's genuine curiosity about other people and the way she interacted with them that stood out. "She is just so real and authentic, and in a world where a lot of people aren't always authentic and are full of (it), she is the real deal."
Discussions ensued, ideas were swapped, a bond deepened… and then one day, Penny sent a text: "We need to do a podcast." Julie responded: "Of course we do." And with that, the Muffins were off to the races.
"We didn't want to do doom and gloom," Julie explained, referring to the tenor of contemporary news. "We wanted to talk to people about subjects they don't often think about." Their podcasts mirror their real-life heart-to-hearts, from celebrity gossip to captivating interviews, the importance of female friendship, and discovering all the things we do not need to care about anymore at this juncture of life.
One of my favorite episodes centers on working in newsrooms where women were few, bosses were always male, harassment was rampant, and comments on looks/ age/weight flew freely. "When I started in 1972, in the paleolithic age of TV news," Julie chuckled, "there were two women in the KING newsroom and a group of 120 men. We were breaking ground." It was also a slog. "We all started in the era before sexual harassment was a term, the outrageous things men have said and done to us," Penny added.
With the accumulated wisdom of surfing through time, the two tally up a wide-ranging list of hoped-for guests and future pod ideas. Julie said, "We look for the common thread. The things everybody can relate to."
Whatever the topic, Julie and Penny dig in, sometimes dissolving each other in laughter, sometimes lighting up with quips and opinions, and sometimes wading in on deep truths and emotions that are both painful and healing.
The interview/ conversation that served as the basis for this article turned into a podcast of its own. The three of us found ourselves looking back at the topography of our lives, specifically at surviving our lowest lows. Julie shared about the death of a spouse, the excruciating firing from a job she loved and the resulting very public lawsuit (which she won), and even a period of suicidality. I somehow found myself talking about the stressful, family-driven circumstances of my retirement publicly for the first time. And Penny stopped our hearts with her raw openness about losing Marah, the younger of her two daughters.
Penny explained that Marah struggled with anxiety and depression and began self-medicating as a 15-year-old, first with alcohol and marijuana, later with harder drugs. Marah fought courageously and repeatedly toward recovery, and her family made every effort to help her. After a lengthy period of sobriety, at age 19, she relapsed.  
"She died of a heroin overdose in my home in 2012 and I found her," Penny said softly. What followed was a moving tribute to her vibrant, talented, empathetic girl, details on the nonprofit Penny launched to reach other vulnerable young people (
www.themarahproject.org
), and her reflections on the daily walk with grief. As is Penny's way, she also offered words of support to other parents facing tragedy and people in despair.
All of this unfolded on a computer screen, and I watched Julie's face as Penny talked. I could see her eyes well and I could feel her heart extend to her friend like the arch of a rainbow. That's the thing with these two. They worked in a tough business, met life's challenges with bravery, succeeded when it wasn't easy, without losing their unmatched empathy. I've been acquainted with them both for many years, yet they amaze me still with their perceptiveness and their expansive sense of caring and interest in people. It feels ever more exquisite as we get older.
And I dare you not to laugh when they crack each other up. The 'real talk' they offer is warm and welcoming.
At one point, Penny mentioned that Julie is 75 years old. "Thanks a lot!" Julie cut in, laughing. "Hey, I'm proud of it!"
These two souls don't waste a minute of life. Whatever they want to do, I'm in. Whatever they want to say, I'm ready to listen. 'Coupla Dusty Muffins' is not to be missed.
The podcast featuring the conversation with the three of us is currently available. You can link to it and other 'Dusty Muffin' podcasts at
www.buzzsprout.com/1966945
. ❖
Margaret Larson retired as longtime host of KING-TV's "New Day Northwest"
---