Learning new customs
Sharing Holidays
Sharing Stories
December 18, 2022 at 7:23 p.m.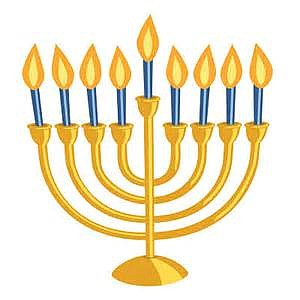 ---
---
Sharing Holidays
One of my most memorable Christmases was the first one Larry and I spent together. He was raised in the Jewish faith, and although he was twenty-nine, 1982 was his first Christmas. It was also my first taste of Hanukkah.
I was raised in a home where Christmas was a big celebration. Tinsel, angels, holly wreaths, and the smell of baking cookies filled our house from late November to early January. I had heard things about Jewish traditions and customs, but somehow, I'd always assumed that everyone celebrates Christmas!
Larry was not as naïve as I, but he did find a large difference between being on the outskirts of a holiday and being in the middle of all the festivities.
What an exciting time it was for both of us and especially for my twelve-year-old daughter, Kristi. She had heard only a little about Hanukkah at school, from friends, and from television, so she had a lot of questions. Many of these were even hard for Larry to answer. We found ourselves seeking out answers to questions like, "Who were the Maccabees?" and "Why do we light candles?"
Getting deeper into the meanings of Hanukkah led naturally to discoveries about the significance of Christmas traditions, as well.
Larry was delighted with the Christmas decorations, shopping for gifts, and all the Christmas goodies. Later, I found out that he had done some research on his own about Christmas customs. He had queried several of our friends about Christmas gifts, wrappings, and cards.
I, also, did some background work and read, for the first time, the story of Hanukkah. My daughter learned about the Menorah and the "shamus," the candle that lights the others nightly for eight days.
Kristi and I liked the dreidels (spinning tops), the latkes (potato pancakes), the blintzes and the knishes, but our favorites were Hallah (a golden bread) and Mandelbrot (almond cookie).
As he loves to sing, Larry enjoyed the carols the best, but he also thoroughly liked the plum pudding and turkey dressing.
My favorite moment was on Christmas Eve. Larry had been gazing at the lighted tree with shining eyes and confessed to us what I had guessed all along—that this was his first up close experience with Christmas.
For Larry and me, sharing our traditions was a wonderful experience that caused us to learn and think more about our own faiths and their customs. We began to look at these things through each other's eyes without taking them for granted.
From then on, we celebrated both Christmas and Hanukkah each year—continually finding new delights in the richness and joyfulness of these holidays. 
Wendy M. Adams is a writer, a poet, and a Washington resident. This story is an excerpt from A Holiday Sampler. https://www.amazon.com/Holiday-Sampler-Ariele-Huff-ebook/dp/B01MTK90AG.
SHARING STORIES is a weekly column for and about the 50 plus crowd living in the Puget Sound region. Send your stories and photos to
ariele@comcast.net
. Tell local or personal stories; discuss concerns around aging and other issues; share solutions, good luck, and reasons to celebrate; poems are fine too. Pieces may be edited or excerpted. We reserve the right to select among pieces. Photos are always a plus and a one-sentence bio is requested (where you live, maybe age or career, retired status, etc.).
SHARING STORIES is featured on
www.northwestprimetime.com
, the website
for Northwest Prime Time, a monthly publication for baby boomers, seniors, retirees, and those contemplating retirement. For more information, call 206-824-8600 or visit
www.northwestprimetime.com
. To find other SHARING STORIES articles on this website type "sharing stories" or a writer's name into the search function above.
---