Kent Stowell & Francia Russell
Seattle's Own Dream Team
December 10, 2022 at 2:52 p.m.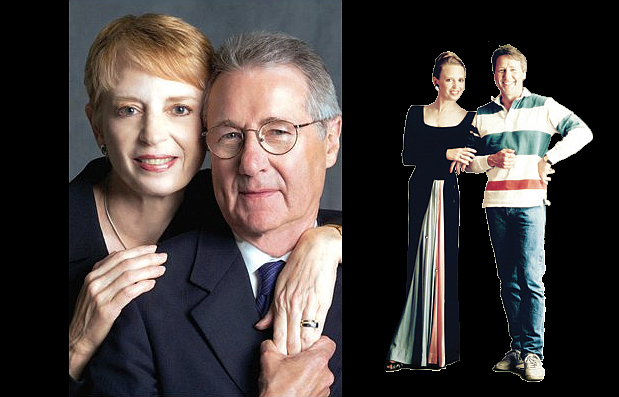 ---
In honor of Pacific Northwest Ballet's (PNB) 50th anniversary season this year, we are reposting this article about PNB Founding Artistic Directors Kent Stowell and Francia Russell. This article first appeared on the cover of Northwest Prime Time's December 2012 edition. At the end, you can read an update about PNB including news of Kent Stowell and Francia Russell by linking to an article published by Crosscut.com.
[2012]—When the curtains rise this month on Pacific Northwest Ballet's Nutcracker, the effect is so magical and dreamlike, the dancing so effortless, it is easy to overlook the colossal effort behind this world-famous production.
Created by Pacific Northwest Ballet (PNB) founding Artistic Director Kent Stowell and renowned children's book author and illustrator Maurice Sendak (
Where the Wild Things Are
), PNB's Nutcracker premiered in 1983 and has been heralded as the world's most celebrated production. The great success of the landmark ballet doubled the organization's income in one year and helped launch PNB to national prominence.
"The Nutcracker was such a huge undertaking, much more than our little company should have been able to do," says Kent. "The fact that it came together was an unfathomable miracle – a cliffhanger for sure!"
The Beginnings
Kent Stowell and his wife Francia Russell came to Seattle in 1977 as artistic directors of the fledgling organization. Kent also served as principal choreographer and Francia as director of the school until they retired in 2005. During their tenure the organization grew from a small local venture to achieving international acclaim.
"For PNB to rise to such stature in a city this size is really unprecedented," remarks Kent.
"We couldn't see it along the way, but we really feel everything in our lives led us here to Seattle and to Pacific Northwest Ballet," exclaims Francia.
The couple met in December of 1962 and married in 1965 while they were both working at New York City Ballet (NYCB) with the legendary George Balanchine.
"Mr. B wasn't at all happy that I was marrying Kent and having a child," says Francia, "It was quite a juggling act. More than tricky."
"Balanchine didn't like his ballerinas to have a relationship other than work," adds Kent. "It was a tug of war, but we couldn't stop seeing each other," he admits.
According to Francia, it was a case of opposites attract. "Our backgrounds couldn't offer more of a stark contrast."
Francia was born to an artistic family in Los Angeles in 1938 but moved to Paris with her parents and younger sister when she was ten. "Moving to war-torn Europe was considered shocking and dangerous. It was somewhat frightening…but exciting. The experience really drew us together as a family.
"My teacher was a 90-year-old Russian ballerina, wife of Czar Nicholas II's brother," says Francia. "My father loved calling the Grand Duke to set up lessons."
The family moved to Nice in the South of France, then to London for a year where she studied with Vera Volkova. "She was my greatest teacher. But then we moved back to the U.S., to San Francisco."
Soon enough she found herself in New York. She joined Balanchine's school and within three weeks was on contract with New York City Ballet. 
Kent started life in Idaho but after the war moved to Utah when his father (an All-American basketball player whose career was cut short by WWII) got a job as basketball coach at Dixie College in St. George.
"I started dancing at age eleven or twelve," says Kent. "Tap dance because I loved Fred Astaire. The teachers persuaded me to take ballet, although that didn't sit well with my father, the coach." When his father got a teaching position in Salt Lake, Kent began training with the influential Christensen brothers. After graduating from high school in 1957, he joined San Francisco Ballet.
1962 proved to be quite a year for the talented young dancer. 
That year his company came to the Seattle World's Fair to perform. "While I was in Seattle, I decided that if I couldn't get into New York City Ballet (NYCB), the only place to get employment on a decent scale as a ballet dancer, I should change professions," says Kent. He left Seattle with a one-way ticket to New York and made it into the company right away. Where should they head, but back to Seattle, performing at the World's Fair, and then on to Europe and Russia.
Balanchine & New York City Ballet
"We were in Russia during the Cuban Missile Crisis," says Kent. "After that drama, we came back to New York for rehearsals. I went to a Christmas party, and that is where I met Francia, in December of 1962."
By then Francia, barely 23 but with a serious knee injury, had retired as a dancer and was working for an art gallery and a publisher. "I went to New York University to pursue my degree and to figure out what I wanted to do with my life," says Francia. "Mr. B kept trying to get me back as a dancer, but I wanted something else."
Balanchine offered Francia a job as his assistant and ballet mistress. "I loved rehearsing, teaching, and learning the ballets. Mr. B himself took me under his wing. He figured out before I did that my gifts lay in teaching and rehearsing." 
According to Francia, going back to NYCB was not only due to Balanchine's persuasion. "Part of the motivation was this handsome young dancer I had fallen in love with." Despite the difficulties it caused, "How could I resist?" she asks.
What was life like for the young couple?
"Squabbling and tempestuous," says Kent, laughing. "We were the only married couple in the company and were sort of outsiders because no one else had babies. Being a couple was not part of the norm. I was also an aspiring choreographer because as a dancer I knew I would have to stop at some point. After our first child, I needed a stable job and accepted a position at Indiana University."
Off to Europe on the Way to Pacific Northwest Ballet
They thought it would be a perfect life but found academia didn't fit. "That's when we moved to Europe," reports Kent.
"We found so much intrigue, back-biting and politics at the University," explains Francia. "In a way the experience was wonderful because it made us decide to take the opportunity in Europe."
KENT: "We moved to Munich where I was lead dancer, and I also started to choreograph. We were in Munich for three years, where our second son, Darren, was born. Francia was staging Balanchine ballets all around Europe. Then I had an offer to go to Frankfurt as ballet master," he says. "I hung up the tights and we moved to Frankfurt, where our third son, Ethan, was born."
It was a busy life. In 1975, Frankfurt named Kent and Francia as co-artistic directors.
"We were invited to Seattle, but had just signed a contract," says Francia. "The last year of our contract, Seattle contacted us again."
The financial situation in Seattle was bleak. "They didn't even have enough money to pay for Kent's ticket," Francia remembers. "But it finally worked out and we stepped off the plane on July 29, 1977.
"It was much harder than anything we had experienced before," she says. "In Frankfurt there were more days off, more time to be at home with the family." 
"And it was a culture shock for the boys," Kent recalls. "They spoke German and English but didn't know how to interact with English-speaking kids. In the beginning, we had a king size bed and all five of us would get into bed and watch TV or we would read to the boys."
Life became even more of a juggling act, putting in the necessary time at PNB while being involved parents.
"They played basketball, football, everything under the sun. We had to be soccer mom and dad while running the company," remarks Francia. "Each day was a scheduling challenge."
"No matter what, we always went home to have dinner with the boys," says Kent. "We had a system. Francia would help the boys with homework while I cooked. Francia worked hard at home keeping our lives organized."
"The boys got shortchanged because we had to be at work so much," confesses Francia. "That was the hardest part for me, to be away when you want to be with your children. But Kent likes to say that they turned out so well and I would have ruined them if I'd stayed home with them as much as I wanted!"
Gradually they settled into their new life. Kent reports that his choreography style began to emerge when he came to Seattle and started working on Coppélia.
"When you grow up in NYCB, your ideal is Balanchine. But there wasn't a school of choreography – you have to have an innate sense of it," says Kent. "I found I had an affinity to tell these stories, to have them come alive."
His style surprised him – it is influenced by musical theatre and his great love of Fred Astaire. "My background grounded me in rhythm and movement. These were the things I wanted to see."
FRANCIA: "With our time in Europe, Kent saw and performed all the leading roles in the classics, and that fed his experience as well."
But the most important thing they had to learn was to deal with the Board of Trustees. "In Germany, we didn't have to raise money. We were like civil servants. We just choreographed and put on shows," says Kent. "Here we had to engage the Board and to garner support for the organization. That was our first lesson."
"My initial impression of Seattle was that it seemed small and far away from everything we knew," says Francia. "It was daunting. Back then, the Smith Tower was the tallest building in town. Plus, I don't know if you know about the reception we got here…"
That reception was less than warm and included getting torn apart by the press because of some organizational stress before they arrived on the scene.
"We were viewed as the bad guys and it was awful," says Francia. "But we had our three little boys and we put on blinders. We rolled up our sleeves and said, 'We're going to make this work.' Our greatest gift was our naiveté. It seems insane looking back. We always believed we could build a major company and school and to create a repertoire. Our goal was to have a school and a company that we would have been proud to be a part of as dancers.
"I like to think," she adds quietly, "that if you ask the dancers they would agree."
Kent and Francia say that much of their success lies in the group of people surrounding them.
"It was an invaluable partnership between the Board and staff, the company and faculty," says Francia. "They all had a sense of mission and each one of us was valued and significant. I think that is what made it all work. Plus, we had a great asset in the Board Chair Sheffield Phelps. He never wavered in his belief in us."
Kent echoes this sentiment. "Everyone had a sense of ownership – it was always 'we' and not 'me.' We called it the 'Gathering of Angels.' So many people who started with us are still there."
PNB got its start at the Good Shepherd Center in Seattle's Wallingford neighborhood. "We were on two floors, the dormitories for what used to be a Catholic school for wayward girls," says Francia. By their fourth year they knew they needed a new facility.
The Rise of the Company
It didn't hurt the company's success that Balanchine had given permission to perform his ballets for free. "It was an incredible gift," reflects Francia. "Mr B said he trusted us and gave us carte blanche. He told us, 'You are one of the jewels in our crown and we are very proud of you.' He never lost faith in us until the day he died."
"And we were putting on increasingly better performances," says Kent. "Swan Lake in '81 was a wake-up call to the community. And then the Nutcracker in '83."
Moving into PNB's new home took thirteen years. Told it wouldn't work, they persisted; they raised the money and The Phelps Center—PNB's home at the Seattle Center— was finished in 1993.
"We involved every department and didn't leave anyone out of the design," explains Francia. "Plus, we wanted every single person who walked into that building to be aware of dance. There are windows into every studio at different heights: top for adults, middle for children, and low windows for the wee little ones," says Francia. "It is so sweet."
One has to ask how they survived everything as a married couple.
"I am a risk taker and Francia the caretaker," replies Kent. "It created balance in our work and at home."
"And we have so much respect for each other professionally," adds Francia. "We always supported each other. The same personal strengths and weaknesses we have that were good for working together at the company worked at home, too. It's funny, we could fight at home, but we never fought at work," she says.
Family First
And their children always came first.
Son Christopher is 46
(in 2012 when this article first appeared)
. "He was principal dancer with the San Francisco Ballet with sixteen years of stunning success," states Francia proudly. "He was born to be a performer. He became artistic director of Oregon Ballet Theatre in Portland." Son Darren is 40
(in 2012)
. "He was an executive with Teach for American and involved with start-up projects in education. He has such wide experience in the field of education. He also lives in Portland. He and his wife have two boys, Levi and Isaac—(three-and-a-half and almost two at that time). So, of course, there is a lot of time in traffic on the I-5 corridor!" she declares.
"And our third son, Ethan, is quite a force here in Seattle's restaurant scene.
(At the time this article was written, Ethan was just opening his seventh Seattle area restaurant. He has since expanded to the eastside, Spokane, and mid-town Manhattan).
His wife works with him as business manager of his restaurant group. They have a new baby, our third grandson. A new house, a new restaurant, and a new baby. Grandma is a very, very enthusiastic babysitter!"
Kent and Francia live in North Capitol Hill in a house built in 1909. They also have a modern house on Whidbey Island. Val Easton featured their Whidbey place July 2012 in Seattle Time's Northwest Magazine. "At one point we thought about moving to Whidbey fulltime," says Kent. "But we realize we're city people. Still, we like to get up there as often as possible. It's a luxury."
The couple retired as artistic directors of PNB in 2005, but they keep busy.
"We don't seem to be lacking issues to focus on," says Kent. "Our children keep us on alert, and grandchildren are a captivating part of life. But we've lived with purpose for so long that we always feel we should be doing something monumental— climbing another mountain."
Francia adds, "Retiring was difficult in that PNB was like our child. Especially after the kids were on their own, work was everything to us. It's tough when that ends. It's important to stay busy. Everyone says that when you close one door another one opens. But it's not quite that simple. You have to open the door yourself. And for us, it's not just one door, it's many." 
Kent and Francia's habit back in 2012 was to "march around" Green Lake every day and stay busy with friends and family. And despite retirement, they kept working.
"This year (2012) we've been spending a lot of time at PNB on Cinderella, Nutcracker and Swan Lake. It's nice to be back," says Kent. "It feels a bit like a love fest. And Francia still works for the Balanchine Trust. We've traveled through Europe for that. She does the work and I go along as chief bottle-washer and cook."
"Kent knows all the best markets all over the world," reports Francia. "We've traveled a great deal for work. But I must say that we had a month in Paris with nothing to do. It was bliss. We'd like to do more of that. And being grandparents is the best."
"Exhausting, but the best," clarifies Kent.
The couple muses on their time with PNB and the impact Nutcracker has had on the Northwest.
"It is generations and generations of kids. It's such a wonderful experience," says Kent. "It fills a huge appetite for the city. It belongs to the Northwest and we're proud of it. I think the most important thing is that PNB exists. It is institutionalized and part of Seattle's cultural fabric," he reflects. "It means a lot to have touched people with our art form and our work." 
"PNB has had such an enriching effect on so many lives," adds Francia. "The kids, even if they don't become dancers, learn discipline, motivation, self-confidence. Watching the students become dancers and reach their potential is thrilling for us," she says. "People who come in contact with PNB in whatever role—students, the board, volunteers, ushers, the audience—tell us the experience enriched their lives. I can't think of a better reward." ❖

Crosscut.com, the Pacific Northwest's independent, reader-supported, nonprofit news site, recently published an article about Pacific Northwest Ballet's 50th anniversary year, reflecting on its past and future. The article, which you can read here,
mentions Kent Stowell and Francia Russell. 
---