The Original Dietary Guideline:
Eat with Family and Friends
December 2, 2022 at 4:43 p.m.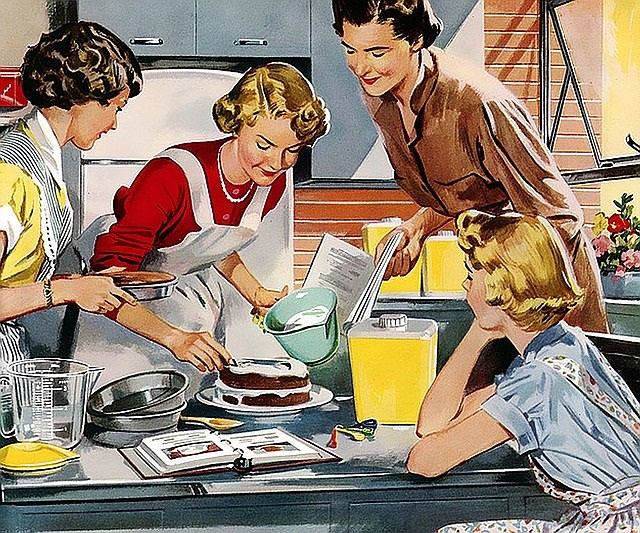 ---
---
For some, the most beloved parts of the holiday season are special meals enjoyed with family and friends.
Relish such moments this season, and share them, especially with those who may be alone. These shared meals are more than the sum of their parts. The flavors of home-cooked foods and the pleasures of intellectual stimulation and social support enhance each other. And the benefits, research shows, are tangible. Enjoying meals in a social setting supports both physical and mental health.
For example, people who eat with company may eat more vegetables. The Epic-Norfolk study followed 25,000 older adults across Europe for 20 years, studying the relationships between diet, health and social ties. The study found that adults living in a partnership eat 2.3 more servings of vegetables each day than do adults living alone. Single adults who share a home with a person who is not their partner also eat more vegetables than do those living solo. This study cannot tease apart which factors in cohabitation account for this effect. But it is evidence that social ties have a nutritional benefit, and that the diets of adults living on their own are prone to suffer.
Multiple other studies have found that elders eat more food when they share mealtime with others. This is an important consideration for helping those who have diminished appetite. For example, serving dinners at a communal dining table rather than in individuals' rooms is a simple and effective way for care facilities to improve the nourishment of their residents. Older adults who eat with company also have more diverse diets than those who eat alone.
Communal eating supports the mental health and well-being of children and adolescents, according to academic research. Those who've raised children probably know the value of the family dinner. Although there is little research examining this link in adults, the centrality of communal eating to human culture and experience around the world is worth remembering.
Japan and Brazil endorse communal eating in their national dietary guidelines. The U.S. dietary guidelines, jointly produced by the departments of Health and Human Services and Agriculture, are focused on the balancing and limiting of the various food groups. Japan goes further, boldly commanding "enjoy your meals" and asking Japanese people to "develop, exercise and share cooking skills." Brazil encourages its citizens to eat in appropriate settings and whenever possible "in company, with family, friends or colleagues."
The inclusion of social eating among Japan and Brazil's top nutritional concerns is telling in two ways. First, it underlines the essentiality of social eating to healthy eating patterns. And second, it is an indication of how massive and global the shift toward anti-social eating habits has become.
If you enjoy the togetherness of the holidays, practice it year-round. Consider weekly lunch dates with friends, monthly potlucks with co-workers or group cooking activities. Many people offer invaluable support to ill or injured friends by bringing pre-cooked foods to their homes. This kindness could be powerfully enhanced by a simple change. Don't just drop it off. Eat it together. Everyone benefits from the variety, nourishment and fellowship of such a meal. ❖
This article is courtesy non-profit, accredited Bastyr University (bastyr.edu), which offers multiple degrees in the natural health sciences, and clinical training at Bastyr Center for Natural Health (bastyrcenter.org), the region's largest natural medicine clinic.
RECIPE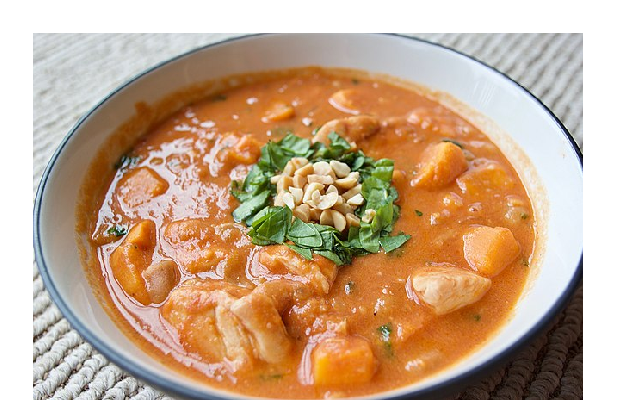 Ginger Peanut Stew
Ingredients
2 tablespoons olive oil 
1 onion, finely chopped 
¼ cup minced ginger 
1 teaspoon ground coriander 
½ teaspoon cayenne 
1 zucchini, sliced into thin quarter moons 
3 cups vegetable stock 
1 (16-ounce) can diced tomatoes, with liquid 
¾ cup chunky peanut butter, 100% peanut preferred 
¼ teaspoon nutmeg 
Salt and pepper to taste 
Cilantro, chopped, for garnish
Procedure
Heat oil in 4-quart saucepan over medium heat. Add the onion and ginger and cook until onion softens, stirring frequently. Add the coriander and cayenne and saute, stirring, for one minute.
Once the spices are fragrant, add zucchini, vegetable stock and canned tomatoes. Bring soup to a boil, reduce to a simmer, and cover. Cook, stirring occasionally, until the zucchini and tomatoes are tender, about 15 minutes.
Add peanut butter and nutmeg and whisk to combine. Simmer a few minutes more, then add salt and pepper to taste. Serve, garnished with chopped cilantro.
To reheat, first stir in an additional ½ cup vegetable stock or water. Then bring to a simmer on the stovetop.
Copyright 2015, L. Diehl, Original recipe, courtesy Bastyr University
---