Nana Zine
LIFE PERSPECTIVES
September 1, 2021 at 12:00 a.m. | Updated February 28, 2023 at 6:51 p.m.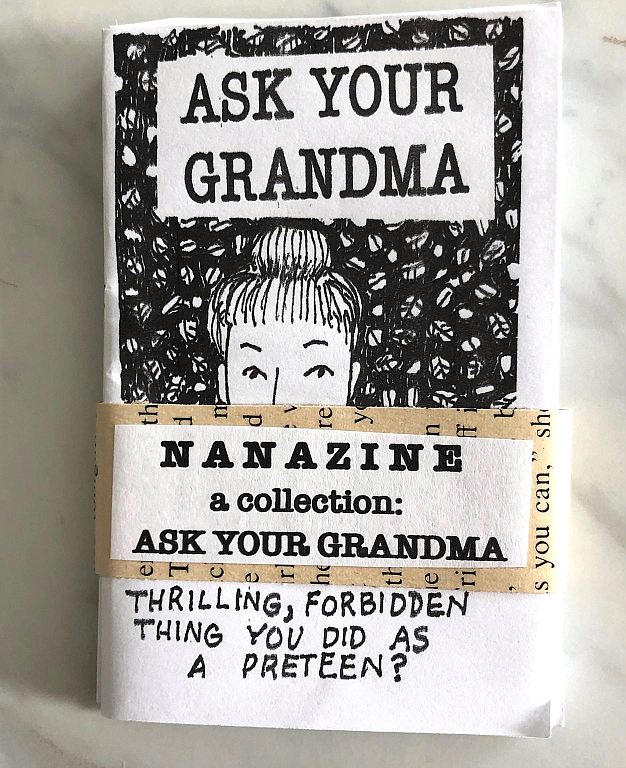 ---
---
I am a zine maker. A zine (pronounced ZEEN -- think "magaZINE") is a small, self-published publication. Zines come in many sizes, but my favorite is a mini zine made by folding a standard piece of copy paper into eight little panels, including cover and back.
People who make zines are called "zinesters," and are motivated by a desire for self-expression, not for profit. As a senior, I'm a "prime time" zinester.
A few years ago, I went to a Zine Fest in Olympia and fell in love with the brave culture of the zinesters and their willingness to write their unabashed truths. I noticed, though, that they were mostly very young, and I felt that, at my [then] age of 75, I would not fit in. What could I say that would interest them? From that dilemma the Ask Your Grandma idea was born.
My youngest granddaughter loves to hear me tell stories of my most embarrassing moments, my saddest moments, my proudest moments...so I decided to condense a few stories and put them into illustrated zines.
I hope the zines will encourage young people to ask their oldsters some questions and wait to be surprised at the answers.
My Ask Your Grandma Zines ask:
1. When you were a little girl were you nice or naughty?
2. How was your first kiss?
3. Did you wear a bikini?
4. What was the most thrilling, forbidden thing you did as a pre-teen?
5. Did you ever smoke cigarettes?
I enjoy the challenge of searching for the truest story of my life that I can call forth, so my girls will know that I struggled and at times failed, persevered and sometimes flew. And that humor helps.
Elisa Peterson is a designer, graphic and mixed media artist who also owns a vintage shop (Orange Door Cottage). In addition to zines, she writes memoir essays and has been guest reader at Creative Colloquy, Tacoma's literary group. 
What could be in your zine? 
1. Your Aunt Betty's Secret Barbecue Sauce
2. A poem about your grandchild.
3. A political rant
4. A life-lesson
5. Pictures without words
6. Words without pictures
7. A story you want to pass on
---