Discover the wonders of the Maine Coast aboard a century old schooner
Travels with Deb
September 26, 2016 at 6:00 a.m.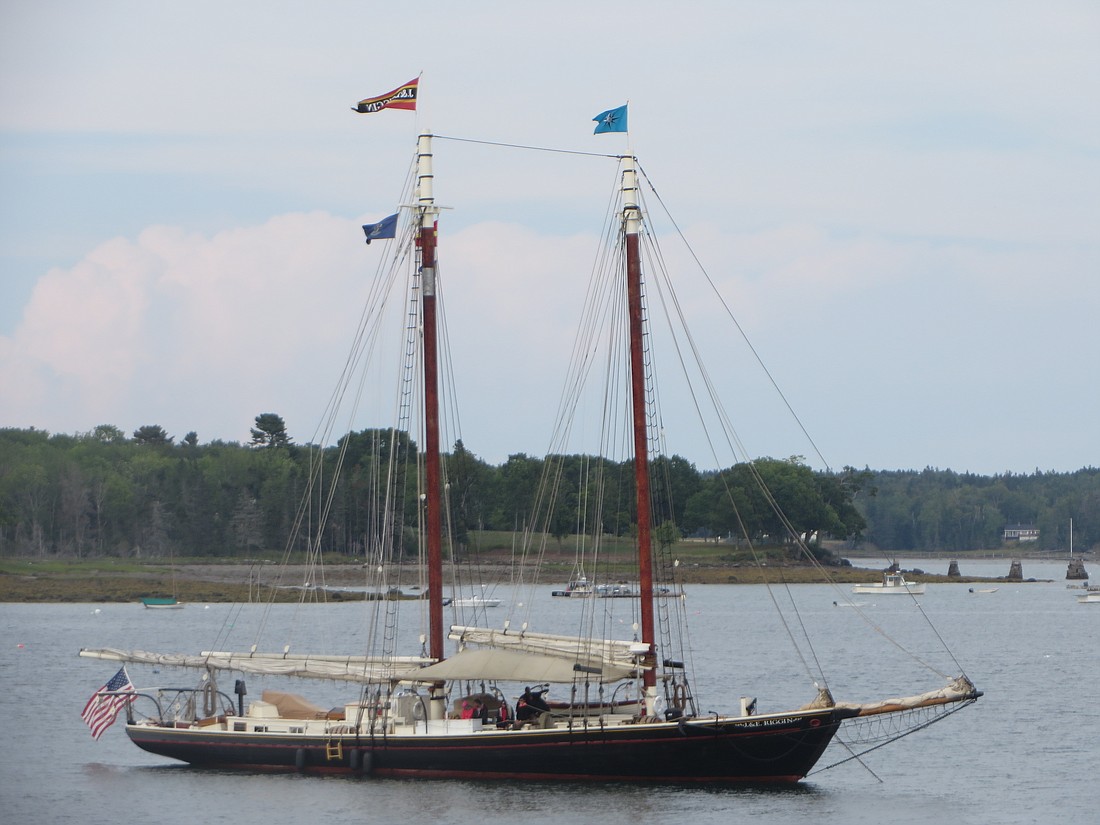 ---
---
---
---
"Ready on the peak? Peak's ready! Ready on the throat? Throat's ready! Heave away!" With those words, I found myself pulling a thick rope in tug of war style as if my life depended on it. My shipmates and I were lined up single file on either side of the boat, each group responsible for helping hoist the massive sails. It took an immense amount of muscle to accomplish this feat and everyone grunted and strained in effort. This was just one of many tasks involved in preparing the schooner J. & E. Riggin as it got ready to sail the seas. The Riggin, a National Historic Landmark, was built in 1927 by Charles Riggin and named after his sons, Jacob and Edward. She is one of a small number of surviving two-masted schooners, once one of the most common sailing ships in North American waters. The Riggin was initially used for oyster-dredging in the Delaware Bay, then later for fishing mackerel and groundfish in Cape Cod and Long Island Sound. Now owned by Jon Finger and Anne Mahle, she is based in Rockland, Maine and serves as a windjammer offering multi-day sailing cruises to tourists in Penobscot Bay.
The Riggin is a beaut, standing tall and proud, with low sides and a spoon bow. She can accommodate 24 passengers and 6 crew members. As Captain Jon points out, she runs on "Norwegian steam" as there's no onboard engine. That's why he encourages willing passengers to aid the crew with the various tasks. "This is not a Yankee hell ship and there are no whips, but we are all about teamwork here," he says, "and we welcome your assistance." Help we did, from raising and lowering the sails to taking up the anchor each morning. It was a lesson in basic sailboat operations, along with the acquisition of new set of vocabulary.
Though there is no engine on the Riggin, she carries a yawl boat for auxiliary power during calm spells and to maneuver the vessel into or out of tight harbors, in the same way a small tug boat works with larger ships. It's amazing to watch this little craft move the massive schooner with an incredible amount of finesse. My fellow passengers and I were in awe of Captain Anne's skills, as she guided the Riggin into a narrow berthing spot at one of our stops.
---
---
I had never been on a sailing vacation and having heard about these historic windjammers, I thought it would be a unique way to explore the scenic Maine coast. Choosing the Riggin was a no brainer, as the reviews of the experience on this boat are always over the top and the rate of repeat business is high (65% of passengers return with some folks having made twenty sailings or more over the years). People rave about the sights, the Captains and crew, the food and most of all, the ability to escape their hectic routines and enjoy some peace and serenity. They also treasure the opportunity to relive the great days of sailing and do their part in helping to keep this tradition alive.
Having been accustomed to riding on motorboats, it was a pleasure to cruise along without the noise and stinky fumes of an engine. With sailing, it's all about the winds and tides when it comes to determining location. Though the Captain has a plan of where he wants to go, it's not fixed in stone, as nature dictates his course. The Riggin offers three, four and six-day trips during its late May to early October season, including several themed sailings that focus on music/ storytelling, knitting, quilting, and food/cooking led by guest experts. There's also a special race week trip where the entire Maine windjammer fleet participates in a race across the bay. And then there's an itinerary that incorporates the Camden Windjammer Festival, an annual festive event held over Labor Day weekend. I opted to participate in this particular sailing primarily due to timing, but also because it sounded fun and colorful with the added bonus of seeing all the other windjammers up close.
---
---
The boat was near full capacity on my trip and with space at a premium, it's always nice when everyone gets along. I was surprised at how quickly the group bonded and gelled together. And no one balked at helping with the workload, up onboard, as well as in the galley. Volunteering was viewed not as a duty, but more as a privilege and a way to be a part of this thriving piece of history.
The Riggin's eleven cabins with configurations of two twins, three twins and two with a double bed are cozy, and yes, small, which is to be expected on this type of boat. Remember, you're on an historic schooner and not a cruise liner so you won't find deluxe accommodations. Besides, you won't be spending much time down below when all the action is up on deck. The rooms are basic but they feature some nice touches, such as lovely homemade quilts and soaps, and decorative sink skirts. They also have reading lights and most importantly, a porthole that emits natural light and can be opened for fresh air and ventilation. Shelves and hooks provide convenient places to stow your clothes and gear.
As for bathrooms, there are two marine toilets on deck serving both passengers and crew. They operate on salt water and require a pumping method to flush. Once you do it a few times, it gets easy and you'll be a pro by the end of the trip. One of the toilets also contains a hand-held shower and hot water is available usually right after breakfast and before or after dinner when the stove is lit. It's not ideal, but it does the job. If you're desperate for the real thing, the Captain will tell you where you can shower on land in one of the towns you'll stop at during the day.
---
---
Everyone gathers on deck to watch the scenery go by, catch some rays, read, chat with each other, visit Captain Jon at the wheel or check out what Anne's got cooking in the galley. The Captain will tell you anything you want to know about the boat, the art of sailing, maritime history and the surrounding landscape, as he's been at the helm of the Riggin for nearly twenty years now. A lifelong sailor, Cap, as he is affectionately called, served in the U.S. Coast Guard, crewed on a research vessel in Bermuda and worked on charter yachts from Maine to the Caribbean. He has plenty of stories to tell and welcomes conversation. Come evening, Cap exchanges the wheel for one of his four guitars and he and his wife Anne take center stage as the onboard musical entertainment act.
---
---
Anne is not only a licensed captain; she is also a skilled professional cook with over two decades in the food industry. She has sailed as professional crew on private yachts in New England and the Caribbean, worked in the windjammer fleet, both on deck and in the galley, and had stints in various restaurants. Additionally, Anne is a cookbook author, columnist and T.V. personality, not to mention a mother to her and Jon's two daughters. She is one of those women who can accomplish it all with humor and grace, and her can-do attitude is contagious. Passengers love helping her in the tiny galley kitchen, whether it's chopping veggies, mixing ingredients for a sauce, arranging items on a tray or aiding in the clean-up process. They want to be around her, watching this "kitchen wizard" in operation, and marveling at how she manages to cook everything on a woodstove, from pies and breads to savory soups and poached salmon.
---
---
Meals are a definite highlight of the trip and are served buffet style on deck. Anne rings the bell, provides details about the menu and then passengers line up to get their chow. The bell produces a Pavlovian response, as everyone begins to salivate in advance of actually seeing the food. Repeat passengers know what to expect and like to tell first timers what a treat they're in for when it comes to dining aboard the Riggin. Anne describes her cuisine as "swanky, comfort food," that's approachable to all. She wants the food to speak for itself and continually emphasizes, "It's about the food, not me." She starts with good ingredients and buys local and in season. She also uses produce from her bountiful garden at home in Rockland, as well as eggs from her chickens.
In the morning, you'll wake up to the delicious aroma of whatever Anne is making for breakfast. It might be pancakes with pecans, almond whipped cream and coffee caramel syrup or homemade apple cider donuts with bourbon vanilla glaze, accompanied by oatmeal with all the trimmings, roasted grapefruit and an apple compote. There's always granola, yogurt and sliced fruit for those who want a lighter continental fare. The tradition for the last morning is a pre-breakfast treat of Anne's famous sticky buns. Passengers in the know wake up early in anticipation of these wickedly decadent creations.
Lunches are equally as impressive with dishes like coconut, red lentil and butternut squash soup or grilled chicken with peaches, tomatoes and basil, followed by banana rum cake for dessert. Later, everyone gathers for happy hour hors d'oeuvres, which can be anything from oysters in the shell to lobster meat in puffed pastry, along with a variety of locally made cheeses and crackers.
---
---
For dinner one night, we anchored near Warren Island State Park and proceeded to have a traditional lobster bake – another highlight of the trip. Prior to feasting on these succulent crustaceans, Anne gave us a lesson, an abbreviated Lobster 101 class, on the biological facets of the creatures and the methods used by local fishermen to trap them. Eating fresh lobster with drawn butter is a quintessential Maine tradition and there's an art to extracting the meat from the claws. Anne demonstrated how to do this with the least amount of work. I tried unsuccessfully to imitate her technique and though I was able to eventually get the meat, somehow I ended up with lobster bits in my hair and clinging to my clothes. Some folks, who were pros in this endeavor ate several lobsters, making fast work of the operation.
---
---
When you're not eating, you'll most likely be posing as the picture of contentment, while taking in the exquisite scenery and breathing the fresh salt air. The coastline is complete with spruce clad islands, quaint fishing villages and legendary lighthouses dotting the bays. Wildlife abounds in the area with sightings of playful porpoise and seals sunbathing on the rocks. You'll also see a variety of palatial waterside homes, one or more of which you will want to claim for your own vacation retreats…perhaps in your next life. With nothing to do but simply sit back and relax, you'll find yourself letting go of the stresses and demands that plague your daily existence. The experience harkens back to a simpler time in life when people sat and entertained themselves the old fashioned way instead of depending on technology to occupy them. This means having actual face-to-face conversations with people, laughing, singing, playing board or card games, appreciating a glorious sunset or at night, stargazing. You're forced to slow down, which allows you start to observe things you wouldn't necessarily have noticed before, such as the shapes of the clouds or the color of the sky and water at different times of the day.
For those who need a bit of physical activity, there's always the opportunity to get off the boat each day and stretch your legs at a park, or in one of the many charming coastal towns along the way. In Castine, for example, we strolled down elm-canopied streets to the Maine Maritime Academy for a look at this prestigious institution. The village is one of the oldest communities in North America and is steeped in history with pristine preservation of 18th and 19th century Georgian and Federal homes. Warren Island State Park, where we had our lobster bake, is only accessible by boat and as such, is one of the most private and remote parks in Maine. There's a 1.5 mile trail that encompasses the entire 70-acre island, offering spectacular views of Penobscot Bay and nearby Camden Hills.
---
---
Camden, the site of the Maine Windjammer Festival, is a picture book New England town that's rich in history and maritime heritage. During the festival, all the tall ships head into the harbor for the night to great acclaim from onlookers who line the pier cheering for them. As passengers onboard the Riggin, we felt like celebrities sought after by the paparazzi. The evening's entertainment included a talent show by schooner crews in the park, followed by fireworks over the harbor. The various boats were available to tour and I visited several of them; concluding that the Riggin was a definite stand-out in its class.
After having sailed on the Riggin, I now understand why so many people choose to make this trip an annual tradition. Jon and Anne are such warm and hospitable hosts, doing their utmost to make passengers feel welcome. They treat their guests like extended family. There's also a spirit of camaraderie that exists among passengers and crew and it is this amity that creates a lovely sense of balance and harmony aboard the boat. Friendships develop quickly and easily, and by the end of the trip, you'll feel as if you've known your fellow companions forever. In fact, you'll most likely be planning a return trip with them, same time next year.
For more information about sailing with the Riggin: www.mainewindjammer.com
Spending some time in Rockland, where the Riggin is based, either before or after your sailing is ideal. The town is full of surprises with a selection of great restaurants serving all the lobster you can eat, eclectic shops and galleries, and several excellent museums such as the Farnsworth and Wyeth Center. Rockland's newest property, 250 Main Hotel, is the place to stay. This contemporary boutique hotel with its high tech design and industrial decor overlooks Rockland Harbor and is steps away from downtown. Rooms are spacious, many with water views, and have lots of natural light. Daily wine socials and a tasty continental breakfast are included.
Deborah Stone is a travel and lifestyle writer, who explores the globe in search of unique destinations and experiences to share with her readers. She's an avid adventurer who welcomes new opportunities to increase awareness and enthusiasm for travel and cross-cultural connections. Her stories appear in a number of publications as well as on various travel websites. Additionally, she can be frequently be heard dishing travel with the hosts of the NPR-affiliated and AARP produced talk radio show, "2 Boomer Babes." Deborah is a longtime Seattle area resident, who currently resides in Santa Fe, New Mexico.
---