Feral Cat Volunteers
November 27, 2012 at 1:33 a.m.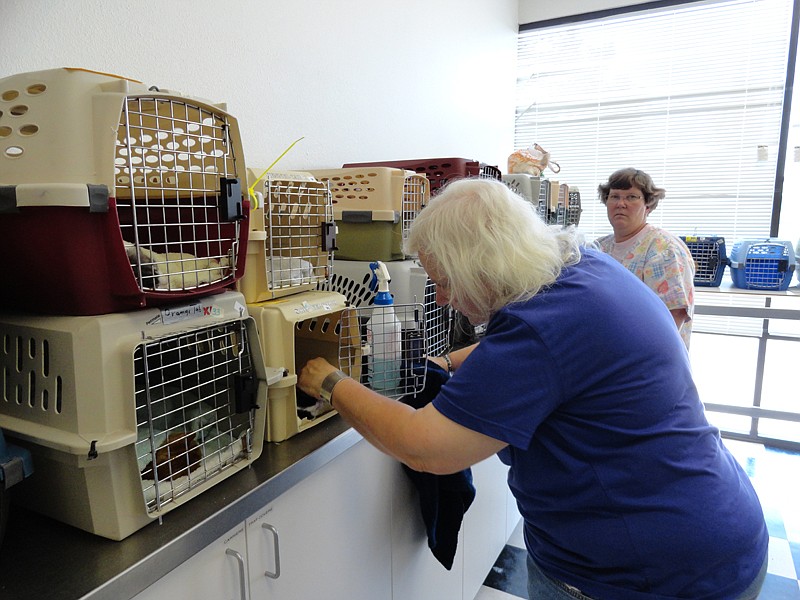 ---
---
At a critically busy clinic, there is no time to stop for lunch. And when the fur is flying, that isn't a bad thing at the Feral Cat Spay Neuter Project (FCSNP) in Lynnwood, Wash. which is one of the busiest, and furriest, clinics in town.
---
---
With roughly 50 cats spayed or neutered per day, five days a week, volunteers and staff at FCSNP are making a quantifiable and substantial dent in the homeless cat population in Puget Sound. In fact, on June 21st the 75,000th cat was altered since the clinic's inception in 1997.
It is precisely for that reason that Ralph Hurvitz has volunteered there for the last two years.
"I like the idea of reducing the number of free roaming cats," explains Hurvitz who previously volunteered with a shelter as a cat adoption counselor.
He says that he really enjoys the people he works with at the clinic and that his volunteer hours are a welcome contrast to his professional practice as a criminal defense lawyer.
Hurvitz's volunteer shift at the clinic can accommodate his work schedule. "They understand that if I have to go to court, I come by the clinic afterward to finish the shift."
But typically Hurvitz's shift is from 8:30am to whenever the surgeries are done – usually three to six hours later. In the assembly line setup of a high-quality, high-volume clinic, Hurvitz shaves and scrubs the cats before surgeries.
All the volunteers work under the supervision of the veterinarian and a licensed veterinary technician who staff the clinic.
"Most of the cats are healthy," explains Hurvitz. "But if we see something of concern, we immediately notify the veterinarian or the clinic manager. I find it really interesting to work in this environment."
Fellow FCSNP volunteer, JJ Farrar has worked with animals for decades, and has volunteered at the clinic for two years. Upon her retirement from a 40 year career as a nurse, Farrar now nurses cats instead of people.
"We all work together like a well oiled machine." says Farrar. "And you really have to move."
According to Lauren Glickman, executive director of the FCSNP, the clinic needs about four volunteers every day, and their duties range from cleaning carriers to prepping cats for surgery by scanning them for microchips, shaving them, scrubbing them and tattooing them.
Like most volunteers at the clinic, Farrar works every position. She says she particularly enjoys monitoring the cats in post-op where she ensures the cats are breathing and waking up from the anesthesia.
"Sometimes we give them a little corn syrup to help them come around," says Farrar.
While Farrar spends two days a week at the clinic, she also volunteers at Purrfect Pals, a no-kill cat sanctuary, spay/neuter clinic and adoption center near Arlington, Wash. At Purrfect Pals, she takes care of recycling and helps with fundraising for the organization.
On some Saturday mornings, Farrar takes care of another volunteer commitment, and runs the Pet Loss Support group at the Seattle Humane Society in Bellevue, Wash.
"It's all a blessing to me" says Farrar of her volunteer work.
And as for Hurvitz, he first met one of his own cats, JB, while working at FCSNP. South County Cats (SCC), an organization that assists the public with spay/neuter, brought a group of cats to the Lynnwood clinic.
"I just felt a connection with JB, so I went and found her at a South County Cats adoption location." Hurvitz adopted JB and another cat, Tika, from SSC that same day.
"We have our clinic volunteers, but we also have outreach, event, administrative and phone volunteers," says Lauren Glickman. "We love our volunteers and don't take for granted for a second the contribution they make."
To learn more about the Feral Cat Spay Neuter Project and view their volunteer positions, visit their site at www.feralcatproject.org.
CHRISTIE LAGALLY is a freelance columnist who manages the website "Sniffing Out Home: A Search for Animal Welfare Solutions" at www.sniffingouthome.org.