Sandy, Phil and Old Dog Haven
May 14, 2012 at 4:45 p.m.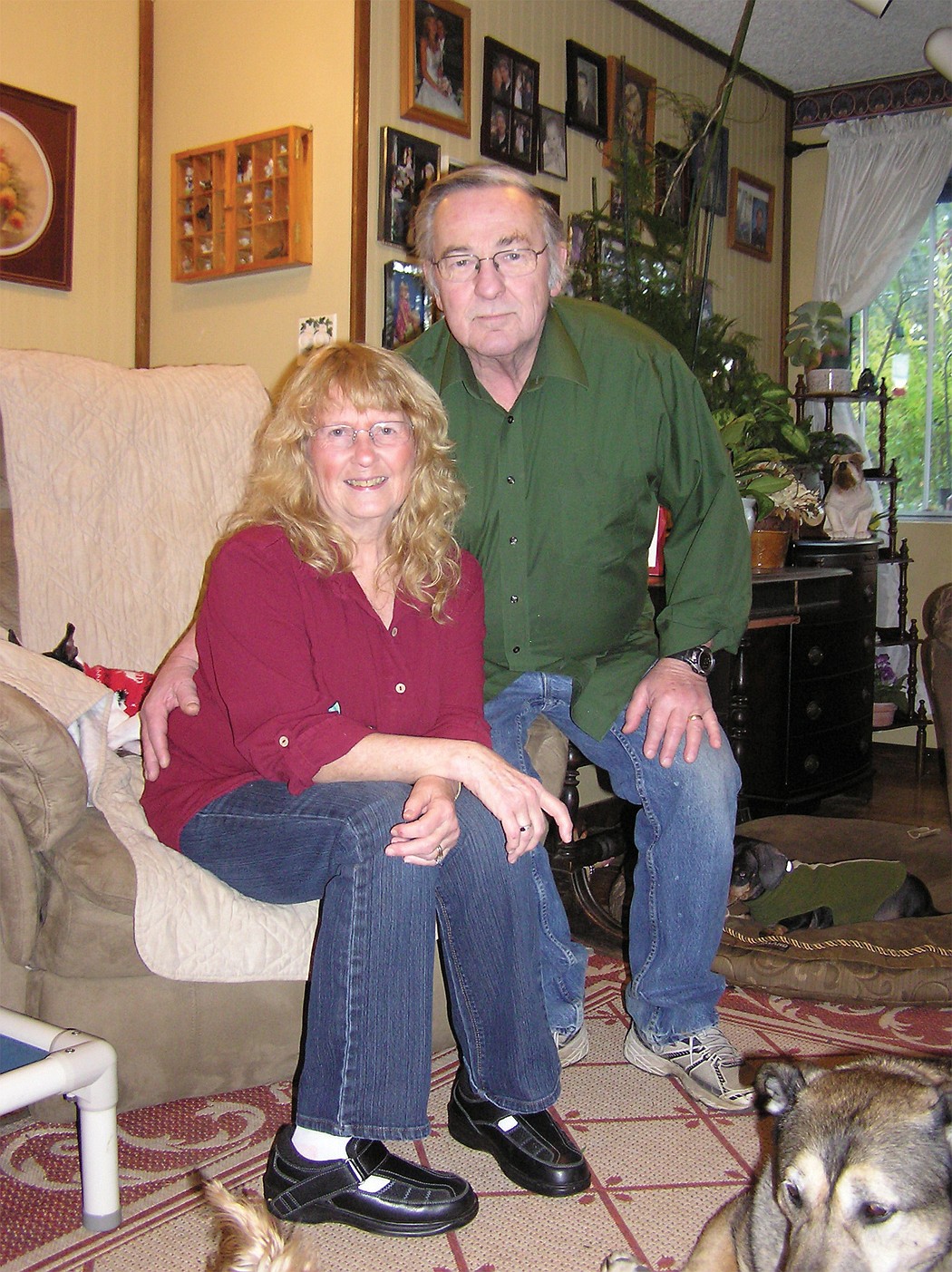 ---
---
Seattle is famous for love stories, but the 'Sleepless in Seattle' plotline seems like a washed out watercolor compared to the big hearts of Sandy and Phil Krutsinger.
Their love story starts in the early 1960s when the two attended high school in Seattle's Queen Anne neighborhood. As high-school sweethearts, they shared a common bond – they both loved dogs.
When Phil joined the Navy in 1962, the sweethearts found separate paths and married other people along the way. Sandy and Phil lived half a lifetime apart. But these two exceptional people never forgot how much they shared, and life transitions led them to finally marry each other in 2009. Together they have centered their lives around caring for each other and a group of very special dogs.
The Krutsingers are foster parents for the Washington-based non-profit Old Dog Haven. This unique network of foster homes is dedicated to serving the needs of homeless, shelter-bound or surrendered senior dogs. Additionally, with so many dogs needing homes, Sandy and Phil have found room for some younger dogs that are transitioning to a permanent home. The Krutsinger's 1100 square foot house is carefully packed with dog beds, big and small, baskets of dog bones and toys and eight dogs that seem to fit in nicely. Duke, a 90-pound German shepherd-mastiff cross, was eager to climb in my lap during the interview with the Krutsingers, and he willingly shared more than a few dog kisses.
Duke's housemates included a ball-wielding Dachshund, Maddy, and an agile young Chihuahua-cross that notified us to a rogue cat in the front yard. The ranks were alerted to bark and the canine crowd went wild all to the relative delight of Sandy and Phil. In this pack of barking dogs, the Krutsingers saw the joy of canine faces and the long journey that each precious soul had made to get to this safety and comfort.
In 2005, Sandy saw an advertisement for Old Dog Haven (ODH). The group was looking for foster homes for senior dogs that needed either a temporary home until adopted or place to call a 'final refuge'. 'Final refuge' means that the dogs will live out their lives in safety and comfort until they pass on under the tender care of an ODH foster family. During that time, ODH assists with medical costs and some other expenses to care for the special needs of each 'final refuge' dog. Foster families generously pay the costs to feed, house and groom the dogs.
After retirement from 30 years in the Navy, Phil now works full-time on an evening shift as an industrial skills instructor. The couple shares the work to care for the dogs.
"After retirement, fostering a dog can be a wonderful way to bring a lot of joy into your life."
As ODH foster parents, Sandy and Phil regularly review potential adopters for their dogs, and have a final say on the right home for their ODH dogs.
"The dogs really pick their own adoptive homes," explained Phil. "We all just know when it is right."
"People always ask me how I can let the foster dogs go." Sandy recalls. "It's because I know it will open up another spot for a senior dog to get out of the shelter."
A year ago, the couple was alerted to a dog in need of a final refuge home. Mercy, a border collie cross, came to Old Dog Haven from Shelton, Wash, where she and another dog had been living in the forest for two years after their owner had died.
Emotionally, Mercy was in bad shape. Sandy and Phil recall that she wouldn't leave their house for weeks. Walks were out of the question, and even just approaching the front window is too scary for dear Mercy.
Yet during my visit, Phil quietly yet eagerly got Sandy's attention and grabbed the camera in haste to record a special moment. The normally fearful Mercy was sitting atop the couch actually looking out the front window – tail wagging with a look on her face as if to say, "Look, I'm okay."
Mercy's personality has continued to emerged, to the utter delight of the Krutsingers. She wakes them in the morning with a toy in her mouth, and does a doggie 'happy dance' to express her joy.
"The appreciation that the dogs give back is 10-fold," Phil told me as he was helping Mercy find her way onto a warm spot on the couch. "They give us so much."
It was really in this moment when I knew that the Krutsinger's love story was bolstered by every dog that joined their family. From Mercy's bravery to Duke's plentiful kisses and the joys and sometimes sorrows of the many dogs before them, the Krutsinger's love story is made up of a continuum of happy endings.
If you are interested in fostering a dog or providing a final refuge home through Old Dog Haven, contact them through their website at www.olddoghaven.org or call 360-653-0311. Veterinary costs are usually around $30,000 a month and donors are very much needed.
CHRISTIE LAGALLY is a freelance columnist who manages the website "Sniffing Out Home: A Search for Animal Welfare Solutions" at www.sniffingouthome.org.
This article appeared in the April 2012 issue of Northwest Prime Time, the Puget Sound region's monthly publication celebrating life after 50.