Heath concerns for women over 50
August 21, 2012 at 8:40 a.m.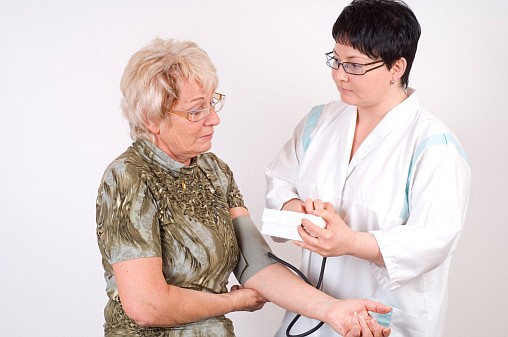 ---
Everyone experiences health issues no matter their age, but for mature women, unfortunately there are likely to be a few more female health concerns to look out for. With regular check ups and some preventative care, there is no reason you can't sail smoothly into your golden years. Knowledge is power ladies, so here are the top five health concerns of all women's health issues for women over 50.
Menopause -- Perhaps the most common of all women's health issues over the age of 50 is menopause. Menopause is the process where the body begins to stop producing female sex hormones and it becomes impossible to have children. Nearly 1/3 of a woman's life is spent in the menopausal stage, and it brings with it symptoms and complications. Symptoms range from severe mood swings and hot flashes to fatigue, urinary issues, and more.
Osteoporosis -- Osteoporosis, meaning porous bones, is a disease where the quality and density of the bones are reduced and bones get thinner. This is one of the top female health concerns in women over 50 because as women age, their risk of having osteoporosis increases. Often there are no symptoms of the disease until a fracture occurs, so it is important to get bone density tests to ensure there are no major issues. Maintaining an active lifestyle is a good way to prevent the disease. Issues are more prevalent in older women as the bones become more fragile with age. With this fragility, the risk of fractures, especially in the hips, wrist and spine is greatly increased.
Heart Disease - Unfortunately, there are a great number of women who suffer from heart disease that have not been diagnosed. Heart disease is actually called the silent killer among women due to the fact that it typically goes undetected until something major happens, and is the most dangerous of all women's health concerns.. According to the Center for Disease Control, heart disease is responsible for almost 29% of deaths in women. Risk factors of heart disease include increase in age, heredity, race, smoking, high cholesterol, high blood pressure, sedentary lifestyle, diabetes, and being overweight. Heart disease can be prevented by choosing a healthy lifestyle and eating a balanced diet.
Breast Cancer -- Breast cancer is very common among female health concerns, especially in women over 50. It is actually the most common cancer in women. Experts indicate that sometimes women don't go to their doctor for breast cancer screenings because they are afraid of actually finding that they do have the disease. It is imperative that you get screened each year for breast cancer, in order to possibly save your life. Women should know that having breast cancer does not mean you are definitely going to die. There are a lot of successful treatment options. Risks for breast cancer include increasing age, family history of the disease, early onset of menstruation, sinking too much alcohol, not having children, and obesity.
Depression -- The National Institute of Mental Health indicates that over 12 million women are affected with depression each year. A key factor in depression in women is lack of a connection with others. Women need sustenance and without it, they tend to get depressed. In addition, women who are going through menopause suffer from depression due to hormonal changes that can trigger the condition. Keeping busy and being active can help reduce the risk of depression. Those who are in a caring relationship are also less likely to suffer from depression.
Content Provided by Spot55.com
---