Museum Store Sunday Returns to the Northwest on November 26!
November 19, 2023 at 12:52 p.m.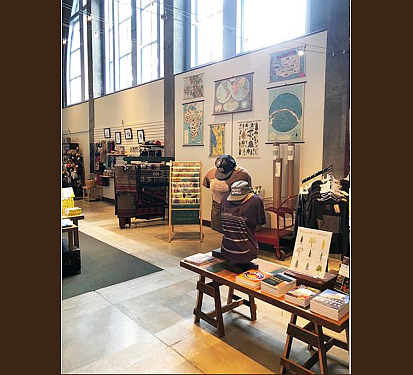 ---
Sunday, November 26 offers you the chance to shop for unique, eclectic gifts at a discount, all the while supporting museums and their mission for giving back to the community.
Products found in museum stores are highly curated—just like the works displayed inside, with many items often developed exclusively by the museum. This results in distinctive and unique offerings.
Museum Store Sunday goes a step further by featuring discounted, eco-friendly gifts by local artists. Some museums are planning special events for the day.
Museums foster appreciation and knowledge of art, nature, culture, science, and history. When you purchase a gift from a museum store, you help to sustain the museum's service to their community.
The Museum Store Association founded the special shopping day at museums around the country in 2017. The event also encourages sustainability. "By purchasing one-of-a-kind gifts made by local artists and providers in their communities instead of mass-produced commonly found in big-box stores, consumers and museums alike can reduce their carbon footprint," said Patricia Sampson, president of the association. "Partnering with local artists reduces shipping-related costs and emissions for both museum stores and their patrons," among other eco-friendly considerations. Bring your own reusable bags to further enhance the sustainability theme--or purchase one from the museum!
According to Museum Store Sunday organizers, there are 28 museums participating in the Puget Sound region in this year's event. Here is the list:
Bainbridge Island Museum of Art

Bloedel Reserve

Burke Museum of Natural History & Culture

Cascadia Art Museum

Eastside Heritage Center

Fort Nisqually Living History Museum

Frye Art Museum Store

Jefferson Art & History Museum

Job Carr Cabin Museum

KidsQuest Children's Museum

MOHAI ( Museum of History and Industry)

Museum of Flight

Museum of History & Industry (MOHAI)

Museum of Northwest Art

National Nordic Museum

Pacific Bonsai Museum, Online Store Only

Rhododendron Species Botanical Garden

Seattle Art Museum

Steilacoom Historical Museum

Tacoma Art Museum

The Center for Wooden Boats

The Northwest African American Museum

The Whale Museum

Trillium Store at the Bellevue Botanical Garden

Unite Indians of All Tribes Foundation

Washington State History Museum

Wing Luke Museum

WNDR Museum | Seattle
You can also find museum stores, their locations and website by using
Museum Store Sunday's store locator
.
View Northwest Prime Time's full calendar of events at this link: Northwest Prime Time Calendar of Events
---