Volunteer & Community Opportunities for Seniors Through RSVP
November 12, 2023 at 11:53 a.m.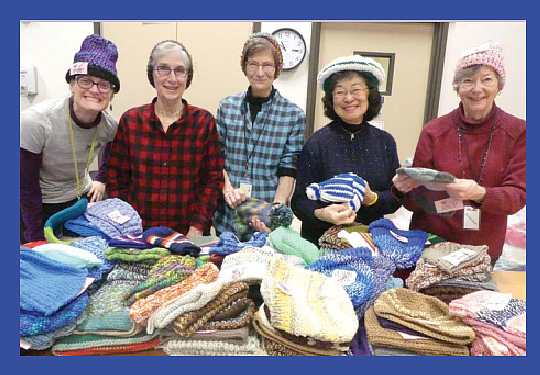 ---
The Retired & Senior Volunteer Program (RSVP) helps to meet critical needs in the community by encouraging and supporting volunteerism for people 55 and older. King County's RSVP publishes the
Experience in Action
(EIA) newsletter to celebrate local senior volunteers and provide news about senior volunteerism in the area.
With that in mind, here is an article about volunteer opportunities that was published in the most recent EIA newsletter.
The following are just a few of the opportunities RSVP has to offer. To talk to a real person about volunteer roles that are just right for you, call Megan Wildhood at 206.694.6786, or visit the website at
solid-ground.org/RSVP
for volunteer opportunity listings organized by region.
American Red Cross: 
Volunteers respond to disasters, speak to community groups and schools, develop youth leadership skills, support local blood drives, provide care to service members, and much more. The training and support volunteers receive on a regular basis allows them to be successful in every Red Cross program. Volunteer opportunities are available 365 days a year to provide frontline services in your community.
~Countywide
Catholic Community Services (CCS) – Volunteer Services 
welcomes volunteers to enable elders living on low incomes and adults with disabilities to remain independent in their own homes. Volunteers may help the same person or be listed for on-call opportunities depending on their schedule and interests. Volunteers receive training, mileage reimbursement, and insurance. Requests include rides to medical appointments, yard work, phone buddies, and grocery, medication, and/or meal Delivery.
~Countywide & online
Communities in Schools of Greater King County 
believes in surrounding students with a community of support, which often includes basic needs such as food access and stability. We're currently seeking volunteers to pick up weekly weekend food bags in Newcastle, WA and deliver them to schools in both Renton and Tukwila to be distributed to students.
~Countywide
Community Food Education (CFE): 
Solid Ground's CFE teaches people living on low incomes how to prepare healthy and delicious meals on a limited budget. If you're passionate about food and nutrition, CFE seeks volunteers for 6-week class series. Work alongside a staff coordinator to facilitate fun, lively, and informative classes. Volunteers work with participants on educational activities and help them prepare a shared meal. In-person and virtual classes are available, and training is provided.
~Seattle & online
Franciscan Hospice & Palliative Care (FHPC): 
Affirming every life, FHPC invites you to be part of a team of professionals and volunteers who meet the unique needs of hospice patients and their families. Volunteers provide both practical companionship and emotional support by making friendly phone calls to patients, enhancing FHPC's
compassionate care. 
~South King County
Full Life Care is dedicated to enhancing quality of life for low-income elders and adults with disabilities. Volunteers support elders through the ElderFriends program, which custom-matches volunteers with lonely and isolated older adults in King County for 1:1 companionship via in-home or remote friendly visits in Seattle and King County.
~Countywide & online
Greenwood Senior Center is an inclusive community that provides social, physical, and educational activities focused on the needs of older adults. We work to fight isolation, build camaraderie, and enrich each other's lives and have a variety of volunteer opportunities available from serving hot meals to assisting with special events and classes. We welcome all abilities and interests! 
~North Seattle
Habitat for Humanity seeks regular volunteers to help build and repair homes for hardworking families in King County. Volunteers also coach families in Habitat's Family Support program, helping them find homes. Remote and in-person options are available. Join them for a volunteer orientation session to learn more. 
~Countywide
Hopelink needs your help to ensure all members of our community have access to food! Volunteer in Bellevue, Carnation, Kirkland, Redmond, or Shoreline. Opportunities occur Monday through Friday during regular business hours and include Check-In (computer skills required), Customer Service (must be able to lift up to 15 pounds),
and Restocking (must be able to lift 35+ pounds). 
~North & East King County
Lifelong: Volunteers are Lifelong's heart and soul, playing a vital role helping provide quality care and services for more than 30 years. Lifelong's food program, Chicken Soup Brigade, eases the lives of people living with or at risk of serious illnesses. Volunteer opportunities include repacking food donations, prepping food, packaging meals, delivering nutritious food, and assembling health care kits. 
~South Seattle
Mount Si Senior Center enhances the quality of life for older adults in the Snoqualmie Valley through a comprehensive network of services, activities, social interaction, and hot lunches on weekdays. We offer health and wellness checks, fitness classes, information and assistance, social and recreational opportunities, educational programs, volunteerism, housing, transportation, and more. 
~East King County
North Helpline Emergency Services & Food Bank keeps food on the table and a roof overhead for our neighbors. Over the past 34 years, we've become one of the largest and most comprehensive service providers in north Seattle/King County. We assist our neighbors in obtaining basic needs that affirm their human dignity and worth. Volunteers are essential to our services! We're seeking nutrition volunteers for our Community Dining program and Health and Wellness Center, as well as fitness class instructors. Training and certification provided. 
~North Seattle
Port of Seattle: Do you love helping people? Do you enjoy busy environments? Is traveling one of your favorite pastimes? Then we have a volunteer role for you! Sea-Tac Airport (SEA) is the first and last impression of our region for the traveling public. Our community of volunteers are invaluable ambassadors for both the airport and the Puget Sound region. Stationed at key info desks throughout the airport, volunteers elevate the travel experience for SEA's travelers.
~South King County
Reading Partners is a children's social justice literacy nonprofit that provides one-to-one tutoring to students who need extra support with reading. We partner with elementary schools in underserved communities in the Seattle Highline School District and mobilize compassionate volunteer tutors to support students with the foundational reading skills they need to succeed in school. 
~South Seattle
Sound Generations 
is a nonprofit organization serving aging adults and their loved ones in King County since 1967. Our staff and over 2,100 volunteers are dedicated to ensuring older adults can live ample and fulfilled lives in a community that respects and affirms the aging journey. Requests include assisting with events, social media ambassadors, phone-a-friend connectors, and digital card making.
~Countywide
Washington DECA 
prepares high school students to be emerging leaders and entrepreneurs for careers in marketing, finance, hospitality, and management while making a positive social and global impact. We're currently seeking judges for one or more of the following: 1) Fall Leadership Conference (FLC), 11/7/23, 7:30–11:30am, 2) Online written events, 1/19/24–1/24/24 (evaluate 5-8 submissions), and 3) State Career Conference (SCDC), 3/1/24, 7:30am–4pm (half-day option available for some events).
~Eastside & online
United Way of King County (UWKC) Tax Prep: 
Looking for a unique opportunity to exercise your professional and life experiences in service to your community? Consider volunteering with UWKC's Free Tax Preparation Campaign! Tax season can be stressful, especially for folks who are new to the US tax code, just entering the workforce, or have financial or technological barriers to filing. UWKC seeks volunteers interested in preparing taxes (we train you!) or in welcoming clients to our tax sites, January through April 2024.
~Central Seattle & online
Youth Tutoring Program (YTP) 
is a nonprofit academic enrichment program. Our mission is to tutor, guide, and inspire youth living in low-income and public housing across Seattle through onsite afterschool tutoring. We seek volunteer tutors interested in working alongside youth to help guide them on their educational journeys. Our scholars' ages range from 6-18 years old, and we ask volunteers to commit to a minimum of 1 hour/week of in-person tutoring at one of our five centers.
~North Seattle, South Seattle, & online 
For more information about any of these or other volunteer opportunities, call Megan Wildhood at 206-694-6786, or visit the website at
solid-ground.org/RSVP
for volunteer opportunity listings organized by region.
This article is courtesy of Solid Ground's King County RSVP (Retired and Senior Volunteer Program) Experience in Action Newsletter.
---