Veterans Day: Red Cross Volunteers Embody Clara Barton's Spirit of Service
Veterans continue to answer the call to serve by volunteering in their local communities
November 10, 2023 at 4:37 p.m.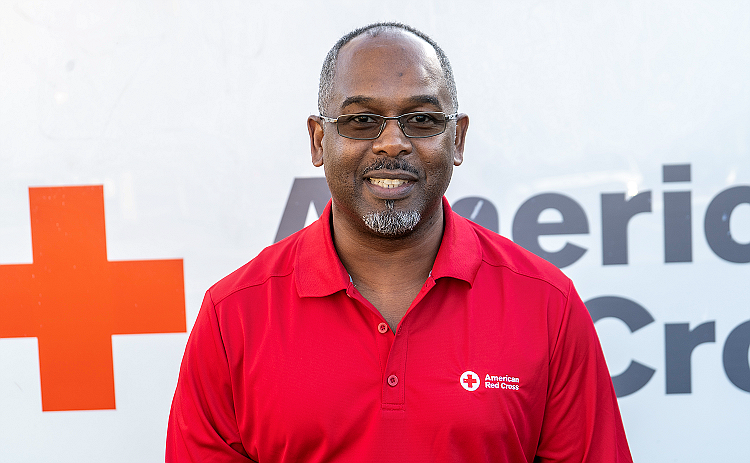 ---
This article is courtesy of the American Red Cross
This Veterans Day, November 11, 2023, the American Red Cross is recognizing veterans who continue their service in local communities across the country.
For more than 140 years, the American Red Cross has served military members, veterans and their families. Throughout the many decades, veterans have stepped up to support their communities after their active-duty service ends by volunteering with the Red Cross. From the front lines of disaster recovery to service in the Veterans Administration (VA) and military hospitals across the nation and around the world, their impact is integral to the Red Cross mission.
Retired Air Force Chief Master Sergeant Seeks Service After Service
After serving 30 years in the United States Air Force, Will Willis isn't done serving his community. He will soon step into the role of Service to the Armed Forces Director for the American Red Cross Northwest Region after serving several years on the region's South Puget Sound and Olympics Chapter board.
"The Red Cross is a vital resource at military installations, treatment facilities and VA hospitals throughout Washington state," said Willis. "I'm thrilled to join a team providing these programs and services to local military members, veterans and their families, and to combine my experience with their legacy of service."
The mission of the American Red Cross was born on the battlefield through Clara Barton's care for Civil War soldiers. During that time, she bravely provided nursing care and supplies to soldiers — activities that earned her the nickname Angel of the Battlefield.
Much like Clara Barton, Willis is passionate about relieving human suffering.
"There's always going to be disasters out there, and there are always going to be hurting people out there, whether they're at military hospitals or in a disaster zone," said Willis. "What better place to be than the Red Cross, where the whole focus is birthed from being there in the pains of war and in the midst of people suffering, and providing a smile, providing a hug, providing an opportunity for them to understand that even though I might be in this misery and despair, I have hope."
As disasters roil communities across the country, veterans are donning the Red Cross vest and lending a hand to those in need in their local communities. At military bases and in local neighborhoods, veterans are rolling up their sleeves to donate blood and help give the critical gift of life. Whether teaching lifesaving skills or giving back to their own by volunteering to assist fellow veterans, they are making an impact through the teamwork and dedication that served them well during military service.
From board members to blood donors, disaster responders to volunteers within military medical facilities, our Northwest Region Red Cross team is comprised of veterans for whom service is in their blood.
Click here to hear from some of them.
THE HEART OF OUR WORKFORCE 
Over 20,000 Red Cross volunteers are veterans. Veterans hold many positions at the Red Cross, from nurses to logisticians, emergency management experts, project managers and preparedness experts, as well as a number of veterans in leadership roles at local Red Cross chapters across the country.
GIVE THE GIFT OF TIME 
Join the Hero Care Network as a volunteer caseworker and help provide the critical link for military members, veterans, and their families during emergency situations. To learn more about how you can give back to your community this Veterans Day,
click here.
About the American Red Cross:
The American Red Cross shelters, feeds and provides emotional support to victims of disasters; supplies about 40 percent of the nation's blood; teaches skills that save lives; provides international humanitarian aid; and supports military members and their families. The Red Cross is a not-for-profit organization that depends on volunteers and the generosity of the American public to perform its mission. For more information, please visit 
redcross.org
.
---