Where in Washington May 2023
May 1, 2023 at 11:58 a.m.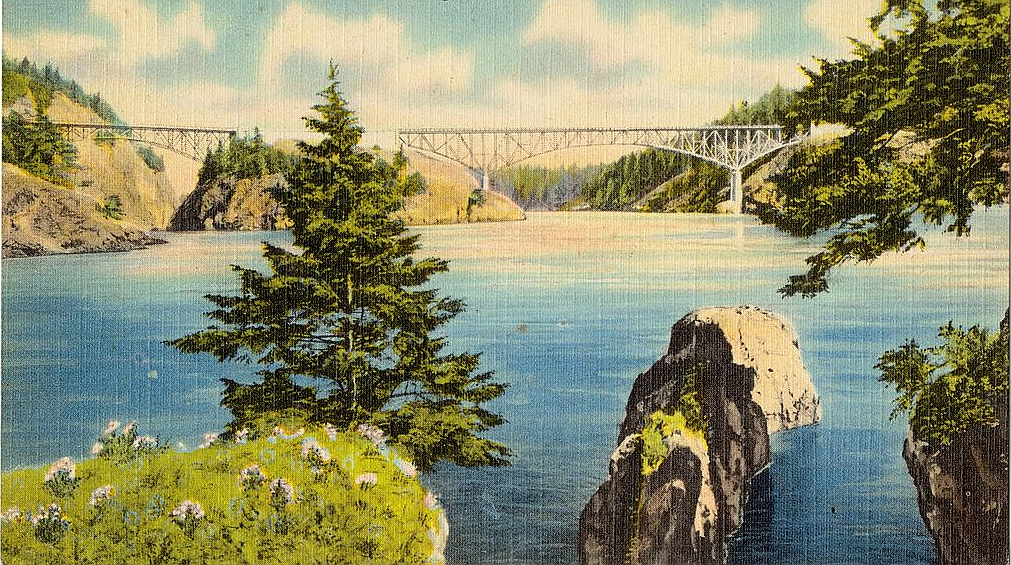 ---
Can you identify the location of this image? If so, you may win $100!
 
HINT:  The last several contests have featured Washington State Parks, and the current contest is no exception. This vintage postcard features Washington's most visited state park.
HINT II: The park is located on both sides of the bridge and encompasses the endpoints of two islands.

The winner will be drawn at random from the correct answers sent to editor@northwestprimetime.com by May 26, 2023. If no correct answer is received, the $100 prize will transfer to the following contest.

 You must sign up for Northwest Prime Time's monthly newsletter in order to participate in this contest. To sign up, simply email editor@northwestprimetime.com with "newsletter" in the subject line.
_____
Congratulations to Elaine of Tukwila, winner of the last contest. The photo shows Peshastin Pinnacles State Park, which is close to the smack-dab middle of Washington State. 
A description from the state park website reads: Standing tall against the orchards and golden hills of the Wenatchee Valley, a grouping of tooth-like pinnacles will surely catch your eye. Turn off Highway 2 for a closer look at the rich sandstone slabs of Peshastin Pinnacles State Park. Hike the switch-back trails, and take in the panoramic views of the Cascades to the west and the sage-covered hills to the east. Experience a spectacular sunset, as the pinnacles and Wenatchee River glow bright in the low-angle light.
Rock climbers, grab your rack, your favorite belay partner and a few liters of water (there is none in the park), and get out on some of the grippiest rock in the state. Not a hiker or climber? No problem! Find a shaded picnic table, and watch the vertical action from below.
Whether you prefer photography, nature-gazing or smearing up a rock face, this park will leave you energized and inspired.
---