Supporting Ukrainian and Russian Speakers' Health in Washington State
February 19, 2023 at 12:58 p.m.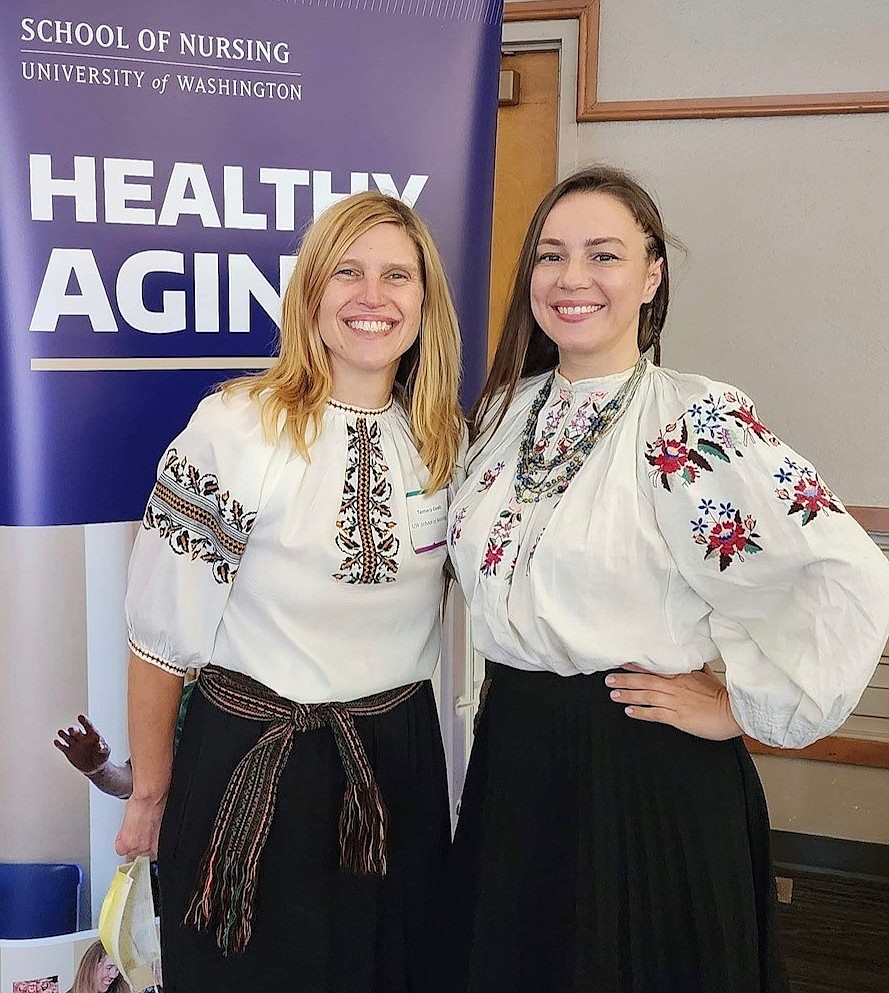 ---
...by Paige Bartlett, Public Information Specialist for the UW School of Nursing de Tornyay Center for Healthy Aging
---
At the height of the COVID-19 pandemic, one of the many public health challenges was getting people vaccinated. The Ukrainian and Russian speaking immigrant and refugee communities in Washington state had barriers and challenges to COVID vaccination, so their vaccination rates remained low.
"These communities needed a culturally relevant and supportive vaccination education program," said Tamara Cunitz, UW School of Nursing Assistant Teaching Professor.
Out of the effort to vaccinate Ukrainian and Russian speakers came a new non-profit organization, the NASHI Immigrants Health Board, founded by Cunitz, Ukrainian community activist Olga Okhapkina, and Olena Bidovanets, a Fulbright scholar from Ukraine. The board recently presented at the UW School of Nursing de Tornyay Center for Healthy Aging's Ignite Aging event. While their early work focused on COVID-19 vaccinations, the health board's scope has expanded far beyond that. NASHI hosts health fairs, supports refugees, and helps members of their community translate Ukrainian vaccination records into English to meet local schools' vaccination requirements. NASHI's broad goal is to support Ukrainian and Russian speaking communities to meet their health and social needs in Washington state.
Part of what makes NASHI successful is that they are embedded in their community. NASHI's team members are bi or trilingual in English, Ukrainian, and/or Russian.
The health board can also help bridge the divide between their communities, the government, and other organizations. In the Ukrainian and Russian speaking communities, there's some government mistrust. "We are this non-governmental organization of people from the community," Cunitz said.
"Coming to our event, there may be some organizations from the community that maybe aren't Ukrainian and Russian speaking, but because they're part of our guests for the fair it can build that trust that people can use the resources." That trust is important because a part of NASHI's work is connecting people with needed resources.
"People need housing, people need transportation, people need an income and a job, people need services if they're older age, and health care for chronic disease management," Cunitz said. "We hear from community members about all of this stuff, and we partner with a lot of community organizations, so we can let them know, 'hey, this resource might be available here', or 'we're working with the department of health to find out more about resources'."
Celebrating the culture is also a big part of NASHI's work. "The main idea in our culture, it's connect generations", Okhapkina said. "And at this point, for older adults, it is the main focus. If they know the community, if they engage in the community, they feel more alive.
"We try to organize different events for different ages by their needs. So sometimes it can be just a health fair event, where everyone with family is welcome, sometimes it can be a night party."
Recently, they've also been a part of efforts to support Ukrainian refugees coming to Washington State, teaming up with other organizations to provide refugees and their sponsors with needed resources.  
The board plans to expand in other ways too. A recent health needs assessment they conducted identified mental health as one of the communities' major health needs. One of their ideas to address it is through emotional support groups, Okhapkina said. Longer term they also hope to someday open up a physical space where local Ukrainian and Russian speakers could gather.
"Step by step, little by little, you start to turn people to their health," Okhapkina said.
To learn more about NASHI, visit their website and social media (Facebook, Instagram and LinkedIn).  Find more resources for local Russian and Ukrainian speaking communities at vax4school.org and mitut.info.
---