Creative Couples Add Unique Stories and Diverse Art to the Camano Island Studio Tour
April 24, 2023 at 9:38 a.m.

---
---
On Mother's Day weekend (May 12-14), with an encore the following weekend (May 20-21), Camano Island will celebrate its many Island artists with the
 24th annual 
Camano Island Studio Tour
produced by the Camano Arts Association. The event will feature the work of 37 CAA affiliated artists exhibited in close to two dozen venues on Camano Island and in Stanwood. 
During the Studio Tour visitors not only get up close and personal with a variety of media, they also get to meet and talk with the artists. Some of those artists are couples, and their stories are as unique as their work.
One of two Studio Tour stops in Stanwood,
Stanwood House Gallery and Studios
, has been owned and lovingly operated by
Chaim Bezalel and Yonnah Ben Levy
since 1999.  "Driving a U-Haul across the country we finally arrived on Camano Island on Mother's Day and saw the signs for the first studio tour... We felt our spoon had dipped into honey. This will be our 23rd year on the tour."
The couple married in 1988 when they met in Israel. Chaim was photographing Yonnah's wedding as a favor to the groom. That marriage ended in a Mexican divorce several months later. And they've been collaborating ever since. In fact, they characterize themselves as three artists – her, him, and the collaboration.  The result is a vastly diverse and rich collection of paintings, sculptures, ceramics, books, and workshops. Their commissioned works appear in public buildings, galleries, and hospitals all over the country, especially in the Pacific Northwest and California. 
Visitors to the studio will delight in the wonderland of artifacts from their 33-year collaboration. It is mixed media combining painting and photographic images on canvas, or handmade paper sometimes as large as eight feet. Each of them works individually in painting, sculpture, and ceramics. Yonnah paints primarily in acrylics and Chaim paints in oil, gouache, soft pastels, or oil pastels.
Both say they are inspired by their travels and walks they take together, sometimes being inspired by the same thing at once.  But they maintain precious autonomy, with Yonnah finding inspiration in Nature and Chaim drawn to culture, anthropology, history, and architecture. They've overcome the challenges of a two-artist marriage by dividing the tasks required to run their diversified business. Yonnah teaches and Chaim handles various business obligations. It's working. In addition to their fine art products and workshops, they've published 10 books since 1995 through their subsidiary, Dekel Press.
The enduring vitality of their collaboration is palpable, as Chaim describes it: "Some artists marry their muse. But the muse can be fleeting. Some artists marry their patron, but they may outgrow the need for a patron. Some artists marry another artist. The risk is professional jealousy or competition... Allowing each other to grow is important. The collaboration features what we have in common. Our individual work is miles apart from each other. "
The benefit to visitors at Stanwood House Gallery and Tours is time to spend with this engaging couple and their work.
Roger and Opal Cocke
(pronounced like the drink – Coke) together run
Camano Island Pottery
, and
O'Fabric Art
out of their home studios - another fanciful stop on the Camano Island Studio Tour. Opal's medium is fabric sewn into bright collages, along with drawings, journals, and mixed media creations. Roger is all about ceramics from smooth and textured vessels to breathtaking sculpture.
In addition to high quality art, their personal 51-year collaboration has produced five children and 13 grandchildren.  Before they settled into full time art, Opal worked as an office manager and an elementary school teacher and Roger was an architect/artist.
Their relationship has been and continues to be a source for their creativity. Opal and Roger claim they are constantly inspired by one another. They regularly comment on and critique each other's work, sparking new ideas with no hint of professional jealousy. They place great value on their discussions about art and its purpose in their lives. It's no surprise to learn that Roger and Opal are best friends.
Opal finds inspiration in the color, textures, light and shadows of their Camano Island home. She also disciplines herself to write and sketch every day in search of source material for her art. Roger says he finds inspiration "everywhere." The textures he sees on his walks in the Island's natural environment influence his vessels. His piecemeal series of vessels was influenced by Opal's patchwork collage. His discussions with Opal motivated a series of angels, both good and fallen
. 
The Cockes are looking forward to this year's Studio Tour because they "...love
meeting and connecting with the lovely people who visit our studios." They've made many long-term friends from the tour. They enjoy sharing their studios, philosophies, and techniques with visitors. And it's a good bet any visitor to Camano Island Pottery and Opal's exquisite fabric studio will walk away inspired by the encounter.
The 24
th
annual
Camano Island Studio Tour
this May will feature the work of 37 CAA affiliated artists exhibited in close to two dozen venues on Camano Island and in Stanwood. Since its start, the tour has grown consistently to include paintings in a variety of media: sculptures, textiles, ceramics, jewelry, leather, and woodworking, as well as hand-blown and fused glass. The CAA's participating tour artists welcome serious art collectors, those new to the arts and everyone in between to appreciate and purchase their works.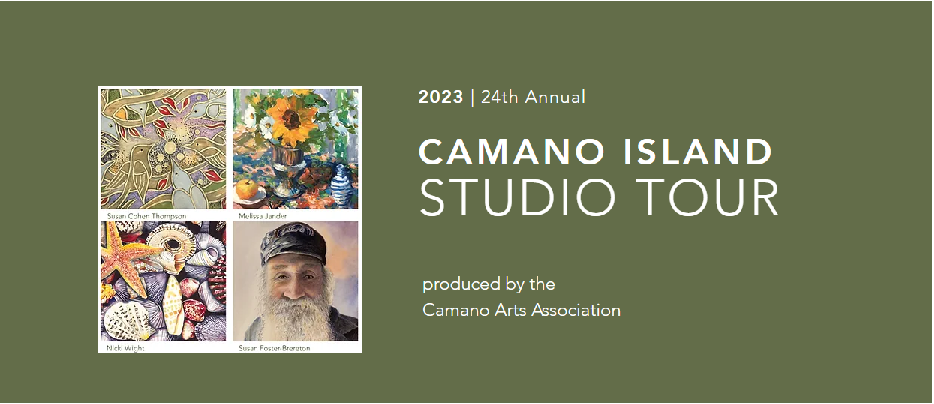 Along with the plethora of diverse artistic media on the tour is the exceptional treat of meeting the artists like these couples and the many other creatives in their element.
Visitors can access a list of participating artists, digital Tour Map, and downloadable guide on the Studio Tour website: Home | CamanoStudioTour2022
---