Who Is That Cover Boy?
Our very first edition of Northwest Prime Time comes alive
June 3, 2022 at 10:31 a.m.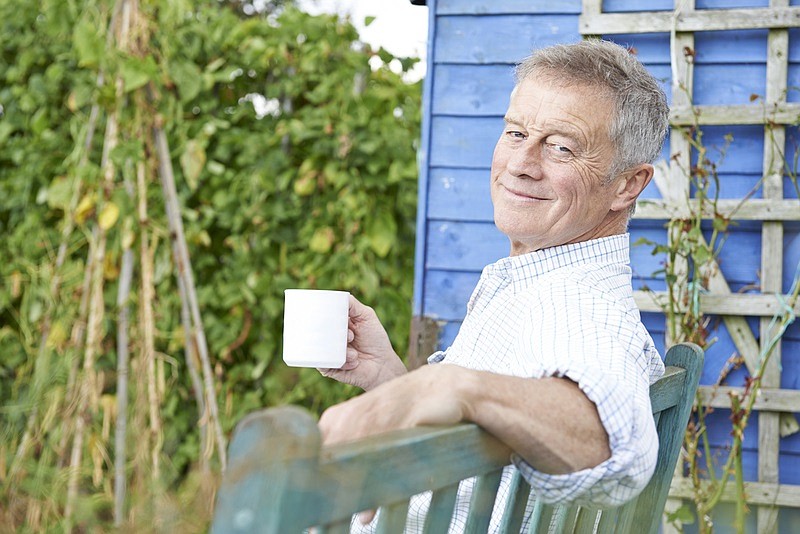 ---
...by Michelle Roedell, Editor, Northwest Prime Time
---
NOTE: If you missed the first two chapters of this series, you'll find links at the end
In late 1999, Chris Mitchell and I had a crazy idea to start our own senior newspaper after the previous incarnation went bust in spectacular fashion. It was a genuinely crazy idea because, although Chris worked in sales for the publication that just went out of business, we didn't know anything about publishing a newspaper. Nor did we have the funds needed to start a new business. Still, somehow, we talked our way into the impossible: financial backing.


Eagle Newspapers, our benefactors, would print the paper on their offset presses and cover start-up expenses. In addition to that, thankfully, we had Northwest Prime Time's previous incarnation as a template for guidance. After signing with the same independent contractors used by the former Prime Time, including layout and distribution, we were on track to publish our first issue.


Everything was in place except for the keystone position… How to find an editor on a shoestring budget?  Although my services would have been free, I had absolutely no experience. And besides, I was planning to return to my previous career once the paper was up and running.


Enter Kajira Wyn Berry.


The artist and well-known leader of Vashon Island's creative community responded to a classified ad. She agreed to meet Chris at West Seattle's Fauntleroy Starbuck's, telling him to "look for the blonde."


That white-haired blonde was a tall, lithe, striking woman in her early 70s who introduced herself as Wyn. We later learned she had worked as a model, one of many interesting occupations, such as an aerobatic airplane pilot and snake wrangler. Most importantly, Wyn was a very experienced writer, and she'd worked for many years as an award-winning photojournalist for
Time-Life
.
Wyn wasted no time bringing together many talented Vashon Island writers to create columns targeting our readership demographic: people over age 50.
[Read about Kajira Wyn Berry's fascinating life here.]
In the background, Chris was busy brushing off his ad-selling skills, and I was busy with everything else, including setting up distribution and getting all our deadlines in place. By the way, distribution is complicated and costs an arm and a leg. I made plans to deliver some of the papers myself to save on expenses.
Other than a few sketchy details, like pulling off the first of many all-nighters, I don't recall much about that first edition. It was the March 2000 issue of the freshly minted
Northwest Prime Time
.
However, right from the get-go, I learned first-hand about the power of the presses. At least an obscure aspect of that power. The photo on the cover had the phone ringing: "Who is that?" women would ask about the silver-haired, smiling man holding flowers ready for planting. "Where did you find him?" they wanted to know. Most importantly, "Is he single?"

Sadly, I knew nothing about our cover boy. His was simply one of a hundred images from a newly purchased stock photo disc.


The power of the presses continues to amaze me, especially the chance it gave me to interact with so many of our wonderful readers. Those readers have been supportive over the years, even when we didn't know what we were doing. Thank you for sticking with us, dear readers!


Next month, read how we parted ways with our financial backers, Eagle Newspapers. (Don't forget that phrase I mentioned last time, "hemorrhaging money.") Shortly after saying goodbye to Eagle, we had to say goodbye to Kajira Wyn Berry, as we no longer had any means to pay her. Still, we persisted. And we started getting help from a surprising source, an unnamed nun who called each month to discuss everything we'd done wrong. Stay tuned for our July edition to learn more.


Here is the link to Michelle Roedell's first two posts:
 
---
---
Raft Horseshoe Bend for an up close and personal experience with this iconic landmark
Draw a circle around Page, AZ and you'll find numerous natural wonders. Among them is Horseshoe Bend, undoubtedly one of the most spectacular landscapes in the state. This near-perfect circular canyon, which is located in Glen Canyon National Recreation Area, was carved into the earth by the Colorado River and is a result of erosion. It was formed by water following its natural path of least resistance, however, in this case, the route was not a straight line, but rather a substantial 270 degree curve.
---
Remembering Bob Harmon
There are some people you first meet for an interview you just know you're in for a memorable treat. Bob Harmon was one of those people.
---
STAND UP FOR YOU
Medical Elder Abuse
"His curt response was, 'Well, that's how it's going to be.'"
---
KILLER BEES?
TERROR AT THE LAKE
"They'd still be swarming around us."
---
Boomerish!
"Writing Boomerish has been great fun"
---