Carrots, an edible bouquet
December 21, 2022 at 11:30 a.m. | Updated December 21, 2022 at 11:30 a.m.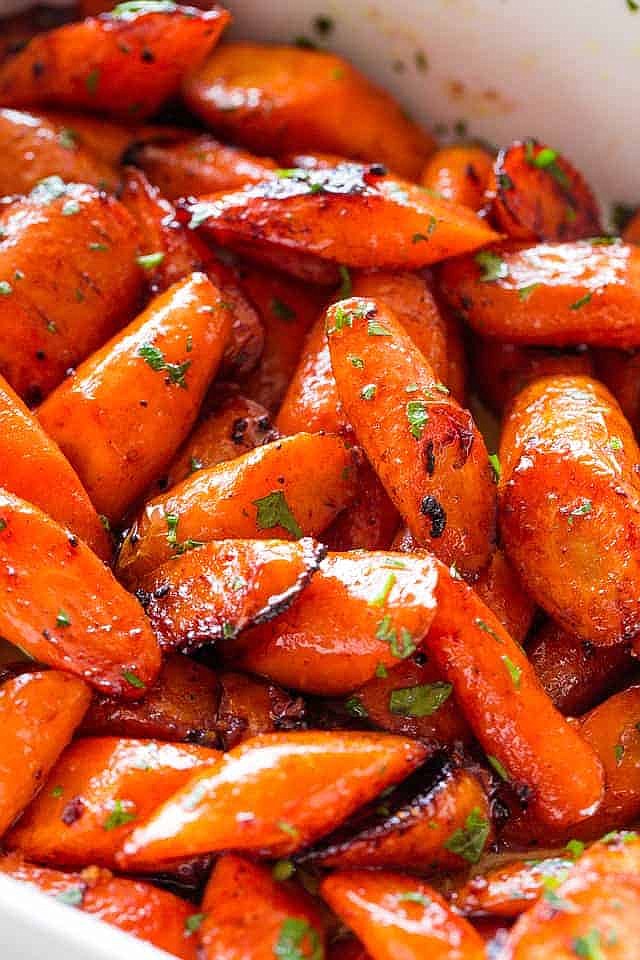 ---
---
My introduction to gardening as a child was growing carrots from seeds I received as a premium in a cereal box. When I pulled on the green tops, I was surprised to find luscious roots waiting under the earth. Right then I was hooked on growing my own food.
Now growers offer carrots in many shapes and in rainbow hues. Carrots of all colors are great sources of carotene. That's a kind of vitamin A, which we need for normal vision, the immune system, and reproduction. Vitamin A also helps the heart, lungs, kidneys, and other organs work properly.
Homegrown or farmers market carrots are much sweeter than those in grocery stores, which can sit in storage for a long time. So take advantage of your backyard or your neighborhood farmers market in season.
If you are lucky, you may be able to purchase carrots that still have their stems and leaves. They are edible too. Try dicing them up like parsley, or adding them to a carrot salad for color. Serve the carrots raw in green salads, grated in Moroccan carrot salad or sweetly glazed for a taste of fall.
Moroccan Carrot Salad
1 large bunch carrots, with tops
3 tablespoons olive oil
2 fresh lemons, juiced and zested
1 clove garlic, minced
1 teaspoon garam masala or curry powder
Remove and save carrot tops. Grate carrots by hand or in food processor. For a different look, they can also be sliced thin, but cut the rounds in half if they are bigger than bite size. Mince about ¼ cup of the carrot tops. Mix olive oil, lemon juice, zest, garlic and curry powder in separate bowl. Drizzle over carrots and tops and toss. Makes 4 servings.
Nutritional Information:
Calories: 132, Carbohydrates: 11 grams, Protein: 1 gram, Sodium: 54 milligrams
Glazed Carrots
1 large bunch carrots
1 tablespoon butter
1 cup water or enough to cover ingredients in pan
2 tablespoons sugar or honey
1 tablespoon freshly squeezed lemon juice
¼ cup minced carrot tops
Slice carrots in thick rounds, about ¼- to ½-inch thick. Mince about ¼ cup of the carrot tops and set aside. Put carrot rounds and butter, half of sugar or honey and water in large fry pan. Add enough water to just cover carrots. Bring to boil. Reduce heat to simmer and cook about 10-15 minutes, checking regularly until carrots are tender to a fork. If more than ¼ cup of water remains in the pan, pour extra off. Add remaining sugar or honey and carrot tops. Cook 1-2 minutes, stirring occasionally. Remove from heat, add lemon juice and serve immediately. Makes 4 servings.
Nutritional Information:
Calories: 83, Carbohydrates: 14 grams, Protein: 1 gram, Sodium: 81 milligrams
[Contributor Katy G. Wilkens recently retired as registered dietitian and department head at Northwest Kidney Centers. The National Kidney Foundation Council on Renal Nutrition has honored her with its highest awards for excellence in education and for significant contributions in renal nutrition. She has also been awarded the Medal of Excellence in kidney nutrition from the American Association of Kidney Patients.]
Eating Well, Living Well classes
Studies show that working with a registered dietitian can delay kidney failure and postpone dialysis for longer than two years. FREE nutrition classes taught by Katy's former team of registered dietitians are available at convenient times and locations around Puget Sound.
Eating Well, Living Well classes teach people how to eat healthier to slow the progress of kidney disease and postpone dialysis. Learn more at www.nwkidney.org/classes.
---