Itchy guests
A Flea Story to Share
Sharing Stories
August 7, 2022 at 4:35 p.m.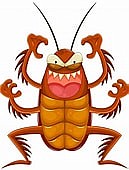 ---
---
A Flea Story to Share
My elderly indoor/outdoor cat is suffering from this year's excess of fleas, in spite of being on Zodiac and having sprays on him and his bedding of Natural Chemistry cat flea spray. Both of those seem to have worked in previous years.
However, this year, I'm reduced to daily or more flea combing sweeps of his fur. 
I'm not a vet, but I've had cats and dogs all my life, have run several farms, and my daughter was a vet assistant. She was the one who told me that she'd gone with the vet to a "flea seminar" where they were told that the only thing that really works on badly infested houses is to continuously vacuum and flea comb, until there are no more eggs on the animal or in rugs.
Of course, there are strong poisons that you can use in your home, but they aren't good for you or your pets. When we bought a house 34 years ago, we walked into an infestation. Before we moved in, I set off those flea bombs at least three times, running back to our apartment as quickly as possible. So, even without people or pets, it took three times. You have to catch the flea cycles so that you are ridding the home of eggs as well as live fleas.
We have three indoor only cats who do NOT have fleas, and we really don't want an indoor infestation. (Even the indoor cats get a mild flea treatment monthly in the fur on the back of their necks.)
However, after taking 20 fleas off Sox (the indoor/outdoor cat), I realized we had to go the "Full Monty," so he now is getting combed (with a fine-toothed but gentle flea comb) whenever he comes into the house and whenever I see him scratching or kicking outdoors. I use the gentle Natural Chemistry on him and his bedding too, as well as washing his bedding and spraying the area every day. It's a lot to do, but this seems the best way to deal with this issue. When the cat gets his allergy reaction sores to the bites, we use Vetericyn spray to help him heal. (That was a product my daughter learned from the vet she worked for also.)
Fortunately, Sox thinks of grooming as extended petting time and loves the attention and seems to recognize that he feels better afterward. What a good cat!
Ariele M. Huff is an Aberdeen, Washington animal-loving writer.
SHARING STORIES is a weekly column for and about the 50 plus crowd living in the Puget Sound region. Send your stories and photos to
ariele@comcast.net
. Tell local or personal stories; discuss concerns around aging and other issues; share solutions, good luck, and reasons to celebrate; poems are fine too. Pieces may be edited or excerpted. We reserve the right to select among pieces. Photos are always a plus and a one-sentence bio is requested (where you live, maybe age or career, retired status, etc.).
SHARING STORIES is featured on
www.northwestprimetime.com
, the website
for Northwest Prime Time, a monthly publication for baby boomers, seniors, retirees, and those contemplating retirement. For more information, call 206-824-8600 or visit
www.northwestprimetime.com
. To find other SHARING STORIES articles on this website type "sharing stories" in the search function above.