Village Theatre's "Guys & Dolls" - A Classic Presented With Style
November 16, 2019 at 2:32 p.m.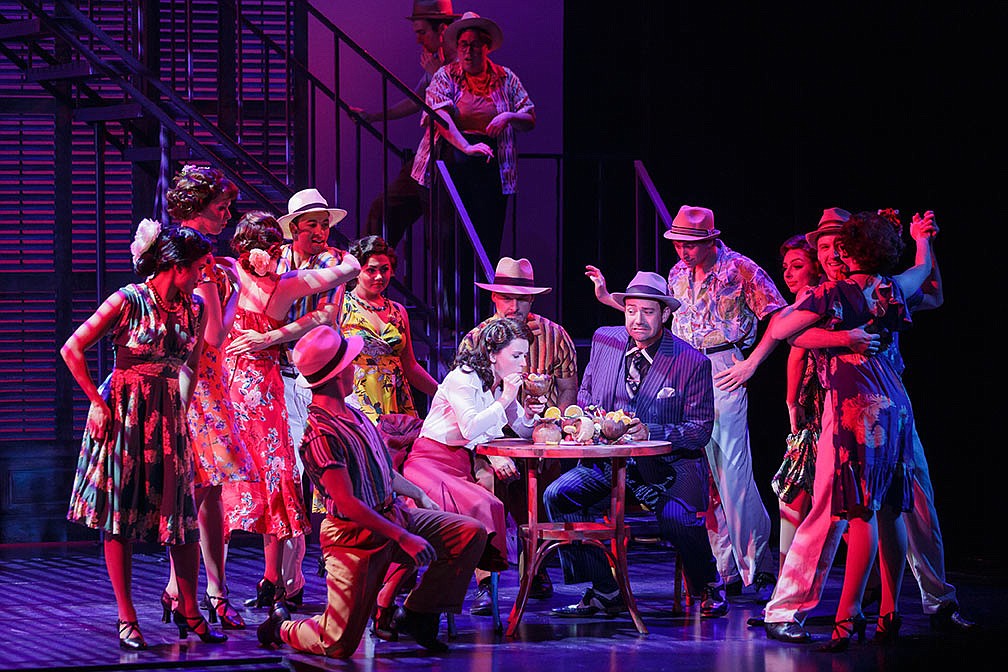 ---
---
Village Theatre's latest offering Guys & Dolls brings the classic Broadway hit back for another interpretation. Guys & Dolls has been performed numerous times in local theaters since it originally premiered in 1950, and it remains one of the most popular comedy musicals of all time. It also reflects the norms of the 1950's with guys as loveable gangsters and women as their objectified dolls.
Village Theatre's version remains true to the original and entertains from the opening overture to closing curtain. Unfortunately, (spoiler alert), that closing curtain is just short of three hours after the show begins. This may have been normal for audiences decades ago, but anything over a two hours seems too much for today's theater patrons. In fact, I witnessed people leaving the theater for the night at the intermission following the 140 minute first act.
Still, the show's singing and dancing were extremely entertaining and as good as anything produced locally. Particularly noteworthy were Dan Stokinger as the always-confident gambler Sky Masterson, Matt Wolfe as the comic leading man Nathan Detroit and Mallory King singing and dancing up a storm as the mission sergeant Sarah Brown. Together with a cast that changes quickly from role to role, these three keep the show light and brightly entertaining.
Here's how Village Theatre describes the show:
Considered by many to be the perfect musical comedy, this brassy and colorful musical has been an iconic crowd-pleaser since it first hit Broadway in 1950. Infamous gamblers, woebegone yet determined missionaries, a troupe of dancing showgirls, and one momentous craps game come together on the streets (and in the sewers) of New York City. This beloved multi-award-winner is a non-stop treat full of romance, hilarity, and irresistible charm.
Although most people are more aware of the Guys & Dolls movie staring Frank Sinatra and Marlon Brando (not the greatest singer), the stage version is somewhat different, and, in my opinion better. For example, the movie does not include the hit A Bushel and a Peck, but you can see Miss Adelaide and her girls perform it at Village Theatre. Other hit tunes are the gospel flavored Sit Down, You're Rockin' the Boat (seems strange for a show about gangsters, but it works) and Luck Be A Lady.
Luck Be A Lady comes in one of the show's most notable scenes, which happens during Nathan Detroit's floating crap game as it continues in the sewers below New York. Village Theatre goes all out with the illusion of huge pipes that begin dripping water and end up flowing massively. All the while the energy of the number continues to build with almost all of the cast dancing and eventually Sky Masterson singing Luck Be A Lady.
Guys & Dolls continues at the Village Theatre in Issaquah through December 29 before moving to the Everett Performing Arts Center from January 3 through February 2.
L. Steven Sieden is a writer, event producer and global futurist. His books include "Buckminster Fuller's Universe" and "A Fuller View, Buckminster Fuller's Vision of Hope and Abundance For All". He has been reviewing Seattle area theatre and live entertainment since 2012.
---