Ron Reagan
Longtime Seattleite pays tribute to his mother and father
April 1, 2016 at 2:18 p.m.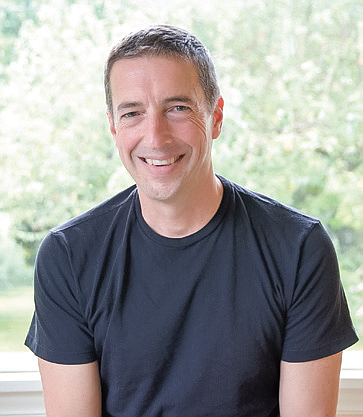 ---
---
---
Ron Prescott Reagan spoke movingly of his mother, Nancy Reagan, at her memorial service last month. The son of Nancy and President Ronald Reagan was inspired by his parents' unfailing devotion to each other during their half-century marriage.
"I don't think they ever spent a day apart where they didn't call, speak on the phone," Ron Reagan said on NBC's Today show. "He wrote her letters all her life, all his life. They were in love, and they stayed in love for 52 some-odd years."
Nancy Reagan died in March at the age of 94. She was a fierce protector of President Reagan, and redefined the role of First Lady. She later became a staunch advocate for stem cell research and research on Alzheimer's disease, a disease that afflicted her husband.
Ron's tribute to his mother was eloquent and touching. He spoke of both his mother and his father, how they each "possessed great individual talents but as a couple, they were more than the sum of their parts…they complemented one another." He described Nancy's fierce loyalty to Ronald Reagan. "If my mother had one great talent, it was to love."
---
---
While many of Ron Reagan's liberal views were in opposition to those of his more conservative parents, he did feel loved and supported by them. Much of that love is apparent in his New York Times bestselling memoir, My Father at 100, written in 2011 on the anniversary of his father's centenary. It's a telling book about the relationship between father and son and is filled with family anecdotes and history. As a young child, Ron describes his father as one of his favorite and most reliable playmates. Shared experiences of horseback rides, swimming matches and throwing the football provide an insider's look at President Reagan as a father. "His only rule [when it came to playing football] was that he would be the quarterback for both teams. He was scrupulously fair about distributing the ball."
Ron Reagan described his father as having a fundamental inscrutability, but "someone so naturally sunny, so utterly without guile, so devoid of cynicism or pettiness as to create for himself a whole new category of strangeness."
Ron Prescott Reagan was born May 20, 1958 and knew his father first as a Hollywood star, one who starred in more than 50 movies. Ron was only nine when the family moved into the Governor's mansion during his father's two terms as California's governor. He was a very young man when his father became President.
In the book, Ron shares what life was like with his famous father, but it contains more than memories. His research included visiting the towns that shaped his father while he was growing up. Altogether, the book illustrates a unique portrait of a young "Dutch" Reagan through the end of his life.
Although Ron and his father had different political outlooks, they didn't disagree all of the time. "My father was a sterling character in many, many ways. He, of course, became a really powerful person, but I never saw him abuse that power personally," he said in an interview with The Hill. In the same interview, Ron said he started challenging his father's political beliefs at a young age. Ron was considered something of a rebel and was expelled from high school for a minor infraction because the administrators felt he was a "bad influence on the other kids." He later dropped out of Yale after one semester to pursue dance with the prestigious Joffrey Ballet.
Ron Reagan is now known as a political commentator and has had his own national radio and television programs. Before that, he brought the Seattle KIRO AM radio audience to attention with his own midday show with its mix of local, national and international issues. He still appears on many programs, including MSNBC's Hardball with Chris Matthews, and has served as a special correspondent for ABC News.
Although best known as a political commentator, his breadth of interests can be seen through earlier work hosting dog shows for Discovery's Animal Planet, interviewing entertainment icons such as Elizabeth Taylor and Mikhail Baryshnikov, and explorations of popular culture.
Ron has written for national magazines and since his father's death from Alzheimer's in 2004, he has been speaking out on the subject of stem cell research and advocates increased research and federal funding.
Ron Reagan continues to be active in causes he believes in and is part of Creative Coalition, a first-rights amendment group. He has lived in Seattle since 1994, much of that time with his wife of 33 years, Doria. Sadly, Doria, who was a clinical psychologist, died of a progressive neuromuscular disease in 2014. The couple had no children.
---
---
Last month, Ron Reagan concluded his eulogy of his mother by saying: "She will once again lay down beside the man who was the love of her life… They will watch the sun drop over the hills… as night falls they will look out across the valley and my father will tell her that the lights below are her jewels."
---