Jean Enersen: Seattle's First Lady of the News
January 2, 2013 at 1:16 a.m.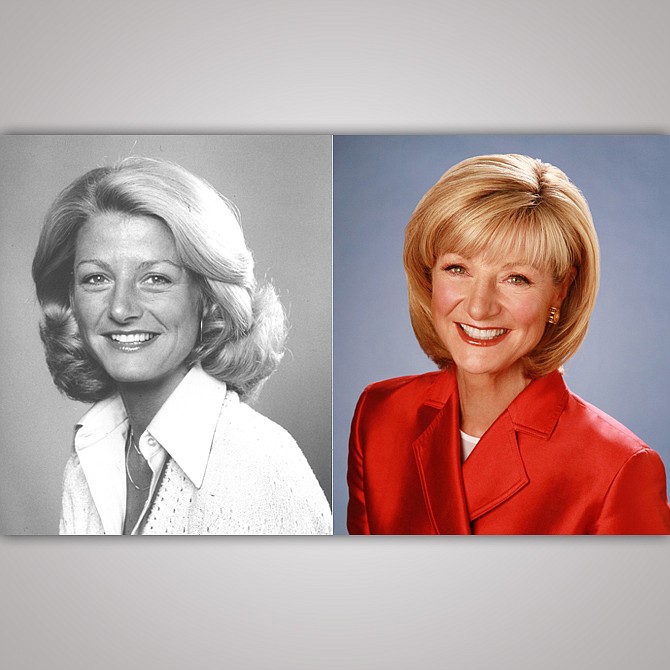 ---
If you check out Jean Enersen's page on the KING 5 News website, you'll see that she is consistently named the most popular and respected news anchor in the Northwest.
Jean co-anchors KING 5 News weeknight broadcasts at 5pm and 6:30pm with Dennis Bounds. Chances are you already knew that. But did you know that this nationally-recognized news professional was one of the first women in the country to anchor television news?
Jean has won just about every award possible in her forty-four years with KING 5. She has interviewed several Presidents of the United States and co-hosted NBC's Today show. Her accomplishments are far too numerous to list.
---
---
And Jean is proud to say that she was raised in Seattle.
"I grew up here. I'm one of three kids. My dad was in retail and my mom was a speech teacher," reports Jean. "Dad used to foster great discussions around the dinner table. Well, more like debates," she adds. "We had pretty robust discussions about current events. My father liked to argue both sides of an issue. And my mom used to take us out under the peach tree to practice speeches." As you can imagine, Jean, her brother Miles and younger sister Marie didn't always relish these lessons, but they have served all three very well.
"My brother is a lawyer and argues in front of the courts. My sister is a teacher." And Jean, of course, has spoken to untold millions in front of a camera for the better part of half a century.
"We're a real close family and we get together a lot," says Jean. "Our family is bonded by our love of the Northwest. We enjoy swimming, skiing and water skiing, hiking and camping. The tradition continues, not only with my siblings, but with my kids, too."
Jean speaks of her two daughters, Sarah and Jenny, with evident pride. "They are both very athletic. One was with the Sounders soccer team at the time it was a professional team. And she was a Division I champion in college. The other daughter won a national championship as a rower in an eight-oared shell with college crew. They continue to be very athletic." She reflects on active lifestyles, a theme that runs with obvious flair throughout her life. "As parents, we want our children to be happy and healthy. It puts a good floor under them so they can accomplish what they want in life."
While life as a working mom wasn't always easy, there were pluses, too. "Oh yes, it was hard. But the kids provide different joys and challenges than work. And sometimes work is a good outlet away from the kids!"
Jean is sympathetic toward families that don't have the resources she had, including single moms and low-income women who are not able to count on support from others. "The issue has fostered my work with the YWCA. I had a good education, a good job and could provide for my kids. My work at the YW is for families that need a little support so they can become self-sufficient."

In addition to the YWCA, Jean's other community service includes work for the American Heart Association, University of Washington, and Lifewire, formerly Eastside Domestic Violence Program. Along with KING 5, Jean led the first AIDS walk in Seattle, more than 25 years ago.
---
---
Jean's love of community and family shines through, as does her strong connection to the Northwest. "It was a great place to grow up, for me and for my kids," says Jean. "I believe the Northwest fosters entrepreneurship since it is not as tradition-bound as the East Coast. I think that is one of the explanations why people are so entrepreneurial here." She pauses and adds, "We breed men and women to match our mountains." She believes the expansive, inspiring views encourage us to think big thoughts.
That said Jean's professional life in the Northwest was something of a fluke.
She earned her Master's degree in Broadcast and Film (as well as a Master's in Political Science) from Stanford University. "Then I went straight to work for CBS in San Francisco." In 1968 she moved back to Seattle to work at KING 5 News. "It was a happy accident that the best job offer was here in Seattle," she reports. "I would have been perfectly happy to stay in California, but I was really, really lucky and came to KING 5.
"I benefited from Title Nine. The same program that gave women such an opportunity in sports and college benefited me, too. The federal government was very big on affirmative action in the 1960s. That helped me and lots of women and minorities."
That happy accident also brought her back into the folds of her close-knit family. "Everyone was here – my brother, sister and parents. I feel lucky that we have a strong family. We are very child-centered. My parents were a very big part of my children's life. Plus my brother, sister and their families – we raised our kids together."
In later years, together the siblings also helped their mother through a long illness and their father through old age. "My sister and brother and I were active in taking care of our parents. We learned a lot." Her next comment seems very telling of her character: "Every lesson that you wish you didn't have to learn is a lesson that you can share with other people so that it is not so hard for them. Mom had breast cancer. One of my best friends was the founder of the local Susan G. Komen organization. I have a lifelong involvement helping women get mammograms. It is a personal interest and a passion that I have. And the same with heart disease. It is an interest that is definitely born from my own experiences."
When asked what work was like in the early days, Jean laughs. "When I first started, there was a photographer that didn't want to get out of the car because he didn't like working with girls. And the newsroom was filled with men who kept whiskey and cigars in their desks."
Despite the atmosphere, Jean says she didn't have to be tough to survive in that man's world.
"I worked with an anchorman who was very willing to move over and accept me on the set. I couldn't be him, but I could try to be the best me that I could be. And the company for which I work has been very supportive of women – very forward-looking in every way."
And of course it didn't hurt that she is, after all, Jean Enersen. Throughout the years articles have described her as extremely poised, polished, and always prepared. A Seattle Times' Pacific NW Sunday Magazine cover story (Nov 25, 2007, Davila) commented that if "you're over at her house for (an always healthy) dinner and you offhandedly remark how much you like a certain dish…by the time you're home there's an e-mail waiting with the recipe."
But when confronted with such praise, Jean laughs it off: "Well, I've tried yoga and I'm a total klutz. I'm working on my downward dog and the dog is still down," she jokes. Then, always looking for the positive: "But yoga is such good exercise."
Does she find time to relax? "Believe it or not, I find swimming laps very relaxing. I stare at the bottom line at the pool and I can work out my thoughts and problems that way."
What has it been like to work at KING 5 all these years?
"It's been a big adventure. Every day is different, which is what I like best. New opportunities arise on a regular basis. Every week I say, 'I've never seen something like that before.' I am constantly impressed, surprised and thrilled. That is the amazing thing about the news.
"And we have a really great time at work. There are such talented people and it is a treat for me to be part of the team. It really is a team, with a lot of star players."
She volunteers this about her on-screen team members: "I feel really lucky. I share an office and the set with Dennis Bounds. We've worked together for almost 20 years. Our kids are the same age. We laugh and moan and support each other that way. And there is Paul Silvi and Jeff Renner. Paul is so funny and so much fun to work with. Jeff is so serious and so good at what he does. Dennis and I sit in the middle. Isn't that what an anchor is? A heavy weight in a rough sea."
Jean has made notable achievements in her specialized coverage of health issues as the KING 5 HealthLink reporter. "HealthLink is a team effort, a team that works diligently to bring information that is useful into people's lives."
Has anything she's learned through HealthLink directly affected her life? "Absolutely. It is really important for us to have confidence and to advocate for ourselves as patients. Sometimes it is necessary to take an advocate with you…a family member or a friend. It goes without saying that if you are concerned, you should seek a second opinion. Doctors are supportive of this.
"Certainly people are over-diagnosed and often have procedures that are not necessary. But sometimes something more is going on. For example, heart disease in women often presents itself as nausea or tiredness. If you are concerned, seek another opinion.
"And another thing, when it comes to exercise and eating right, find what works for you. Find something you like to do, something that is fun for you. If you don't like the elliptical machine, then try walking. People might tell you 'eat your peas.' But if you don't like peas, try broccoli."
HealthLink is a good fit for Jean on many fronts. "I've had a lifelong interest in health issues. My husband is a geneticist and we share an interest in health from personal and professional points of view. And I happen to like green vegetables!" she laughs. "My husband and I garden a lot and grow a lot of our own vegetables. And I love to exercise – it makes me happy."
That husband of hers is British-born Dr. Bruce Carter. The former president and CEO of ZymoGenetics has been described as tall, broad-shouldered, and dashing. Together they have four children. A Seattle PI article (July 30, 2008, Hackett) reports, "As far as she's concerned, her third marriage [to Carter] was the charm…she said she knew as soon as he proposed by quoting Shakespeare: 'There is a tide in the affairs of men, which, taken at the flood, leads on to fortune.' "
In her spare time, Jean likes to spend time with friends. "It is important for people to have a safety circle, people that are really, really good friends to take care of and to take care of you. So I spend a lot of time with friends – as much as I can."
Her close friend and colleague, Joan Kinsey, senior producer at KING 5, couldn't agree more. "Jean is a true friend. She is appreciative of her friendships and knows the value of them. Often, on the spur-of-the-moment, she'll say, 'Hey, let's have a friends' party,' and will invite over a group of girlfriends. These are really fun get-togethers," she adds. "She is so easy to be around."
Not surprisingly, Joan also describes Jean as energetic. "She is always on the go! She readily accepts challenges and she will always forge ahead." Joan relates the story when she and Jean were assigned a behind-the-scenes interview with Ellen DeGeneres in Los Angeles. "The interview was scheduled on a Monday – back and forth in one day. Jean broke her ankle on Saturday, but she didn't blink an eye and went ahead with the trip. Mission accomplished broken ankle and all!"
Joan can't say enough about Jean's positive attributes: appreciative, thoughtful, understanding, caring and supportive. "It's such a joy to be her friend and her co-worker. She impresses me that she will always take the time to show her appreciation with a handwritten thank-you note. And sometimes it is the littlest thing she acknowledges."
Joan remembers the time that she, along with Jean and another colleague from work, Pat Duggan, decided to participate in the Danskin Triathlon relay. Pat helps Jean produce the nightly HealthLink segments, and Joan helps produce the HealthLink specials. "We wore handmade T-shirts that said, 'HealthLink Hussies,' she laughs. The relay consisted of running, swimming and bicycling. "The only thing I could do was run. And Pat wanted to swim. That left the biking to Jean. At the time she wasn't much of a bike rider, but she didn't complain and tackled the bicycle portion of the relay. It's one of those things she could easily have said she'd rather run or swim. But she didn't."
Does Seattle's own wonder woman have any last words for Northwest Prime Time readers? Jean offers this advice for healthy aging – not surprisingly, it's "Keep moving!"
This article appeared in the January 2013 issue of Northwest Prime Time, the Puget Sound region's monthly publication celebrating life after 50.
---
---
Raft Horseshoe Bend for an up close and personal experience with this iconic landmark
Draw a circle around Page, AZ and you'll find numerous natural wonders. Among them is Horseshoe Bend, undoubtedly one of the most spectacular landscapes in the state. This near-perfect circular canyon, which is located in Glen Canyon National Recreation Area, was carved into the earth by the Colorado River and is a result of erosion. It was formed by water following its natural path of least resistance, however, in this case, the route was not a straight line, but rather a substantial 270 degree curve.
---
Remembering Bob Harmon
There are some people you first meet for an interview you just know you're in for a memorable treat. Bob Harmon was one of those people.
---
STAND UP FOR YOU
Medical Elder Abuse
"His curt response was, 'Well, that's how it's going to be.'"
---
KILLER BEES?
TERROR AT THE LAKE
"They'd still be swarming around us."
---
Boomerish!
"Writing Boomerish has been great fun"
---