Pat O'Day
Godfather of Northwest Rock 'n' Roll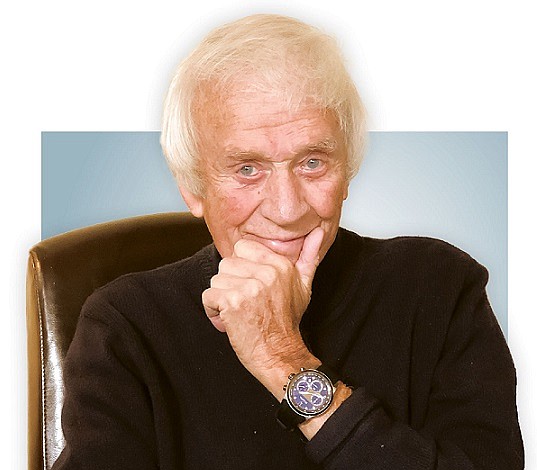 On the radio, O'Day was also shaking up the scene. For if radio is, as has been said, the "theater of the mind," then Pat O'Day was surely the greatest mind-bender to ever grace Northwest radio. Almost singlehandedly, he transformed what radio was and helped mold the perceptions of thousands of teenagers into what it could be. Working with a bottomless bag of impromptu tricks and stunts, O'Day – who was blessed with one of the all-time archetypal radio voices – proceeded to capture the imagination of Seattle's teenagers by mixing rock 'n' roll hits with a never-ending cast of zany on-air characters including "Granny Peters," "Mr. KJR," and "Wonder Mother." The concept sounds old hat today but back in that day it was innovative, cutting edge and fun.
O'Day can also fairly claim credit to being one of the first DJs in the nation to experiment with an "Oldies" format. That was partially because back in the late 1950s rock 'n' roll was still so young few stations concerned themselves with yesterday's hits. But O'Day was quick to understand that a classic song will always be a classic and he exploited this programming technique to its fullest.
Local Discs to the Top
But he also established KJR as a station that could – and did – make hit records (think: the Ventures' "Walk – Don't Run" and the Tijuana Brass' "The Lonely Bull"). But perhaps more importantly, O'Day was one of the first DJs in the Northwest to realize the talent of the early local bands. Though O'Day has more than his share of detractors, one thing he cannot be faulted on was his commitment to local music – no other station in history has played as many local discs as the O'Day-fueled KJR. And not only did he play local records (and book the bands for his teen-dances), he made them hits and increased the interest in Northwest music around the nation to a level that wouldn't again be attained (and surpassed!) until Seattle's Grunge rock movement of the 1990s.
By the late 1960s, though, the bands O'Day pushed had already seen their better years and the style of radio he represented didn't go over too well with the 'freaks' and hippies…many found his bombastic, wisecracking style to be the very embodiment of crass commercial radio. Great offense was taken when it was eventually revealed that it was the "devil" himself, O'Day, who had been the secret financier behind a prominent local concert promoter – Seattle's version of San Francisco impresario, Bill Graham – who had been booking concerts at the Eagles Hall, the "hip" alternative to O'Day's teenybopper dance scene. It seemed there was no escaping the guy's presence.
Indeed, that Pat O'Day has more lives than a cat is evidenced by his decades of involvement in Northwest rock 'n' roll. And now, once again, the man seems to have a few more tricks up his sleeves.
Postscript
Pat O'Day is the author of It Was All Just Rock 'n' Roll, which details his work in radio and concert promotion.