Northwest Prime Time Calendar of Events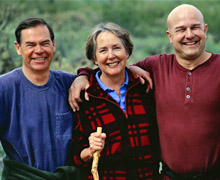 Each issue Northwest Prime Time features a unique calendar of events with a special focus on events "celebrating life after 50".
Van Gogh: The Immersive Experience
44,000 square foot light and sound spectacular featuring two-story projections of Van Gogh's works – encounter the artwork in 360 degrees, 1750 Occidental Ave South, Seattle,  https://vangoghexpo.com/seattle/
Jazz Alley
Nov 2-3 "Allyson Sings Bonnie Raitt songs"; Nov 11-14 "Solid Gold R&B with The Spinners"; Nov 16-18 "Nearly Dan" band sings the songs of Steely Dan, www.jazzalley.com.
Meany Center for the Performing Arts
Nov 6 Gabriel Kahane solo piano performance, see full schedule and ticket info at www.meanycenter.org
Music of Remembrance
Nov 7, 5:30pm, live performance opens 24th season at Benaroya Hall, Nov 7 performance is free includes a selection of cabaret songs, for more info and season schedule visit www.musicofremembrance.org
Veterans Resource Fair
Nov 9, 10:30-noon, online event to learn about resources beyond the VA, for more info contact Wendy Pender, KCLS Older Adults Program Coordinator, 425-369-3285, wgpender@kcls.org
League of Women Voters
Nov 9, 7-8pm & Nov 17th, 7-8pm, 2-part virtual discussion solutions to our dwindling tree canopy; Nov 8 from 6-7pm presentation on "Homelessness in Snohomish County" a study on families, youth and children in Snohomish County, info@lwvsnoho.org
Veterans Day Town Hall
Nov 10, noon-1pm, Facebook live event hosted by Everyone for Veterans, listen and learn from those who have served in combat zones, https://www.facebook.com/events/390281082611098/
UW School of Drama
Nov 12-21, "The Importance of Being Earnest" Playhouse 4045 University Way NE, Seattle, $5-$20, https://drama.washington.edu/events
Best of the Northwest
Nov 13-14, in-person local artist marketplace, masks and proof of vaccination required at entry, $5-$8, Hangar 30 Magnuson Park, Seattle, https://nwartalliance.org/bnw-fall-show-2021
Bellevue Chamber Chorus
Nov 14, 4pm, live concert (venue pending) – "How Can I Keep From (live) Singing?" marks a hopeful return to live singing and also includes online broadcast Nov 20-Nov 28. 2022 season includes "Finding Home" in March, and May features "International Poetry Extravaganza!" Senior prices available. 425-522-3436 or www.bellevuechamberchorus.org.
Byron Schenkman & Friends Chamber Music
Nov 14, 7pm virtual performance, free digital premiere then view concert on YouTube.com (www.byronandfriends.org).
The Neptune Theatre Turns 100
Nov 16, The longtime Seattle landmark turns 100 in November, patrons' favorite stories of the theatre will be shared along with a look-back at the Neptune's long history, including a short video about the life of the theater. Opened in 1921, the Neptune was a motion picture theater in the heart of the University District. Built during the silent film era, the venue showcased nautical décor depicting sea scenes reflecting its namesake, King Neptune. The November 16th event is FREE with a reservation. Reserve your tickets: www.stgpresents.org/neptune100.
Imogen Cunningham Retrospective
Nov 18-Feb 6, Seattle Art Museum, www.seattleartmuseum.org
Membership Exhibition at the Schack
Nov 18-Jan 2, Northwest Watercolor Society exhibit at the Schack Art Center, 2921 Hoyt Ave, Everett, www.schack.org
Welcome Home Holiday Concert
Nov 19-Dec 5 in Everett & Dec 8-26 in Issaquah,  www.villagetheatre.org
Volunteer Park Conservatory Holiday Events
Several events starting Nov 19 from 5-8pm Open House; Dec 9 stroll the pathways of the park lit by over 600 glowing luminarias & enjoy live music, 6pm ukulele musicians; 7pm Dickens Carolers; treats included,
Holiday Wreath Workshop at the Volunteer Park Conservatory Dec 4 from 10am-noon & 1-3pm; Dec 11 from 10am-noon & 1-3pm, Tickets for wreath workshop. volunteerparkconservatory.org
Aging Well Learning Community
Nov 20, 10:15-12:30pm, free Zoom discussion for older adults presented by KCLS, https://kcls.bibliocommons.com/events/5fa1b9c29853455f255e0955
Julefest
Nov 20-21, outdoor free event at National Nordic Museum includes shopping, entertainment and food, www.nordicmuseum.org
Songs of Hope
Nov 20, 7:30pm Moore Theatre, amazing concert by musicians to benefit musicians, www.smashseattle.org.
Centerstage Holiday Show
Nov 27-Dec 19, "Puss in Boots" takes the classic fairy tale and adds pop songs, dance and magical fairies, www.centerstagetheatre.com
Everett Philharmonic
Nov 28, 3pm, Season Opener features Mendelssohn's 5th Symphony; Tchaikovsky's Violin Concerto, Civic Auditorium, masks & proof of vaccination required, $10-$25, www.everettphil.org
O'Christmas Trees
Nov 29-Dec 1, enjoy 12 trees decorated by interior designers, Nov 29-Dec 1 sign up for drive-through viewing at Westin Seattle garage, 1900 Fifth Ave, Seattle, 206-310-6363 Providence O'Christmas Trees
Victorian Country Christmas
Dec 1-5, shopping, entertainment and family fun, Western Washington State Fair Events Center in Puyallup, Santa's Village, Santa Tram, Singing Nativity, daily concerts, $12, free parking, www.avictoriancoutrychristmas.com. 
Elderwise
Dec 2, 1pm, "The Elderwise Way" free book talk & discussion a different approach to life for people with dementia including caregiving tips, email to register for this free Zoom event, arielb@phinneycenter.org.
It's a Wonderful Life
Dec 2-19, $25-$28, 425-774-9600, www.edmondsdriftwoodplayers.org.
Symphony Tacoma
'Tis the Season—Dec 5th at 2:30pm enjoy Holiday Favorites at the Pantages Theater. Dec 17 at 7:30pm enjoy Handel's Messiah at St. Charles Borromeo Church. Symphony Tacoma has been inspiring audiences for 75 years and has a full schedule for its 2021-2022 Season. For tickets, call 253-272-7264 or visit symphonytacoma.org.
Northwest Chamber Chorus
Dec 5 at 3pm; Dec 11 at 7:30pm featuring familiar Christmas songs, well-known composers like Brahms, and a new choral arrangement of Dolly Parton's "Light of a Clear Blue Morning" www.northwestchamberchorus.org.
A Christmas Carol
Dec 7-26, the timeless tale is back onstage at ACT, 700 Union St, Seattle, 206-292-7676, acttheatre.org
Seattle Jazz Vespers
Dec 5 (First Sundays through June), 6pm, Seattle First Baptist, 1111 Harvard Ave. Seattle, SeattleJazzVespers.org
Seattle Opera
Dec 10 at 7:30pm & Dec 12 at 4pm, "A Very Drunken Christmas Carol" $45, www.seattleopera.org/drunkentenor.
Tacoma Little Theatre
Dec 10-31 "The Wizard of Oz" www.tacomalittletheatre.com 
Free Chamber Music Concert
Dec 11, 6pm, Magdalena Molendowska (soprano) and Julia Samojło (piano) perform works by Polish-Jewish composers, Polish Cultural Center, 1714 18th Avenue, Seattle, free of charge but to reserve you space click here,  polishconsulseattle@outlook.com 206 948 8064
Cool Yule
Dec 11 7pm, Blue Street Voices vocal jazz concert, Good Shepherd Center, 4649 Sunnyside Ave N, Seattle, $18-$22, www.bluestreetvoices.com
Auburn Symphony Holiday Spectacular
Dec 13 at 7:30pm, family friendly symphony includes familiar tunes, activities begin in the lobby at 6:30pm where you can enjoy complimentary hot cider and cocoa, and visit with Nutcracker characters from Evergreen City Ballet and photograph your family in front the beautifully decorated tree, Federal Way Performing Arts & Events Center, www.auburnsymphony.org.
Seattle Rep's Public Works
Dec 16-19 Shakespeare's "The Winter's Tale" Streaming and in-person at Cornish Playhouse, 201 Mercer St, Seattle, 206-443-2222 www.seattlerep.org
Aging Well Learning Community
Dec 18, 10:15-12:30pm discussion group for older adults https://kcls.bibliocommons.com/events/5fa1b9c29853455f255e0956
Wreaths Across America Day
Dec 18, join others in laying wreaths on veterans gravesites, learn about local participating cemeteries at www.wreathsacrossamerica.org
NEST Events
Events for older adults: Wednesdays 11-noon walk with others in Seattle's Magnuson Park – meet in parking lot E4 at north end of Lake Shore Dr NE. Moving with Greater Ease Tuesdays (chair), Wednesdays (floor) learn relaxing gentle movement to increase flexibility and comfort call 206-525-6378. Fridays 1-3pm pickleball at Wedgewood Presbyterian 8008 35th Ave NE (parking lot) weather dependent – join group for a safe, fun, low-impact socially distanced recreational activity. www.nestseattle.org 206-525-6378.
KCLS Events
These free live virtual events require registration—for info on all events contact 425-462-9600 or check KCLS.org events page to connect to these events or find additional events. Nov 2, 7-8pm meet Daniel James Brown, author of "The Boys in the Boat" discusses his new book "Facing the Mountain" chronicles the stories of four Japanese-American families during WWII. Nov 3, 6-7:30pm Knit Lit Book Group "The Witch Elm". Nov 4, 1-1:45pm beginning yoga. Nov 4, 7-8pm Meditation for Health and Happiness. Nov 6, 2-3:30pm "The River That Made Seattle" – history and future of the Duwamish. Nov 9, 6-7 online Kahoot Trivia for fans of Dancing with the Stars. Nov 16, 2-3 create a plan for what will happen to your photos, emails and online accounts if something happens to you. Nov 18, 1-1:45 Tai Chi. Nov 18, 7:30-8:30pm, author of "Braiding Sweetgrass" moderated by UW professor Dr. Charlotte Cote. Nov 19, 11am-12:30pm Reading aloud for adults. Nov 22, 1-3pm Genealogy Chat.  Ongoing: Tuesdays & Weds by appointment Digital Navigator to help with just about anything to do something on the computer - free 30-minute phone or online appointments with KCLS will help, Daily online interactive arts activities presented by Silver Kite. Wednesdays 1-3pm Genealogy Help (register 24 hours in advance).
KCLS December Events
Wisdom Café
Dec 1 from 1-2pm zoom discussion https://kcls.bibliocommons.com/events/6181535cfcf9b131004a298d;
Great Books Discussion Group https://kcls.bibliocommons.com/events/615c9b4f3c8cb0280020ce14; Thursday, December 2, 6:30-8pm;
American Democracy's Indigenous Roots and Future https://kcls.bibliocommons.com/events/614de88dc091ca420058988d Saturday, December 4, 2-3pm;
The Whys and Whens of Car Maintenance https://kcls.bibliocommons.com/events/614ca2ffc091ca4200588631 Saturday, December 4, 2:30-4pm;
Artwork Discussion with Frye Art Museum https://kcls.bibliocommons.com/events/6160675dc091ca42005a0a7e Tuesday, December 7, 1-2pm;
How the Heck Do I Buy a Used Car? https://kcls.bibliocommons.com/events/614ca29fc091ca420058862e Saturday, December 11, 2:30-4pm;
Help with Ancestry Library Edition Tuesday, December 14 1-2pm https://kcls.bibliocommons.com/events/6142113a1260e74600b8e1c7, 2-3pm; https://kcls.bibliocommons.com/events/6142113a1260e74600b8e1c8;
Christmas Sing-Along with Nancy Stewart https://kcls.bibliocommons.com/events/618965d44a11c24100a266a2 Tuesday, December 14, 6:30-7:30pm;
Chromebook: Inexpensive Device, Free Software - Is It for You? https://kcls.bibliocommons.com/events/61855bd94a11c24100a21157 Wednesday, November 15, 2-3pm;
Out Loud! A Story Time for Adults https://kcls.bibliocommons.com/events/61676039ddad1a3000c323b6 Friday, December 17, 11am-12:30pm;
Community Event: SKCGS Genealogy Chat https://kcls.bibliocommons.com/events/603fbebfcd909b90130a49b9 Monday, December 27, 1-3pm;
Yule Ball 2021
https://kcls.bibliocommons.com/events/616da5766f354f3000827738 Thursday, December 30, All Day.

Seattle Musical Theatre
Feb 10-Feb 20, "In the Heights" at the Cornish Playhouse, 201 Mercer St, Seattle, 206-363-2809, Tickets - Seattle Musical Theatre
Skandia Music & Dance
Throughout the pandemic Skandia has offered virtual dance & music events (1st & 3rd Friday dances
Zoom link opens at 7:45pm with music from 8-9:30pm. Music events include Nov 6 & Nov 10. For more info email events@skandia-folkdance.org.
Bloedel Reserve
The woods are waiting for you at Bainbridge Island's Bloedel Reserve with 150 acres of gardens, meadows, forests, wildlife and comfortable walking paths designed for slowing down and breathing deep, advance tickets required, call 206-842-7631 or visit bloedelreserve.org.
Washington State Park Free Days
The first two free days for WA State Parks are Jan 1 and Jan 18 – no passes required to park, including FIRST DAY HIKES on Jan 1. Festival of Trees Thru Jan 9, KCLS librarians have decorated trees throughout the White River Valley Museum with a literary theme, free admission, Wed-Sun noon-4pm, 918 H Street SE, Auburn, 253-288-7433, www.wrvmuseum.org