Northwest Prime Time Calendar of Events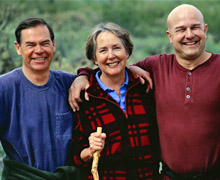 Each issue Northwest Prime Time features a unique calendar of events with a special focus on events "celebrating life after 50".

Senior Events
Seniors Creating Art
Dec 1 & 15, two-part workshop, surprise your friends and relatives with a comic book recap of your year, comic artist/instructor teaches basics and helps you format a comic page to mail or include with holiday cards, no experience needed, all supplies provided, bring short list of memorable 2018 events, Moines Library, 21620 11th Ave S, RSVP, 206-824-6066.
One Warm Coat
Dec 3-21, 8am-7pm, please drop-off your clean, gently used coats, scarves, hats and gloves for those in need, Foundation House at Northgate, 11301 3rd Ave NE, Seattle.
Social Security Workshop
Dec 3, 4-5:30pm, updates recent changes to SS, Health Dept Auditorium, 3629 S. D St, Tacoma, 253-798-4600, free – no rsvp needed.
Parkinson's Victory Summit
Dec 8, 9:30am-3:45pm, free symposium on Parkinson's, includes lunch, Hilton Seattle Airport Hotel & Conference Center, space is limited, RSVP victorysummit@dpf.org, 720-259-0905.
Kitchen Table Talk
December 18, 1–2pm, free conversation about aging issues, at event time, call 206-386-1200 (tollfree 1-844-386-1200) or visit www.tinyurl.com/KTTdecember. Either way, when prompted, enter code 783649. For more information, visit www.seattle.gov/agefriendly/events. For questions at other times, call 206-386-1521.
Wisdom Cafés
Dec 18, 2-3:30pm, Free conversations for seniors, "Developing Resilience" Richmond Beach Library 19601 21st Ave NW, Shoreline, 206-546-3522.
Irish Tenors Holiday Concert
Dec 18, 7:30pm "We Three Kings" Irish Tenors Holiday Concert at Seattle's Benaroya Hall, benefiting the Ballard NW Senior Center. Tickets at www.benaroyahall.org, 206-215-4747.
Free Downsizing Events
Kirk Vaux of Windermere and guest speaker present ins & outs of downsizing from your long-time family home, tips on sorting, packing & liquidation of possessions, 206-850-4570, visit www.kirkvaux.com for dates and locations.
Food & Fitness
Tues/Th 11am-2pm, Sound Generations & Seattle Parks launches program for East African Elders at Northgate Comm Ctr, www.soundgenerations.org
Creative Aging at the Frye
2nd Tuesdays those with dementia and care partners enjoy music in a relaxed atmosphere free & more programs "Meet Me at the Movies" 206-432-8208, www.fryemuseum.org
University PROBUS Club
Join seniors for coffee, fellowship and outstanding speakers the 1st Weds, 9:45am, Sand Point Community Church in View Ridge, univprobus@gmail.com, 206-985-4074.
Prime Timers Seattle
Prime Timers is a social and support group for senior gay / bi / trans men ages 50s-90s that sponsors activities in different neighborhoods: restaurant & potluck dinners, coffee nights, films, plays, sports events, a rap group, winter & summer parties and picnics, a monthly newsletter. Low-cost membership provides access to a safe and supportive environment for men to be themselves and to make friends. www.seattleprimetimers.org.
Senior Coffee Hours
Third Thursdays, 10-11am, join the Seattle Mayor's office for seniors to learn about city programs, services and to talk with officials, 810 3rd Ave, Seattle, 206-684-0500.
Dementia Friendly Recreation
Ongoing, Seattle Parks Lifelong Recreation Program offers a variety of walks and classes for those with early stage memory loss and their care partners, 206-684-4664 (Mari).
Alzheimer's Café
2nd Tuesdays, 3:30-5pm, Greenwood Senior Center's Alzheimer's Café moves to Stage Door Café, 208 N. 8th St, Seattle, chance for those with Alzheimer's and their care partners to socialize in safe environment, info call Carin 206-230-0166, www.phinneycenter.org/gsc
Salvation Army Seniors Lunch
Tuesdays, 11am, variety program followed by lunch, $3 donation, Salvation Army Temple, 9501 Greenwood Ave. N., Seattle. 206-783-1225.
Community Events
One Warm Coat
Dec 3-21, 8am-7pm, please drop-off your clean, gently used coats, scarves, hats and gloves for those in need, Foundation House at Northgate, 11301 3rd Ave NE, Seattle.
Visual Journaling
Dec 5, 8pm, hands-on workshop on exploring daily experiences by creating a visual journal, free RSVP, Richmond Beach Library, 206-546-3522.
Music for Wellness
Dec 6, 6:30pm, interactive workshop to enrich your health through music, no experience needed, free, Shoreline Library, 206-362-7550.
Wreath-Making Workshop
Dec 8, supplies provided but bring gloves and any special decorations, Volunteer Park Conservatory, $35-$45, RSVP 206-684-4743.
Sasquatch: Man-Ape or Myth?
Dec 8, 2pm presentation on the legendary NW icon, myth and scientific studies, White River Valley Museum, 918 "H" St SE, Auburn, free with museum admission ($2-$5) RSVP 253-288-7433, www.wrvmuseum.org.
Japanese Americans in Washington
Dec 14, 3pm, Mayumi Tsutakawa discusses her family's 100 year history and the backdrop of WWII internment, Steilacoom High School Library, 54 Sentinel Dr, www.piercecountylibrary.org
Model Train Festival
Dec 21-Jan 1, the State's largest model train layout, Washington State History Museum, 1911 Pacific Ave, Tacoma, 1-888-238-4373, www.WashingtonHistory.org
Enchant Christmas
Thru Dec 30, immersive holiday light experience, Safeco Field, www.EnchantChristmas.com
Pacific Place Holiday Events
Mon-Sat 6 & 7pm 12-minute sing-alongs, Saturdays thru Dec 24 strolling entertainment, Dec 12, 6-8pm, bring your pets (on leash or in a carrier) for a photo with Santa, Pacific Place, 600 Pine St, Seattle, www.pacificplaceseattle.com/events
First Day Hikes
Jan 1, Washington State Parks ranger-led hikes and other activities, info at 360-902-8844 or www.AdventureAwaits.com (search "First Day Hikes 2019")
Call for Artists
Entries accepted thru Jan 13 for NW Watercolor Society's exhibition, cash awards, www.nwws.org/Exhibitions/Annual-International-Open
Donations for Youth in Foster Care
Visit www.treehouseforkids.org/holiday to learn how you can help
Operation Christmas Child
To learn more about joining the local team to help fill gift boxes for children, visit samaritanspurse.org/volunteerwithOCC.
Exhibits
America's Car Museum
Daily Senior Discounts. Open 7 days a week from 10am-5pm. 877-902-8490. www.americascarmuseum.org .
Washington State History Museum
Thru Jan 20, rare opportunity to see Jacob Lawrence's "George Bush Series" conveys the story of George Bush, the first African American pioneer to settle in WA state, 1911 Pacific Ave, Tacoma, 253-272-9747, www.washingtonhistory.org
Museum of Glass
Contemporary art & Tlingit Culture, 253-284-4750, www.museumofglass.org  
Bellevue Art Museum
Thru Mar 24 exhibition of Polaroids, thru Apr 14 Pacific NW Glass, www.bellevuearts.org  
Seattle Art Museum
Thru Jan 21, explore 5 centuries of the royal arts of India, www.seattleartmuseum.org  
Tacoma Art Museum
Immigrant Artists of the West, 253-272-4258, www.tacomaartmuseum.org  
Dance
Int'l Ballet Theatre
Dec 14-23, 11100 NE 6th St, Bellevue, 1-800-838-3006, www.brownpapertickets.com
Theater
UW Drama
Thru Dec 9, "Fefu and Her Friends" winner of nine Obie's $10-$20, Meany Studio Theatre on UW campus, 206-543-4880, www.drama.uw.edu
SecondStory Rep
Thru Dec 23 "A Christmas Carol" Redmond, 425-881-6777.
Twist of the Magi
Thru Dec 23, $12-$25, zany telling of the O'Henry classic set in a '40s on-air radio broadcast with a slew of disgruntled actors, Phoenix Theatre, 9673 Firdale Ave, Edmonds, 206-533-2000, www.tptedmonds.org
Musical Theater
Tacoma Little Theatre
Dec 7-30, "Scrooge the Musical" $22-$25, 210 North "I" Street, Tacoma, 253-272-2281, www.tacomalittletheatre.com
Peter and the Starcatcher
Thru Dec 9, Tony-winning story of Peter Pan and Captain Hook as a musical, $10-$20, Shoreline Community College Theatre, 1600 Bldg, 16101 Greenwood Ave N, Shoreline, 206-546-4728.
Disney's The Lion King
Dec 13-Jan 6, Seattle's Paramount Theatre, 1-866-870-2717.
Hamilton!
Dec 13-15, performed by the Youth Conservatory, Stone Soup Theatre, Wallingford Presbyterian Church, 206-388-9212,  www.stonesouptheatre.org
Seattle Musical Theatre
Thru Dec 16, "Joseph and the Amazing Technicolor Dreamcoat, based on biblical tale by Andrew Lloyd Webber & Tim Rice, www.seattlemusicaltheatre.org
Edmonds Driftwood Players
Thru Dec 23, "Peter and the Starcatcher" a prequel to Peter Pan, $25-$28, James Wade Theatre, 950 Main St, Edmonds, 425-774-9600, www.edmondsdriftwoodplayers.org
Very Die Hard Christmas
Dec 1-23, musical parody, $23-$29, Seattle Public Theatre, 7312 W Green Lake Dr N, Seattle, 206-524-1300.
Seattle Rep
Thru Dec 30, "In the Heights" hit by Lin-Manuel Miranda, 206-443-2222, www.SeattleRep.org
Wonderland Brunch
Thru Jan 27 (Sat/Sun) music, dance, theater and NW cuisine, Can Can, 94 Pike Place, Seattle, www.thecancan.com
Choral Music
Northwest Chamber Choir
Dec 2, 3pm & Dec 8, 7 :30pm Phinney Ridge Lutheran Church, 7500 Greenwood Ave N, Seattle, www.northwestchamberchorus.org
Christmas Sounds Chorus
Dec 8-9, 2pm, Highline Perf Arts Ctr, Burien, $20-$25; Dec 7, 7:30pm St Margaret's Church, Bellevue $15, 206-246-6040, www.nwassociatedarts.org
Market Street Singers
Dec 8, 7:30pm; Dec 9, 3pm, "More than a Silent Night" Ballard First Lutheran Church, NW corner of NW 65th & 20th in Ballard, free,
Seattle Men's Chorus
Dec 9-23 (Seattle's Benaroya Hall) Dec 8 Tacoma, Dec 15 Everett; $25-$85, 206-388-1400, www.seattlechoruses.org
Master Chorus Eastside
Dec 9, 3pm "Handel's Messiah" United Methodist Church, 3924 Issaquah Pine Lake Rd, 425-392-8446, www.masterchoruseastside.org
Northwest Boychoir
Dec 14-23, multiple area locations, $11-$35, www.nwboychoir.org
Bellevue Chamber Chorus
Dec 15 at 7:30pm "Gloria! Renaissance & Baroque Masterworks for Christmas" St Luke's Lutheran Church in Bellevue, & Dec 16 at 4pm Lake WA United Methodist Church in Kirkland; special senior prices, 425-522-3436 or www.bellevuechamberchorus.org.
Seattle Choral Company
Dec 15, 8pm, pre-concert talk at 7, carol sing-along 7:30pm, "December Dreams" concert 8pm, $5-$25, St Mark's Cathedral,1245 10th Ave E, Seattle, 800-838-3006, www.seattlechoralcompany.org
Irish Tenors Holiday Concert
Dec 18, 7:30pm "We Three Kings" Irish Tenors Holiday Concert at Seattle's Benaroya Hall, benefiting the Ballard NW Senior Center. Tickets at www.benaroyahall.org, 206-215-4747.
Classical Music
Early Music Seattle
Dec 8, 7:30pm $20-$50, "Back Collegium Japan" Bastyer University Chapel, 206-325-7066, www.earlymusicseattle.org
St James Cathedral
Dec 14, 7:30pm readings and carols, Dec 31, 11pm, "Mozart 'til Midnight", St James Cathedral 804 Ninth Ave, Seattle, 206-382-4874.
Rainier Symphony
Dec 15, 7:30pm, Dec 16, 3pm, Holiday Favorites $12-$18, Foster Performing Arts Center, 4242 S 144th, Tukwila, 206-781-5618, www.rainiersymphony.org
Free Christmas Concerts
Dec 15 at 7:30pm, Dec 16 at 1pm, FREE concert plus carol singing, The Sanctuary Choir, Seattle First Baptist, 1111 Harvard Ave at Seneca, Seattle. 206-325-6051, www.SeattleFirstBaptist.org
Ladies Musical Club
Free concerts throughout region, www.lmcseattle.org
Seattle Symphony
For concerts, call 206-215-4747 or visit www.seattlesymphony.org
Jazz/Rock/Pop/Folk/Country
Geoffrey Castle's Celtic Christmas
Dec 1, 8pm, Historic Everett Theater, 2911 Colby Ave, Everett, 425-258-6766; Dec 13-14 Kirkland Performance Ctr 425.893.9900; Dec 15 Northshore Perf Arts Ctr 425-298-3449.
Seattle Jazz Vespers
Dec 2, 6pm "Sara Rose Quartet" 1st Sundays thru June, Seattle First Baptist corner of Harvard & Seneca St, Seattle, free parking back of church, free will donation, 1st Sundays thru June www.seattlejazzvespers.org
Yuletide Concerts
Dec 7 at 7:30pm features Bellevue Comm Band, Concert Choir & Jazz Singers, $5-$10, Bellevue College Carlson Theatre plus a free concert & singalong on Dec 8 at 5:30pm at Bellevue Crossroads Market Stage featuring Bellevue Community Band.
Holiday Music Cascade Brass
Dec 8, 2-3pm, free holiday concert, Shoreline Library, 345 NE 175th St, 206-362-7550.
Cool Jazz Yuletide
Dec 8, 7:30pm, $14-$18, free desserts, cash bar, Good Shepherd Center, 4649 Sunnyside Ave N, Seattle, 206-361-5726, www.bluestreetvoices.com
Rockin' Christmas Eve
Dec 17, 7:30pm symphony concert featuring Trans-Siberian Orchestra selections & more, Auburn Perf Arts Ctr, 702 4th St NE, $10-$37, 253-887-7777, www.auburnsymphony.org
A Season for Singing
Dec 28, 10:30-11:15am, free (space limited) learn about holiday traditions from around the world in this musical celebration, Shoreline Library, 345 NE 175th St, 206-362-7550.
Edmonds Center for the Arts
Jan 17, 7:30PM, Bella Gaia – inspired by astronauts who spoke about life-changing power of seeing earth from space features music, dance and NASA-immersive imagery. Pre-show talk included. Ap 5, 7:30PM, mandolin soloist and composer Danilo Brito playing the Choro music of Brazil. May 23, 7:30PM, Ronnie Spector and the Ronettes – female rock and roll from the 1960s. 410 Fourth Avenue North, Edmonds. 425-275-9595. www.ec4arts.org.
Social Dance (call in advance to confirm social dance events)
Sno-King International Folk Dance
Dec 8 Holiday Party with Allspice Band, Wednesdays 7-9pm, $6-$8, Cedar Valley Grange, 20526 52nd Ave W, Lynnwood, 949-646-7082, www.sno-king.org
Skandia Dances
First & Third Fridays, class at 7:30pm, social dance 8:30-11pm, Cedar Valley Grange, 20526 52nd Ave W, Lynnwood, 425-954-5262, www.skandia-folkdance.org