Northwest Prime Time Calendar of Events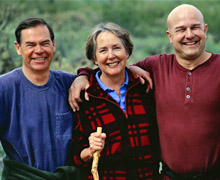 Each issue Northwest Prime Time features a unique calendar of events with a special focus on events "celebrating life after 50".
While some things are starting to open, including state parks, zoos and other locations, so much is still up-in-the-air. Check with event organizers to learn the latest news.
Bellevue Chamber Chorus
Virtual Premiere Performance! Sept 8, 7:30pm, "Roots" – join the chorus online for this new work by Ola Gjeilo. Website, www.bellevuechamberchorus.org. Facebook, www.facebook.com/SingBellevue. YouTube: Bellevue Chamber Chorus Official. Get monthly updates on season at www.bellevuechamberchorus.org/mailing-list, 425-522-3436 or info@bellevuechamberchorus.org.
Walk to End Alzheimer's
Join the walk to create a world without Alzheimer's: Redmond Sept 12; Everett Sept 19; Olympia Sept 20; Tacoma Sept 27; Seattle Oct 3; please call for more info 1-800-272-3900, www.alzwa.org/walk.
AARP Free Online Events
"Finding Truth in an Infodemic" AARP offers several events in Sept & Oct to sort fact from fiction—learn to spot misinformation and scams; FREE but Pre-Registration is Required: Sept 16 from 11am-noon "Confronting Misinformation"; Oct 3 from 11am-12:30pm "Inside the Mind of the 'Original Internet Godfather' (how scammers convince you to hand over your money); Oct 14 from 6pm-7pm "The Future of Lying" (new rules of deception and trust); Oct 24 from 11am-noon "The Truth is Out There" (fact checking tips and resources), visit aarp.org/factfromfiction for event details.
Ignite Aging Symposium
Oct 2, 1-3pm, UW School of Nursing's annual event presents information on healthy aging, free but pre-registration is required for this virtual Zoom event. RSVP online at events.uw.edu/IgniteAging2020.
Museums are Opening!
Many museums are opening in early September for in-person visits! In accordance with state COVID guidelines, museums are opening at limited capacity and with all social distancing and safety protocols in place. Contact your favorite museum to learn when they are opening and consider enjoying this opportunity to safely stroll through your favorite museum.
Margaret Atwood
Sept 9, 6pm Seattle Arts & Lectures presents an evening with Margaret Atwood, moderated by Cheryl Strayed. Live online, 206-621-2230 ext 10, www.lectures.org
In the Spirit
The annual festival of Northwest Native arts and cultures takes place free and online with events held on multiple days from Sept 10-Oct 17. The event represents more than 10 indigenous nations and will include online programming from the Tacoma Arts Museum, Museum of Glass and the Washington State History Museum. Look for conversations and interviews with the exhibition's artists, jurors and more. The art market includes jewelry, textiles, art and more. Visit www.InTheSpiritArts.org for the full event schedule.
Fall Prevention Day
Sept 11,  Falls are not a normal part of aging. But they do happen for a reason and most can be prevented. The Pierce County Aging and Disability Resource Center hosts an online presentation about the most common causes of falls among older adults. Learn about those hidden hazards around the house and in your neighborhood and how to avoid falls, be safe, be healthy and enjoy home and community. No RSVP needed. Free online event (with telephone option) held twice. View event flyer. 10 a.m. – Join online: https://piercecountywa.zoom.us/j/98690465036 Join by phone: 253 215 8782 or 888 788 0099. Webinar ID: 948 7683 2066 7 p.m. – Join online: https://piercecountywa.zoom.us/j/97825656633 Join by phone: 253 215 8782 or 888 788 0099 Webinar ID: 948 7683 2066 For more information call the ADRC at 253-798-4600.
Collaborating for a Dementia-Friendly Future: Inspiring Change
Sept 29-30:  Are you interested in making your community more respectful, understanding and inclusive of people with dementia and their families? This is Washington's first statewide conference on building dementia-friendly communities. A 2-day virtual event, 9 a.m. - 12 p.m. The conference is for anyone who wants to take action to make their community more dementia-friendly, including people with dementia, caregivers, aging and senior services providers and more. http://www.tinyurl.com/DementiaFriendly2020
Reverse Mortgages: Things Have Changed
Oct 8 & Oct 10: Once completely unregulated, today's program has significant protections for both borrowers (and their survivors) and lenders. Learn how Reverse Mortgages work, the advantages and disadvantages, and how consumers can avoid the most common pitfalls. These are impartial, information-only presentations provided online and by phone. Join the event online at 7 p.m. or by phone at 253-215- 8782 or 888-788-0099. Webinar ID: 943 4045 8572. Free event. No RSVP necessary. For more information call 253-798-4600. https://www.piercecountywa.gov/DocumentCenter/View/94095/Reverse-Mortgages-2020
Emerald City Writers' Conference
Oct 16-18, online event features "Master Classes," pitch sessions with agents and editors, and a pitchfest to polish up your pitch. For info and to register, visit http://gsrwa.org/home/emerald-city-writers-conference/
KCLS Events
View King County Library System events at www/kcls.org/events
Contact your favorite local arts and senior organizations
Many organizations are live-streaming performances or offering virtual events. Contact your favorite organization to learn more.
Washington Talking Book & Braille Library - Patron Book Club
The Washington Talking Book & Braille Library is launching a statewide, quarterly patron book club focusing on a Northwest author or with Northwest interest. The titles we read will be available in audio and braille, both on BARD. Let us know if you would like to participate so we can contact you with any updates or schedule changes by calling (800) 542- 0866 or emailing wtbbl@sos.wa.gov.
Know What Hand Sanitizer Products Are Being Recalled
The Food and Drug Administration is alerting the public about hand sanitizers with possible methanol contamination. Methanol, also known as wood alcohol, can be toxic when absorbed through the skin or fatal if ingested. Stay safe from harmful methanol exposure by learning about the latest product recalls. Check to see if you have any of these over 140 hand sanitizers in your home. (Source: FDA)