Meet Mark Bryant, Senior Fitness Expert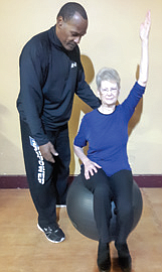 I am pleased that many of the seniors I work with are not shy about praising me. They even nominated me for EnhanceFitness' National Instructor of the Year honor, which I won. They appreciate my knowledge of the human body—information cultivated over years of study and practice. I keep a very full binder of my current certifications and like to consider it equivalent to most university degrees. I just want to ensure, should anyone ask, that I'm ready to go head-to-head on anatomy, physiology and kinesiology!
And ten years ago, I received another unexpected reward. An orthopedic surgeon read an article about my work with seniors, which also mentioned a lingering hip problem that was plaguing me. He said he admired my selflessness, and he offered his services for free. After years of suffering, a hip replacement meant I was finally relieved of chronic pain.
I am one of the lucky ones, one of the blessed ones.
Mark has been honored nationally as a fitness instructor and has won five national championships in powerlifting. Turning 59 this last October, he plans to keep leading senior fitness classes (now located at Columbia City Fitness) and continue volunteering at Union Gospel Mission teaching kids weight training for free. Mark is also a speaker and looks forward to spreading his message at schools and community centers.