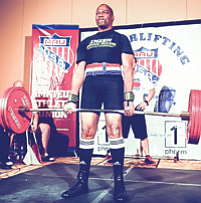 Mark Bryant at the AAU World Powerlifting Championship in Las Vegas on September 16, 2017. "I'm now the five-time Powerlifting World Champion and I'm also the Master Disabled Deadlift Record Holder in my age group and weight class with a pull of 413 lbs. I competed in the 198lb. weight class at age 58 after a total hip replacement
Stories this photo appears in:

Mark Bryant is a popular fitness instructor and powerlifting champion who lives and works in Seattle's Columbia City neighborhood. He also writes a monthly senior fitness tip for Northwest Prime Time.